Controlling ownership of American Seafoods
acquired by company's management group and Alaskan partner

Centre Partners sells ownership stake for nearly $82 million
February 28, 2006
Tuesday

Seattle, WA - American Seafoods, one of the largest integrated seafood companies in the United States in terms of revenues, announced Monday that its management group and Coastal Villages Region Fund, the company's Alaskan business partner, have acquired all of the equity interests in the company held by Centre Partners, giving them ownership of substantially all the voting securities in American Seafoods.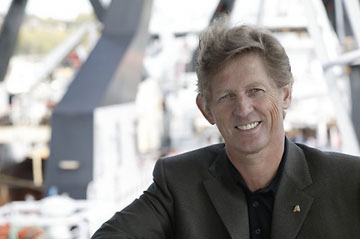 Bernt O. Bodal, American Seafoods' chairman and CEO.
Centre Partners, a leading, middle-market private equity firm with offices in Los Angeles and New York, sold its nearly 23 percent equity interest in the company to a management group led by Bernt O. Bodal, the company's chairman and chief executive officer, and Coastal Villages.
Through the acquisition, the company's management increased its ownership stake to approximately 51 percent of the voting equity in the company. Coastal Villages increased its ownership to approximately 45 percent and Central Bering Sea Fishermen's Association, another Alaskan community development group, increased its ownership to slightly more than 4 percent.
The aggregate purchase price for Centre's interest in the company was $81.75 million, the company said. The management group's acquisition was financed by Íslandsbanki, ISB, and was made through a newly formed limited liability company, ASLP Acquisition. Additional financial terms of the transaction were not disclosed.
"This is a very positive development for the company and its employees as it demonstrates our commitment to the future of American Seafoods," said Bodal, who increased his personal ownership in American Seafoods to 40 percent from 24 percent as a result of the transaction. "We strongly believe that the long-term interests of American Seafoods are best served with this private ownership group."
The transaction will not affect the ongoing operations of the company, Bodal said.
"This ownership change will be completely transparent to our employees, our partners, our customers and most of our other stakeholders," Bodal said. "It ensures that the company will continue to have a strong and stable foundation for continued growth and prosperity."
The deal completes a process that began in 2002 when Centre Partners, which held 45 percent of the company after it joined with Bodal to acquire American Seafoods from Norway Seafoods in January 2000, sold down approximately half of its stake to Bodal and Coastal Villages.
"Centre Partners has been an excellent partner for us, but as a private equity firm, it was inevitable that they eventually would want to exit in order to realize additional value created for their investors," Bodal said.
"This deal represents a huge step forward for the people of our communities," said Morgen Crow, executive director of Coastal Villages. "This transaction will further our ability to provide sustainable community development dollars for our 20 Alaskan member communities."
"American Seafoods is a strong, well-managed company with an extraordinary business model and compelling cash flow characteristics," said Scott Perekslis, managing director of Centre Partners Management LLC. "As a private equity fund, Centre's mission is to exit investments on behalf of our investors after a certain hold period, and the time was right to achieve liquidity in this investment.
"We couldn't be more pleased that we were able to structure and negotiate a sale of our position to management, led by Bernt Bodal, and Coastal Villages - both of whom we have long believed constitute the natural, long-term owners of this business."
As part of the transaction, the company restructured its board of directors. In addition to Bodal and Crow, the Board will consist of Robert Williams, deputy director, Coastal Villages Region Fund; Jeff Davis, former chief operating officer, American Seafoods; Scott Perekslis, managing director, Centre Partners Management LLC; Bill Bittner, partner, Birch, Horton, Bittner and Cherot; and, Ren Jurgensen, retired director, KPMG.
Effective Monday, Eric Wilmes, Lester Pollack, Michael Magerman and John Fluke have resigned from the company's board, the company announced. On behalf of the company, Bodal expressed thanks to these directors for their exemplary service.
Source of News & Photograph:
American Seafoods
www.americanseafoods.com
E-mail your news & photos to editor@sitnews.us


Publish A Letter on SitNews Read Letters/Opinions
Contact the Editor
SitNews
Stories In The News
Ketchikan, Alaska