Ketchikan's State Parks, Community Participation Needed
By Marie L. Monyak
February 27, 2006
Monday

Ketchikan, Alaska - The cold temperature this past Friday may have kept some people from attending the Southeast Alaska Discovery Center's Friday Night Insight Program on "Our State Parks by the Ketchikan Advisory Board." There were many little known facts about our State Parks presented and a plea for support from the Advisory Board.

When asked, what is the single most important thing you want the people of Ketchikan to know, Jim Shoemaker, the Advisory Board Director said, "We want people to know that this is their park system and what we put in is what we get out and we really need the participation of the community to communicate [to the legislature] that we appreciate our State Parks but there are improvements and deferred maintenance issues that must be addressed if we are going to be viable."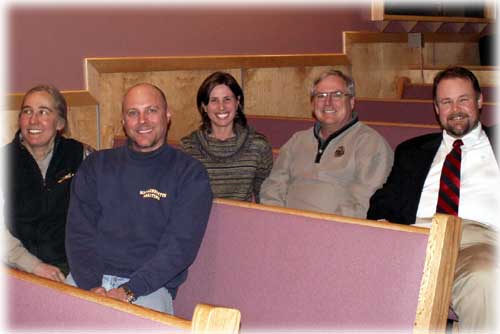 Advisory Board (From left to right) Alaska State Park Ranger Mary Kowalczyk, Board Members: Pete Pritchard, Karen Wolfred, Jim Shoemaker, James Scott
Photograph by Marie L. Monyak

Shoemaker began by explaining the mission and purpose of the Ketchikan Advisory Board. "We are the conduit for the community to communicate with the Legislature. We identify the ideas, where we want to go and the improvements we want to make. One of the things we've been tasked with the last six months is raising the awareness of the State Park system and identifying those things that are available to the community."

With the assistance of fellow board member, Karen Wolfred and State Park Ranger Mary Kowalczyk, Shoemaker presented a wonderful overview of the eight Ketchikan area State Parks.

Wolfred expanded on the mission of the Advisory Board by saying, "We are guided by a three-fold mission; to provide outdoor recreation activities to residents and visitors, to protect our natural and cultural significance and to support the State's tourism industry.

Are you asking yourself yet, did I read that correctly, EIGHT State Parks? That is correct. Even Wolfred admitted that when she joined the Advisory Board, she was not aware of all eight parks.
Hollowed timber at Refuge Cove State Park
Photograph by Marie L. Monyak

On the road system, as you head north from town you come to Refuge Cove State Park, established in 1970, the park encompasses 13 acres with a half mile of beachfront, picnic areas and restrooms. Refuge Cove is the site of the annual Park to Park run held the last Saturday in July. The 10 K run begins at Refuge Cove and ends at Alder City Park on Bryant Street and is in its 18th year. Refuge Cove State Park is often referred to as Sunset Beach since it borders Sunset Drive.

As you proceed north, at about 9 Mile, you arrive at Totem Bight State Park and the office of our State Park Ranger, Mary Kowalczyk. Totem Bight was established in 1938 as a CCC (Civilian Conservation Corps) project to salvage and reconstruct the many Native totem poles that were left behind in abandoned villages and to construct a model Native village to preserve the history, art and culture. Totem Bight is Alaska's only State Park that features the importance of Native culture.

The park covers 11 acres including tidelands, interpretive trails, a clan house, restrooms, a recently constructed covered picnic area that is ADA certified wheelchair accessible, RV space for a volunteer caretaker and the Alaska Natural History Bookstore. In the summer of 2005 there were over 54,000 visitors.

The third and last on the road system is Settler's Cove State Recreation Site at 18 Mile North Tongass. With 75 acres, the park boasts picnic areas with fire rings, shelters, restrooms, beach access, a campground and three trails. The trail to the waterfall viewing platform has been modified and is now ADA certified for wheelchair access.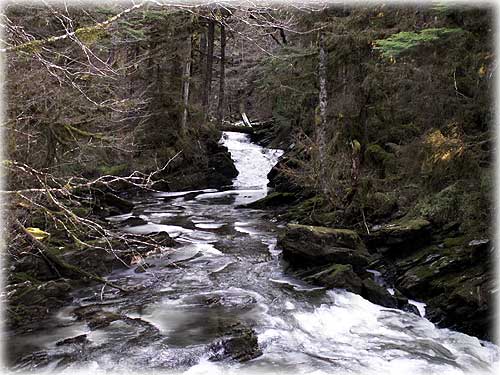 Winter at Settler's Cove State Park
Photograph by Marie L. Monyak

Beach access is provided in several locations within the park. As Wolfred said, "The park provides inexpensive opportunities for recreation, plant and wildlife viewing and hiking which encourages a healthy lifestyle." A little known fact; fishing is legal within the State Park providing one is legally licensed. Berry picking is also permitted on State Park lands.

With a total of eight State Parks and only three on the road system, one can safely assume that the other five are accessible by boat. These parks on the waterways are known as State MARINE Parks.

On the South end of Gravina Island lies Black Sands Beach State Marine Park established in 1994 because of its historic use as a recreation area. With over 640 acres, Black Sands has been the site of numerous beach cleanups by the community through the years due to its heavy usage and the southern exposure that contributes to refuse and debris being washed ashore. This is a popular area for both kayakers and campers.

Off the tip of the Kasaan Peninsula lies Grindall Island State Marine Park which encompasses 240 acres and features a buoy for mooring. Known for its clear water and abundant marine life, it's popular amongst divers. Established in 1969, the island is home to a seal rookery which as Shoemaker pointed out, can one day be developed into a viewing area much like Round Island near Dillingham.

Two small islands in the Clover Passage area that were part of the 1980's land selection from the BLM for outdoor recreation are Grant Island and Joe Island State Marine Parks. Established as State Parks in 2002, these two parks total 592 acres of uplands and tidelands.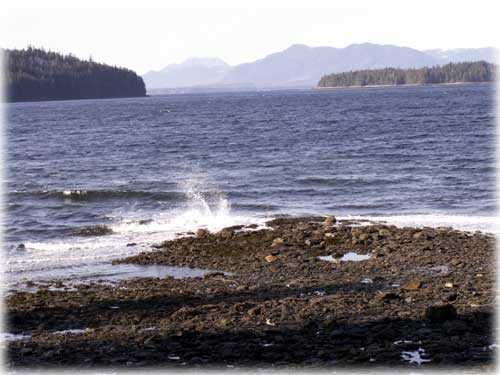 View of Betton Island State Marine Park From Settler's Cove
Photograph by Marie L. Monyak

Also part of the land selection from BLM in the 1980's is Betton Island with 480 acres. Although there currently aren't any amenities on the island it lends itself to future development.

The Advisory Board members provided those in attendance with a handout of Capital Improvement Projects (CIP) they, with input from Ranger Kowalczyk, feel are a priority in maintaining and improving the current infrastructure of several parks.

Deferred Maintenance CIP include:
Totem pole rehabilitation at Totem Bight ($200,000)
Totem pole access road built with Geo Block ($25,000)
Outhouse replacement at Settler's Cove SRS ($75,000)
Park facilities upgrades and road repair ($45,000)
Upgrade picnic sites at Refuge Cove ($5000)
Replace picnic shelter and outhouse at Black Sands Beach SMP ($11,500)
New Capital Improvement Projects include:
Caretaker/Ranger office w/water and septic system at Totem Bight ($200,000)
Lighting for Totem Bight parking lot ($5000)
Expanded day use parking at Settler's Cove SRS ($50,000)
Parking improvements at Refuge Cove State Park ($45,000)
As Wolfred explained, "The Advisory Board is tasked with making recommendations for capital improvements." But as Shoemaker pointed out, "There are 121 parks statewide with a budget of only $6.4 million; it's a bit of a challenge to find the funding. Mary [Ranger Kowalczyk] does a tremendous job with her grant writing."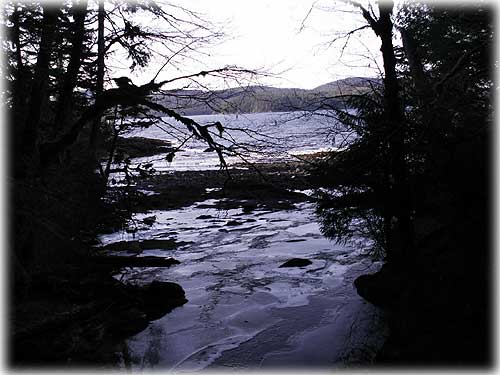 View From Settler's Cove Above Lunch Creek
Photograph by Marie L. Monyak

This is where the public comes in, as Shoemaker pointed out, "There are various ways to get involved besides volunteering. There may be some dollars available out there that we can use to take care of the needs of our parks. The public can let our community leaders and legislators know that these parks and their improvements are important to us. The easiest way to show support is by letter writing to our legislators."

According to Wolfred, "The source of revenue can come from different sources such as oil revenue proceeds that go into the general fund or commercial use fees from Totem Bight, grant monies from other entities and funds from the Alaska Natural History Book Store [at Totem Bight]. Right now the Ketchikan district has not been required to access day use fees yet as in other areas of the State. In the past money received from ISTEA (Intermodel Surface Transportation Enhancement Act) has benefited our State Parks."

If you agree that these capital improvement needs are critical to ensure that our State Parks continue to meet their mission of: 1) providing outdoor recreation opportunities, 2) protecting our resources, and 3) supporting tourism, then contact your local Legislative Information Office at 50 Front Street or call them at 225-9675. If you prefer to email your POM (Public Opinion Message), use the following link:
http://w3.legis.state.ak.us/legaff/liolist.htm?/liolist.htm

Although the information is not current, you can find more information on Ketchikan State Parks at: http://www.dnr.state.ak.us/parks/aspbro/charts/seketch.htm#dall

Information about just Totem Bight State Park can be found at: http://www.dnr.state.ak.us/parks/units/totembgh.htm

This week's Friday Night Insight Program at the Southeast Alaska Discovery Center at 7 P.M. will be "Historic Architecture of Ketchikan" presented by Sonja Alvarez.
Marie L. Monyak is a freelance writer living in Ketchikan, Alaska.
A freelance writer is an uncommitted independent writer
who produces and sells articles to a publisher such as SitNews.
Contact Marie at mlmx1[at]hotmail.com
Publish A Letter on SitNews
Read Letters/Opinions
Contact the Editor
SitNews
Stories In The News
Ketchikan, Alaska