The Gift of Education
By Marie L. Monyak
February 09, 2006
Thursday

Ketchikan, Alaska - Even the wind and rain didn't keep the community away from the new Fawn Mountain School's open house on Tuesday evening. Teachers, administrators, parents and children showed up to tour the new school and enjoy the refreshments that were served while the Cape Fox dancers performed.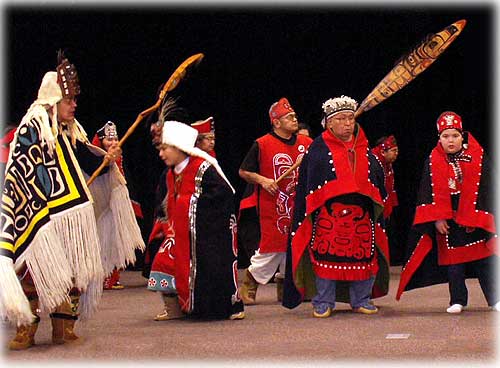 Some of the Cape Fox Dancers performing...
Photograph by Marie L. Monyak

Superintendent for the Ketchikan Gateway Borough School District, Harry Martin, said it best, "It's great to be in a new building and everyone is excited. From everything I've heard, everyone's very pleasantly surprised and happy and everything is going as it should for the elementary schools."
And Martin was right, everyone was excited as they milled around looking in classrooms, examining artwork on the walls, admiring the shine on the brand new gymnasium floor and speaking with the teachers so easy to recognize in their red, black and white "Fawn Mountain Elementary" T-shirts and sweatshirts.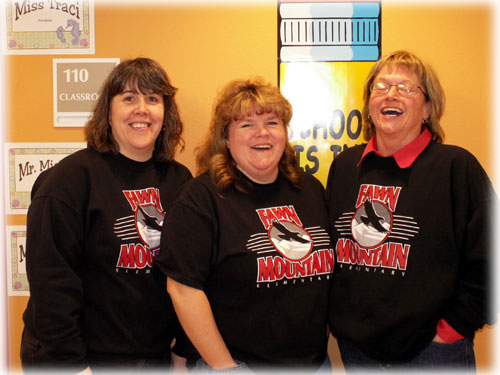 Traci Davis, Darla DuBry, and Gwen Hammersland.
Teachers were easy to recognize in their red, black and white
"Fawn Mountain Elementary" T-shirts and sweatshirts and their welcoming smiles.
Photograph by Marie L. Monyak

After allowing time for everyone to inspect the new school, refreshments were served as the Cape Fox dancers, led by brothers Richard and Harvey Shields, performed several songs, one of which was the gift giving song which would normally be sung at a potlatch. After asking the teachers in the audience to lift their hands as though presenting a gift, Richard Shields explained that what the teachers were giving was the gift of education.

Harry Martin came to the stage to make a short speech. He talked about the many stories that parents and grandparents have from their days as students at White Cliff. Martin said, "This is a new era and there will be new stories for theses students to tell their grandchildren and great-grandchildren." Martin finished by offering a heartfelt thank you to the Borough, the Administration, and the School Board.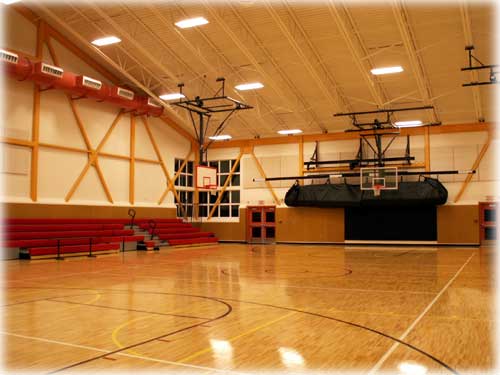 Gymnasium
Photograph by Marie L. Monyak

The Principal of Fawn Mountain Elementary, Barbara Roberts spoke next saying, "It's been a real community effort to get this [the school] done." Roberts didn't miss anyone when she continued, "Everyone put forth an effort, the parents, PTA, school board, school officials, Borough and even Dawson construction. Their [Dawson] crew was great, they'd let us in anytime to check on things, they were wonderful. This is a real positive step for the community and the students."

School board member Russell Thomas, contacted earlier in the day had this to say, "One of the most exciting aspects of the new school is the opportunity that it will provide for those who live on the south end of town. Much like North Point Higgins Elementary has become a community hub for those who live on the north end, we expect that Fawn Mountain will have the same effect on the south end residents."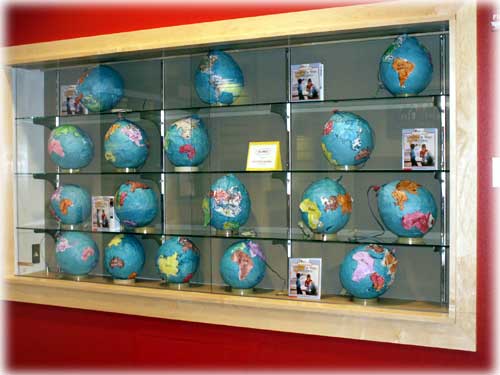 Paper Mache Globes made by Mrs. Collins 2nd grade class.
Photograph by Marie L. Monyak

According to Principal Roberts, the playground is open seven days a week and the basketball court is covered and lit until late afternoon. The Ketchikan Dribblers league has already been using the new facility.

After the short presentation, parents, children and community members took their last stroll through the new school and nothing but positive comments could be heard throughout the building.

As Superintendent Martin said, "It's a new era." Board Member Thomas elaborated, "White Cliff certainly served its purpose well but Fawn Mountain will provide a safe and appropriate place or our students to get a great education.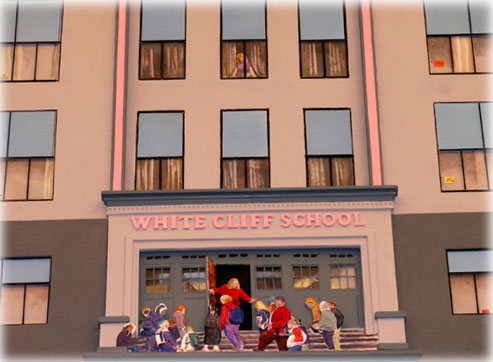 10' x 5' replica of White Cliff by local artist Dave Rubin, above main exit doors.
Photograph by Marie L. Monyak

It will be hard for anyone to ever forget White Cliff Elementary School. As you exit the front door of the new Fawn Mountain Elementary School, high above the door is an exact replica of White Cliff School created by local artist Dave Rubin which measures approximately ten feet by five feet.

Marie L. Monyak is a freelance writer living in Ketchikan, Alaska.
Contact Marie at mlmx1@hotmail.com

Publish A Letter on SitNews Read Letters/Opinions
Contact the Editor
SitNews
Stories In The News
Ketchikan, Alaska

©2006 All rights reserved.