Arts & Entertainment
Flash Back
By Marie L. Monyak
February 07, 2006
Tuesday

Ketchikan, Alaska - Flash Back, the 20th Annual Wearable Arts and Runway Fashion Show, sponsored by the Ketchikan Area Arts and Humanities Council was held this past weekend at the Ted Ferry Civic Center. Those lucky enough to be in attendance were treated to an enchanting show of glitz, glamour and glitter.
The show was a colossal undertaking that involved the talent of numerous artists, dancers, models, stagehands, writers, directors and the benevolence of an almost endless list of benefactors.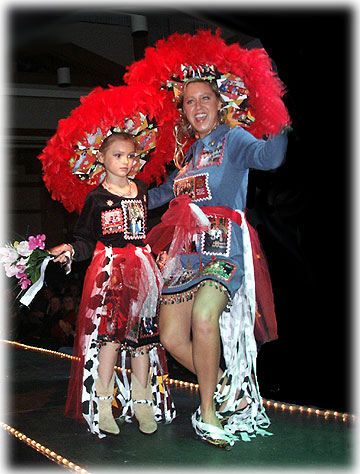 "Flash Back" with Scrapbooking Kodak Ketchikan Style Artists/Models: Connie and Erica Stewart
Photograph By Dick Kauffman
This year's theme title, Flash Back, gave each artist the opportunity to look to the past for inspiration but before the fashion show began, the audience was informed that 20 years of wearable art was all about attitude, an attitude that only Ketchikan can deliver and of course, it's always about the rain.
The pre-show entertainment began with "Rain Flashbacks, an interpretation about how Ketchikanites have handled the rain throughout the years. First on stage were the Native dancers, the earliest inhabitants of our rainy city, followed by seven young women twirling colorful umbrellas and clad in rubber boots. Dancing to songs from the last century, the performers took the audience back to the 1930's with the song "Stormy Weather" to the 1940's with "Singing in the Rain" and to the 1990's with "I'm only happy when it rains" and many more.
Master of Ceremonies, James Scott, came to the stage to offer a warm welcome to the audience and to narrate the spectacular show.
Those in attendance on Sunday were treated to an extra presentation performed by the Holy Name School students. Their out-of-control time machine flashed back to the past and brought out characters from various decades and centuries, from a flapper and a gladiator to a hippie and a yellow submarine.
The show was off to a great start with artist/models, Emily Dell, Elizabeth Jagusch, Katie Keene and Jodi Ruaro decked out in dresses made from playing cards in styles from the "deck-ades" of the 30's, 40, and 50's.
Flashing back to dentist visits in the 1960's may not be a favorite memory for most people but it paid off big for artists Dee Brandow and Marjean Zeiser as Coutney Galloway modeled their flashy creation covered with dental floss, neon mouth mirrors, flashing toothbrushes, tongue guards and over 500 polishing paste cups.
Artist and model, Kirsten Filyaw flashed back to her parent's generation and the age of vinyl records by twirling down the runway in a corset and skirt made of vinyl LP's.
Artist Shari Allen put her emphasis on flashy with "Back Flashing Eyes". Bird-walking her way down the runway in a dress made of silk, velvet, taffeta and over 500 luxurious peacock feathers, model Elizabeth Graham surprised the audience by raising the enormous tail above her head in true peacock fashion.
Skyler Smith, a budding young artist and model also flashed back to her parents who were Grateful Dead fans, by wearing a shimmering costume made of 200 glow sticks. Traditionally Grateful Dead fans would bang glow sticks together during the song, "Sugar Magnolia".
Having a little fun, was artist and model Ivy Palmer, in her mini dress of the 70's made of 300 Coca Cola cans, charming the audience as she danced down the runway in her glittering platform shoes.
First timers in the Wearable Arts show were Connie Stewart and daughter Erica who created and modeled their flashy scrapbook dresses made of photographs, beads, ribbons and feathers with hats that doubled as picture frames for their charming faces.
When artist Jackie Keizer flashes back to the 60's she thinks of boys, The Beatles and macrame. She may not have been knotty but her creations are, in "Knotty, Knotty, Knotty"!
Gunner Keizer strutted about in a trench coat made of knotted bailing twine while Maxx Keizer swaggered out in an urban-hippie-warrior armor made from telephone wire. Between the two Keizers was Bekah Miller attired in a stylish dress made entirely of knotted plastic grocery bags.
In "Pixie Chicks, Treva Widness, Emma Scott and Gracie Brandt-Erichsen couldn't have been more charming as they flashed back to a time when woodland creatures ruled the world. Adorned with netting, vines, leaves, flowers and berries, the young pixies represented spring, fall and winter with the assistance of artists Ann Widness and Beth Brandt-Erichsen.
Shadow dancing behind a scrim held by Maxwell Mercer and Steven Hamberger, models Linda Nelson, Laurie Thomas, Christine Kleinhenz, Julie Steiner and Kathy Graham eventually emerged wearing mod 60's and 70's inspired ensembles made entirely of plastic Wonder Bread bags, one hundred to be exact. Artist Laurie Thomas didn't just create these costumes; she paid homage to the American icon, Wonder Bread.
With memories of their own white trash weddings, artists Candy Peterson and Susan Heisler created Stasha Lee's trashy wedding dress and Aubrey Lee's bridesmaid dress from WalMart bags, garbage bags, a hula hoop, a bike tire and paper mache. The ensembles were completed with Ked's sneakers and wild punk hair. Shauna Lee, costumed as Papa, stood by, shotgun in hand.
Artist and model Loren McCue really followed through on the shows theme by flashing back to a flashback of the 60's when experimentation was high. "Side Effect, her stunning costume of hip-hugger bell-bottoms and midriff top was covered entirely in different colored pill capsules which she had patterned in brilliant psychedelic designs and abstract artwork.
In her 20th Wearable Arts Fashion Show, artist and model Diane Palmer created a bell-bottomed jumpsuit with more than 3000 old buttons on the vest, cuffs and hat. In a tribute to the theme, the artist placed a flash on the back of the glass button vest. Palmer has been acknowledged for her passion, creativity and participation in the Wearable Arts Shows from the beginning in 1986!

Wearable Art Show veteran Halli Kenoyer flashed back to all the creations she has made over the past 20 years and put together an incredible ensemble made with pieces from each of those costumes. With co-creator Sullivan Barry, the four amazing costumes modeled were constructed of tissue paper, wood reeds, saxophone reeds, ceiling wire, paper, photographs, packing foam, and much more. Proud to strut their stuff for Kenoyer were Sean Hovik, Nilu Fama, Marlee Wild and Sullivan Barry.
This is but a small sampling of the outstanding artistry and creativity that was on display at the Wearable Arts Show. There were too many more to mention but they all entertained and impressed the audience with their costumes and with the attitude that only Ketchikan can deliver, as promised at the beginning of the evening.
At the finale, all of the charismatic models "flashed back" to the stage and took their final turn on the runway to a thundering applause.
The Ketchikan Area Arts and Humanities Council will be back next year with Wearable's 21st theme, "Out of Line, to be held the first weekend in February 2007 at the Ted Ferry Civic Center.
Marie L. Monyak is a freelance writer living in Ketchikan, Alaska.
Photograph by Dick Kauffman ©2006

Publish A Letter on SitNews
Read Letters/Opinions
Contact the Editor
SitNews
Stories In The News
Ketchikan, Alaska