MAYOR ISSUES PROCLAMATION FOR DAY OF REMEMBRANCE
By Marie L. Monyak
February 03, 2006
Friday

Ketchikan, Alaska - At the beginning of Thursday night's City Council meeting, Ketchikan Mayor Bob Weinstein issued a proclamation declaring February 3rd as a Day of Remembrance for Steve "Butch" Freeman.

Recently known to local residents as "the man we never met," Steve Freeman was flying above Ketchikan that fateful day a week and a half ago when he piloted his aircraft into the only relatively safe opening in an otherwise crowded neighborhood, saving countless lives at the expense of his own when he ejected mere seconds before his jet crashed.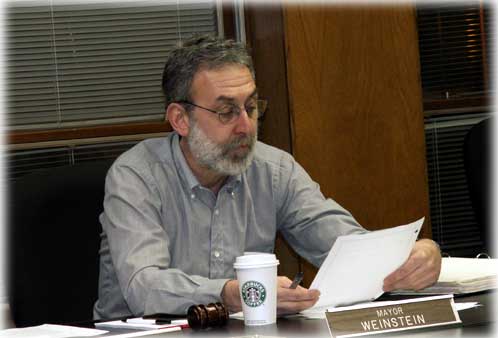 City of Ketchikan Mayor Bob Weinstein reading the Proclamation...
Photograph by Marie L. Monyak

Mayor Weinstein, reading the proclamation, mentioned the outpouring of letters from local residents to both the Ketchikan Daily News and SitNews, citing their gratitude to Freeman for his heroic actions and their condolences to the family.

Also mentioned were the numerous letters received from family and friends of Freeman's that gave Ketchikan an insight into the man he was. Freeman served his country as a law enforcement officer with the U.S. Customs Department and as a retired U.S. Marine Corps pilot who loved life and daring adventures. He was generous and always thinking of others and he loved to fly. Freeman was also a devoted husband, father, son and brother.

Weinstein also mentioned that he had been in contact with Freeman's family and they expressed their deep gratitude for the kind responses of the local residents.

As the City Council meeting was ending, Mayor Weinstein once again mentioned the debt of gratitude the people of Ketchikan feel for Freeman and added his own personal thanks to the public safety personnel for their response to the incident.

The Mayor's proclamation will be read at the funeral for Major Stephen "Butch" Freeman (Ret) who will be buried in his hometown of Huntsville, Texas on Friday, February 3rd.

May you forever soar with the eagles Butch. Farewell.


Marie L. Monyak is a freelance writer living in Ketchikan, Alaska.
Contact Marie at mlmx1@hotmail.com


Publish A Letter on SitNews
Read Letters/Opinions
Contact the Editor
SitNews
Stories In The News
Ketchikan, Alaska