Viewpoints
"All that they can be"
By Mark Neckameyer
February 22, 2006
Wednesday AM

My children have given me many reasons to be proud; all four earned college degrees, earn good livings and each of them works in charity and civic projects, mostly "pro bono" ... For free on their own time.. For example one daughter works with autistic children, teaching them to speak. My daughter's husband is a marine biologist who regularly risks his life diving to study and learn how we can better protect our endangered coastal environment, My son, an attorney, instructs care homes and convalescent hospitals in how to ensure compliance with state and federal regulations and my youngest, a recent college grad, is already active in the Junior Chamber of Commerce. I am so proud of all of them but not more proud than I am of my grandson in the Army, Brian Williams.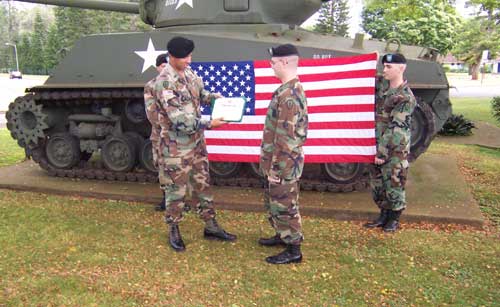 Brian Williams (right) is presented his promotion.

Brian joined the Army right out of high school. He could have continued directly on to college but he wanted to fight to keep our nation free. He said enlisting was something he "had to do". That was four years ago. Brian served as a "mortarman" in Afghanistan right in the midst of the fight against the Taliban. A year or so ago you printed a letter from Brian detailing how he had earned a Bronze Star singlehandidly fighting off Taliban troops who had pinned down a group of American soldiers including Brian's commanding officer. Last month Brian's enlistment was complete. He had earned enough college credit in Police Science while in service that together with his valiant service record, he could have gone to work for just about any police department in the country getting a big raise over his Army pay with a "GI Bill" available to support him through the final two years of college.

Last week Brian told us he was staying in the Army until the job in Afghanistan and Iraq has been completed. His mother and many others in our family were sad and we are a little freighted for him but we think we understand how he feels. The Army recently promoted him to Sergeant and he is seriously being considered for Officer Candidate School where he would earn a commission and learn to train other young men how to become "all that they can be". I have attached a picture of Brian receiving his promotion to Sergeant. He is now in Ft Irwin perfecting his desert warfare skills preparing to go back to Iraq,

Brian Williams is all of 22 years old. How does America rate to have brave, intelligent, responsible young men like this to protect us and preserve our free way of life? I know, I sound like a proud Grandpa but I can't help but think that God does bless America!
Mark Neckameyer
Irvine, California - USA
(But soon Alaska in the Sunmmertimes!)


Note: Comments published on Viewpoints are the opinions of the writer
and do not necessarily reflect the opinions of Sitnews.
Write a Letter -------Read Letters

E-mail the Editor

Sitnews
Stories In The News
Ketchikan, Alaska