Elizabeth Peratrovich Day Celebration
Continues Focus on Native Civil Rights
By Sharon Lint
February 18, 2005
Friday

Ketchikan, AK - Forty-seven years after her death, Elizabeth Peratrovich can still pack assembly halls with citizens concerned about Native Civil Rights.
This time the Southeast Alaska Discovery Center was filled to overflowing Wednesday night as throngs of residents from Ketchikan and the surrounding areas crowded into the small theatre area to celebrate "Elizabeth Peratrovich Day."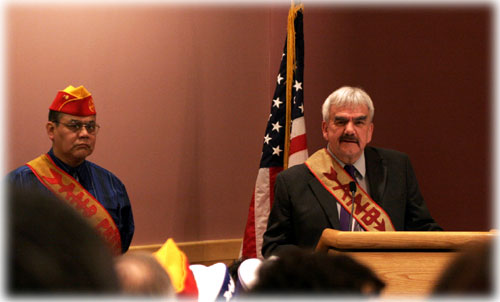 Left to right: Tom Skultka, President of ANB of Ketchikan and Dewey Skan from Klawock. Skan is the Grand President of the Alaska Native Brotherhood for Alaska.
Photo by Carl Thompson

Master of Ceremonies Tom Skultka opened the celebrations by encouraging leadership, education and continued cooperation between tribes. "Time does not stand still," he said. "We need to again become our people's leaders in a changing world. Our children and grandchildren depend on us to adjust to the changing world and still remain who we are, a proud people, proud of our country, proud of our past."
And the past was what was being celebrated, and rightly so. Elizabeth Peratrovich Day was established as a state holiday by the Alaska Legislature on February 6, 1988, in order to memorialize the contributions of Elizabeth Peratrovich "for her courageous, unceasing efforts to eliminate discrimination and bring about equal rights in Alaska." (AS 44.12.065).
It all started when Elizabeth and Roy Peratrovich, as the president of the Alaska Native Sisterhood (ANS) and the Alaska Native Brotherhood (ANB), respectively, began to lobby government officials on behalf of Alaska Natives by writing letters advocating the passing of an anti-discrimination law. Together, on December 30, 1941, Elizabeth and Roy wrote to Territorial Governor Ernest Gruening. In 1943, with the help of Congressional Representative Anthony J. Dimond and Governor Gruening, the nation's first anti-discrimination bill was drafted and brought before the territorial legislature. Sadly, the bill, which mandated equal rights for Natives who were, at the time, being denied admission to establishments such as restaurants and hotels, did not pass.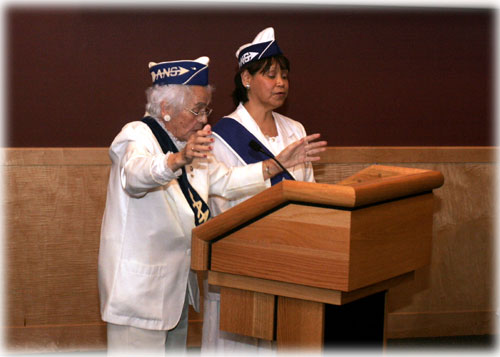 Song leaders Erma Lawrence and C.C. Johnson...
Photo by Carl Thompson

However, later in 1945, the bill was again put before the government. Given life as House Bill No. 14, it was described as "An act to provide full and equal accommodations, facilities, and privileges to all citizens in places of public accommodations within the jurisdiction of the Territory of Alaska; to provide penalties for violation." (Knowles, State of Alaska Proclamation).
One book on the subject, a "Recollection of Civil Rights," recounts that as the Senate began deliberating House Resolution 14 early in February, Elizabeth Peratrovich sat patiently as an observer in the gallery. Juneau Sen. Allen Shattuck violently argued against the Anti-Discrimination Bill before a packed hall in the territorial legislature. Then, according to established legislative custom during a debate on a bill, an opportunity was offered to anyone present to voice their views. Elizabeth rose to speak. In many ways, her stirring words have become Alaska's equivalent of Martin Luther King's "I Have A Dream" address to the nation.
As part of the celebration, Irene Dundas of the ANS recited from that book. One excerpt Dundas presented to the audience read as follows:
"I would not have expected," Elizabeth said in a quiet, steady voice, "that I, who am barely out of savagery, would have to remind gentlemen with five thousand years of recorded civilization behind them of our Bill of Rights. When my husband and I came to Juneau and sought a home in a nice neighborhood where our children could play happily with our neighbor's children, we found such a house and arranged to lease it. When the owners learned that we were Indians, they said no. Would we be compelled to live in the slums?
There are three kinds of persons who practice discrimination: First, the politician who wants to maintain an inferior minority group so that he can always promise them something; second, the " Mr. and Mrs. Jones" who aren't quite sure of their social position, and who are nice to you on one occasion and can't see you on others, depending on whom they are with; and third, the great superman, who believes in the superiority of the white race."
Peratrovich was the last to be heard. The Senate passed the bill 11 to 5 on February 8, 1945. Ernest Gruening, governor of the territory of Alaska, signed the bill into law on February 16, 1945, nearly twenty years before the Civil Rights Act of 1964 forbade sexual and racial discrimination on a national level.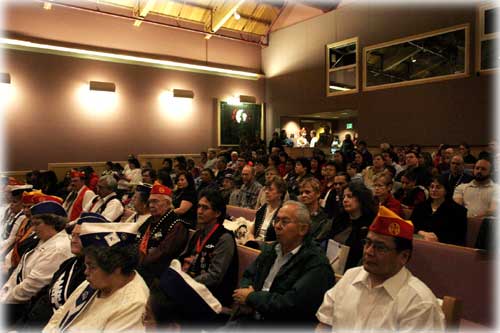 The Discovery Center was packed for the Celebration...
Photo by Carl Thompson

Although it is well recognized that Peratrovich did not accomplish the passage of this bill alone, she is credited for being instrumental in the effort. Years later, Governor Gruening said, "Without Elizabeth Peratrovich's eloquent testimony, the measure would not have passed. (Oleksa, For the Juneau Empire).
Peratrovich's historic act was also related in an essay written and read by Christy Blair, a student at Schoenbar Middle School. Sheila Blankenship, a teacher at Schoenbar, introduced Blair.
The essay focused on the topic of Elizabeth Peratrovich and was the winner of an 8th Grade Essay Contest. Blair's essay summarized Elizabeth Peratrovich's early life and her work to gain rights for natives. Blair concluded by saying, "If she [Peratrovich] did not fix this problem, we would probably not be in school or have jobs today"
Also speaking to the issue of civil rights during the event, Diversity Proclamations were read by Michael Salazar, Mayor of the Ketchikan Gateway Borough, and Bob Weinstein, Mayor of the City of Ketchikan.
Stepping up to the podium with a smile, Weinstein greeted the assembled celebrants warmly. "Good evening everybody. First of all, I wanted to say that it is a privilege for me to be here tonight participating in an event that I think is very important to this community," Weinstein said. "Ever since becoming Mayor it has been a privilege for me at this time of year to declare a certain period of time as Ketchikan's diversity month. I think that is important"
After Weinstein's proclamation had been read, a moment of silence was observed to reflect on the efforts made by all for the cause of civil rights.
Yet, the focus of the event was not always on past efforts. Earlier in the evening, thanks were given to all the sponsors who had contributed to make the current celebration possible; ANB and ANS of Ketchikan Camp 14, ANB and ANS of Saxman Camp 15, Ketchikan Indian Community, US Forest Service, and the organized village of Saxman. Lifetime members, guests, supporters and those making contributions to the event were also officially recognized.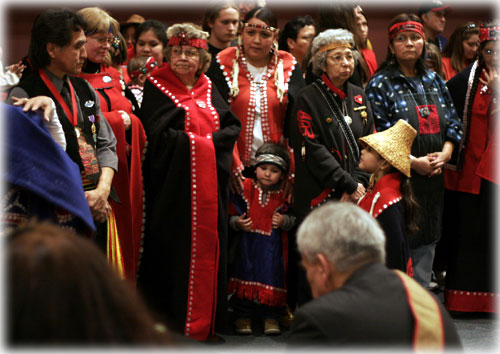 Reflecting on the efforts made by all for the cause of civil rights...
Photo by Carl Thompson

The executive committee and their contribution to the evening were recognized as well. "...as in every year, the committee members have worked tirelessly to honor the history of ANB, ANS and its important players," a speaker said, before continuing on to expound upon the mission of the event, "The purpose of this celebration is to promote knowledge of Alaska history which helps us understand the present, and prepare for the future"
And the future was well represented. Many youngsters attended the celebration, both as performers and as audience members, and were well behaved and respectful during the two-hour event. Winona Wallace delighted the gathering with a PowerPoint Presentation showing pictures of Native Youths and giving recognition to their accomplishments, reinforcing the value of Peratrovich's legacy of civil liberties. Of special note was a recording of Gregory Bird's performance of "Angels" at the Jazz Cabaret this past month, which received unreserved applause from the audience.
Even the Dance Groups performing at the conclusion of the celebration reflected a mixture of the past, present and future working together. Presented by the KIC dance group, Tongass Tribe dance group and the Cape Fox Dancers, all ages were represented - from a small child being held by his mother as she danced, to great-grandparents who moved with ritual majesty to the well-remembered beat of the drums. Some wore complete traditional costumes, others wore street clothes with a single ritual garment over it. But all sang, played and danced as one, knowing where they had come from, who they were, and even if they did not know the future, they at least knew where they would like to go as a people - following the path set by Elizabeth Peratrovich.
Sharon Lint is a freelance writer living in Ketchikan, Alaska.
Contact Sharon at sharon(AT)sitnews.us
Sharon Lint ©2005

Publish A Letter on SitNews Read Letters/Opinions
Submit A Letter to the Editor

Sitnews
Stories In The News
Ketchikan, Alaska