The Story of a Sitting Bull:
Ferdinand and Friends Becomes Another StoryTime Success
at the Ketchikan Library
By Sharon Lint
February 14, 2005
Monday

Ketchikan, Alaska - On February 10th and 11th, StoryTime at the Ketchikan Public Library played host to local violinist Sarah Briggs-Cornelius and reader Keith Smith. Their musical performance of Ferdinand and Friends delighted all who attended. Enthralled children sat on laps or lay on cushions in front of the makeshift stage as Keith recited the story and Sarah emphasized the words with her exquisite talent on the violin.
For those unfamiliar with the tale, the original book, The Story of Fredinand, was written by Munro Leaf over sixty years ago and was first published by Viking Press in 1936. Rumor has it that Leaf wrote it to promote the drawing talents of his good friend Robert Lawson, a then-unknown illustrator. It is said that it took Leaf less than one hour to write the 800-word children's book. Lawson then took up the challenge and created the distinctive pen-and-ink drawings. Especially skillful in his use of contour lines, the intricate illustrations seem to come alive upon the page and serve as a perfect compliment to the simplistic story.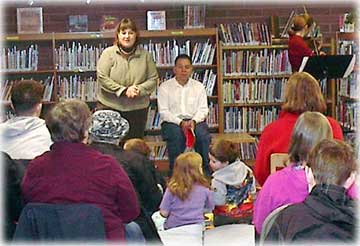 Charlotte Glover, librarian, introduces Keith Smith and Sarah Briggs-Cornelius at StoryTime.
Photo by Sharon Lint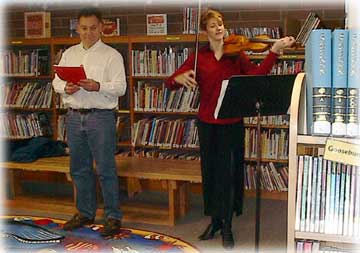 Keith Smith and Sarah Briggs-Cornelius
begin telling the story of Ferdinand
Photo by Sharon Lint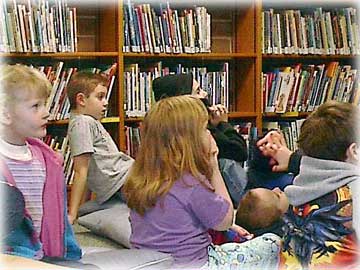 Kids gather on the floor in front of the
makeshift stage to hear the story.
Photo by Sharon Lint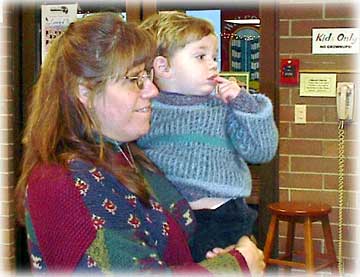 Keith's wife Elizabeth holds their son as
they watch the performance.
Photo by Sharon Lint
The tale itself introduces a sweet-natured bull named Ferdinand, who, unlike the other bulls running around butting their heads, likes to sit under his favorite cork tree and smell the flowers. When men from the city arrive to pick the meanest, angriest bull for a bullfight in Madrid, Ferdinand ignores them. However, when stung by a bee, Ferdinand's antics cause the men to choose him for the event. Beloved for its heart-warming characters and its quiet message of non-violence and individualism, The Story of Ferdinand is as popular as ever and has been retold in over sixty languages. It also became a Walt Disney Cartoon (short), and was developed into a musical/narrative skit and a musical play as well.
The skit was chosen for the performances this past Thursday and Friday. English composer Alan Ridout is credited with setting the original story to music for solo violin and narrator and it is available in the form of a Book/CD set in bookstores and on the internet. Illustrations are by Robert Lawson and it features Drostan Hall on the violin and Dorothy Hall as narrator. Sarah picked it for the event because of its popularity and its requirement for only two performers. "A friend sent it to me," she explained, "I thought it would be perfect."
Charlotte Glover, librarian in the children's section, agreed. Praising Keith and Sarah for the book chosen and for their enthusiasm for storytime itself, she went on to talk about the origins and benefits of the program.
"We've been doing storytime down here for twenty to twenty-five years," she said. "Initially this room was actually a basement play area and some parents got together and said, "Let's have storytime."
As for the benefits to the children, it is well documented that kids who are read to frequently develop a love of books, do better in school, and usually become readers for life. But there are other advantages that are not so apparent. Studies have proven such reading programs promote early brain development and increase speech, memory, coordination, language, attention spans, physical ability and social skills. Charlotte stated that the program's success can be clearly seen as the children enter school.
"Research has shown us that kids that have a variety of activities and learning environments are going to do real good in school," she commented, adding "families that routinely use the librarytheir kids are comfortable in a learning environment, whether that's a classroom or a library."
Shaking her head, she continued, "And kids that do not use a library, when I meet them through HeadStart or through a social service agency at three or four or five, there's an obvious difference in their comfort level in this room than if I see them at age four versus if I see them at birth. They're not used to listening to stories, they're bored, they're distracted, they're waiting for the movie to start, they're not interested in the book. It's a very, very noticeable difference and it's very sad. I always say that HeadStart is just not soon enough."
As for who can attend, Charlotte smiled and said, "Anyone. A lot of libraries try to restrict age or attendance with a ticket. Years ago in Ketchikan we just gave that up and said anyone can come and so Tuesdays, Thursdays and Fridays are public story hours. We read at 10:30 a.m., read until 10:40 for about twenty or twenty-five minutes, with songs, finger plays and then a short film and because they are stay-home parents and home-schooling families, and kids out-of-school, we've just never made an age restriction. It's family friendly. Anyone can come."
The truth of her words became apparent as the crowd settled in for the performance. It was well attended both days - with well-over sixty listeners of all ages, from infants to the elderly. All seemed enchanted by Keith and Sarah's unique combination of talents. The children seemed particularly interested in the violin. A young listener, Gretchen Wilhelm, sat spellbound during the music and at the end of the performance, smiled brightly and exclaimed, "the violin was so awesome!"
And Sarah makes it look easy. An accomplished musician, she received her Bachelor of Music degree at Eastman School of Music and her Masters degree at the University of Texas/Austin. She taught at the Sherwood Conservatory of Music in Chicago and has played with several famous symphonies, including the Chicago Symphony Orchestra, the Anchorage Symphony Orchestra, the Utah Symphony and the Charlotte Youth Symphony in Charlotte, North Carolina. While in Alaska, she has enjoyed teaching violin to students and playing at the Pioneer's home and for similar events.
After the performance, she confirmed the fact that she will be leaving Ketchikan soon. Her new home will be a small town in Germany. When asked about the move, she enthused, "there's so much great stuff in Germany as far as the violin goes," and then added, "I'm really excited about it. We'll get to go to different concerts, and soak up the culture."
Keith Smith is also an accomplished artist. A well-known poet and actor, he received his Bachelors of Arts degree at Oberlin College in 1982 and a Masters of Liberal Arts in poetry from the University of Virginia in 1988. Since moving to Ketchikan, he has been involved in several productions, including A Midsummer Night's Dream, The Music Man, House of Blue Leaves, Fish Pirate's Daughter, and Chicago. He was also the Executive Director of the Ketchikan Area Arts & Humanities Council from 1998 to 2002 and the Project Coordinator for the new Ketchikan Art Center building project from 2002 through 2004.
More recently, in the spring of 2004, he worked with students from the Tongass School of Arts and Sciences in creating a trickster melodrama, Raven Goes to School. He has also edited the S.E. publication Inside Passages, as well as a number of literary magazines and journals. He co-hosts a weekly radio show on KRBD, The Poetry Lounge, is a founding member of The Writer's Forum, a School Board Member, and is currently working with Fred Ho (NYC) on the CrossSounds '05 project, Rainsongs.
Anyone who missed the performance can access the original book at the internet site: http://pages.prodigy.net/poss/ferdinand/main.htm.
Sharon Lint is a freelance writer living in Ketchikan, Alaska.
Contact Sharon at sharon(AT)sitnews.us
Sharon Lint ©2005


Publish A Letter on SitNews Read Letters/Opinions
Submit A Letter to the Editor

Sitnews
Stories In The News
Ketchikan, Alaska