THE SUN COMES OUT FOR THE RAINY DAY QUILTER'S
14TH ANNUAL QUILT SHOW AND AUCTION
February 14, 2005
Monday

Ketchikan, Alaska - Two hundred and two beautiful entries representing thousands of stitches drew crowds to the Plaza Mall for the 14th Annual Quilting in the Rain quilt show in Ketchikan. The Rainy Day Quilter's Guild sponsors the show, which exhibits handcrafted quilts and quilted art forms in contemporary and traditional styles. From bed quilts to baby blankets, antiques from the Civil War era to innovative wall hangings with metallic and hand woven fabrics, vests to table toppers, there is something for everyone at the quilt show this year.
"The Annual Quilt Show is the culmination of a year's worth of planning and hard work by an energetic committee of members," said Dena Conley, this year's quilt show chairperson.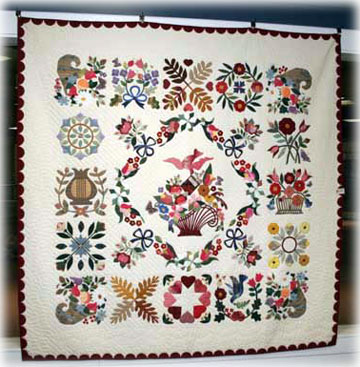 People's Choice and Best of Show
708 - Baltimore Album (hand quilted)
Quilt Owner: Lynn Wadley ~ Quilt Maker: Carol Ann Wadley
Photograph by Carl Thompson
Quilt Guild Co-Presidents, Judy Madden and Nancy Mitchell, acknowledge the spacious area on the second floor of the Plaza Mall. "Our show has the feel and excitement of an art opening for the community, and the Plaza space is perfect to show off the beauty and diversity of quilts."
The public votes on their favorite quilt Saturday, and the "People's Choice" is then awared a special ribbon. This year, People's Choice and Best of Show was awarded to the Baltimore Album Quilt by Carol Ann Wadley. The quilt is one of three made by the same quilter ten years ago. Mrs. Wadley has been quilting for over forty years, and she gifted her daughter-in-law, Lynn Wadley, with the quilt for her birthday last September.
A spectacular, quadruple red and white Irish Chain pattern quilt, made by guild members is bring raffled this year, and tickets are on sale at the show. The quilt hung behind an entry table and was shown around town since the holidays. The lucky winner Mechele MacDonald was drawn at 3 pm on Sunday. Each year raffle ticket holder's hearts skip a beat as the winning ticket is drawn from the basket of hundreds sold.
The fevered pitch of cutting, sewing, stitching, and tying expands after the holiday season. Many quilters attend retreats in order to complete or begin projects that will eventually find their way into the quilt show. A close reading of the catalog indicates that many of the quilts, already gifted to their owners, are allowed to return to Ketchikan just so they can be viewed and judged at the show. This year, baby and table topper quilts were added to the competition categories.
Quilts and other innovative hand made and sewn gifts are being auctioned off at the show. You could have viewed the gorgeous items and placed bids on those items until 3 pm on Sunday. Who knows? You could have purchased a quilt item!
The quilt show is a shining and creative part of Ketchikan Arts and Humanities Festival of the North, which takes place in February each year. Quilt guild members volunteer to prepare the entry forms for submission and intake, catalog, hang all the quilts, and staff the show. A program outlining descriptions of each quilt, and the individual quilt categories is produced for visitors to use while examining the quilts. Show staff was available for questions, to staff the entry points, and to sell raffle tickets and quilt guild cookbooks during the show. Current and past quilt guild presidents bestow a President's Award to a guild member who has given freely of their time and talents for the betterment of the guild. This year, Cathy Tillotson was honored with the President's Award.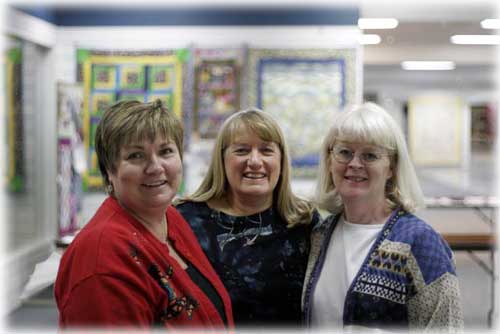 Show chairperson and Guild Vice-president Dena Conley (L) and Guild
Co-Presidents Nancy Mitchell(Center) and Judy Madden(R) enjoy a light
moment before the beginning of the "14th Annual Quilting in the Rain" Quilt
Show and Auction.
Photograph by Carl Thompson

A unique exhibit of the quilt guild's community service projects are on display, including pictures from the archives of past accomplishments. Views of fire quilts donated to those that have lost homes to fires, specialty pillowcases and bibs for W.I.S.H. and local seniors, respectively, are also on display. Quilters have big hearts of gold; they gather to produce tied comfort quilts for guild members experiencing loss of loved ones and serious illnesses.
On Friday, the opening night reception celebrated the completion of a lot of hard work by guild members and their families. Guild members voted for the best quilts in a diversity of categories (appliqué, baby, bed quilts, first time in a show, group, innovative, lap quilts, miniatures, serendipity, table toppers, wall hangings, wearable art, and youth) divided up by style of quilting. Quilts may be hand sewn, produced by hundreds if not thousands of stitches, machine sewn by the quilters, professionally machine quilted or tied. Guild members also get to vote for a single quilt in the show that exhibits the Best Use of Color, Best Hand Quilting and Best Machine Quilting. A panel of five judges from the community also judged the Best of Show from the first place winners in each category. Judges also picked their favorite from the two hundred plus quilts for Judge's Awards. Winners were ribboned on Saturday night so that they could be viewed on Sunday from noon to 4 pm.
If you wish to view the quilts from this year's show, view the gallery of quilts at http://carlsphotos.com/quilters/index.html
Congratulations to all the quilters and winners of this year's show. You have outdone yourselves again! Thanks for shining your creativity our way in Ketchikan.
14th Annual Quilting In the Rain Winners
& Photo Gallery
Photographs by Carl Thompson
Best Use of Color:
1st: 504 Anniversary Quilt by Jean Kemmerer
2nd: 554 Milimili by Sherry Henrickson
Best Hand Quilting:
1st: 561 Welsh Beauty by Annette Hansen
2nd: 708 Baltimore Album by Carol Ann Wadley
Best Machine Quilting:
1st: 700 If Moda Came to Town by Dawn Teune
2nd: 416 Chinese Lattice by Mary Goodwin
Best Serendipity:
1st: 3001 Hand Beaded and Embroidered Scissor Sheath by Kathy Van Horn
2nd: 3003 A Fish by any other Name by Faith Duncan
Honorable Mention: 3000 Designer Tote Bag by Penny Cusack
Best Wearable Art:
1st: 2001 Jacket of Many Fabrics by Cathy Tillotson (2001 middle)
2nd: 2002 Hmong Apron by Hmong Immigrant Artisan (2002 1st on left)
Miniatures:
Hand quilted 1st: 101 Mini Oriental by Mary Larson
Hand quilted 2nd: 111 Tiny Seams by Elizabeth Gonzales
Machine quilted 1st: 104 Cabin Paws by Kathy Van Horn
Machine quilted 2nd: 106 What Was I Thinking by Dena Conley tied with 108 Hearts and Gizzards by Dena Conley
Wall Hanging:
Hand quilted 1st: 212 Uncle Sam by Kathy Jackson
Hand quilted 2nd: 201 Feathered Star by Dawn Teune
Machine quilted 1st: 202 Insanity by Judy Madden
Machine quilted 2nd: 211 Paradise by Margie Kraft
Prof quilted 1st: 200 Wedgewood Urn by Jill Bennett
Prof quilted 2nd: 208 Turtle Travels by Kathy Van Horn
Table Toppers:
Hand quilted 1st: 1000 Basket Table Runner by Madalyn Palensky
Machine quilted 1st: 1001 Blazing Star Table Runner by Cathy Tillotson
Machine quilted 2nd: 1002 Seven Sisters by Judy Madden
Baby:
Hand quilted 1st: 300 Katerpillar Kaleidoscope by Juli Ann Moon
Machine quilted 1st: 307 Lindsay's Sunbonnet Sue by Roxann Byron
Machine quilted 2nd: 302 Hearts and Stars by Cathy Tillotson
Prof quilted 1st: 309 Bug Jar by Meg Spink
Prof quilted 2nd: 308 Pink Brick Road by Jill Bennett
Tied 1st: 306 Macario's Quilt by Marsha Bousley
Lap:
Hand quilted 1st: 401 Folk Art Ravens by Dawn Teune
Machine quilted 1st: 414 Hidden Layers by Cathy Tillotson
Machine quilted 2nd: 416 Chinese Lattice by Mary Goodwin
Prof quilted 1st: 405 Feathered Stars by Kathy Van Horn
Prof quilted 2nd: 402 Village Green by Mary Jo Erickson
Prof quilted Honorable Mention: 403 Home is Where the Heart Is by Mary Jo Erickson
Tied 1st: 413 Guy Fabrics and Circles by Cathy Tillotson
Bed quilts:
Hand quilted 1st: 561 Welsh Beauty by Annette Hansen
Hand quilted 2nd: 559 Stan and Kara's Walk in the Woods by Annette Hansen
Hand quilted Honorable Mention: 515 Unknown Name by Unknown Maker, owned by Missy Williams
Machine quilted 1st: 563 Dear Eliza by Lindley Gifford
Machine quilted 2nd: 545 Hovering Hawks by Cathy Tillotson
Machine quilted Honorable Mention: 528 Let's Go Fishing by Jeanne Sande
Prof quilted 1st: 530 Trapunto Basket's and Nine Patch Stars by Kathy Van Horn
Prof quilted 2nd: 538 Heirloom Stars by Gretchen Skillings
Prof quilted Honorable Mention: 510 "Ennis" Montana Cartwheels by Penny Cusack
Tied 1st: 506 Log Cabin by Barbara Bailey
Tied 2nd: 529 Dena's Mystery Quilt by Jeanne Sande
Group:
Hand quilted 1st: 602 Baskets by Friends by Madalyn Palensky
Hand quilted 2nd: 607 Irish Chain by Rusty Vondersmith and tied for 2nd with 600 Four Seasons Scrappy by Kathy Jackson and JoanE Kasko
Machine quilted 1st: 611 Winter Pinwheels by Traci and Judy Madden
Machine quilted 2nd: 613 Patience for Alix by Christal Rose, Alix Shreffler and Maureen Kokkas
Prof quilted 1st: 605 Unnamed by Virginia Adams and Tara Schrepel
Prof quilted 2nd: 615 Crown Royal by Yolonda Dell and Tara Schrepel
Tied 1st: 606 Comfort Quilt by Rainy Day Quilters owned by Roxann Byron
Tied 2nd: 612 Cowboy Comfort Quilt by Tara Schrepel and Yolanda Dell
Innovative:
Machine quilted 1st: 805 Out of the Box by Lindley Gifford
Machine quilted 2nd: 800 Wyoming Fall by Jeanne Sande
Machine Quilted Honorable Mention: 801 Ancient Mother by Sherry Henrickson
Prof quilted 1st: 807 Variations on a Theme II by Sherry Henrickson
Prof quilted 2nd: 807 Variations on a Theme I by Sherry Henrickson
Prof quilted Honorable Mention: 806 Flower Garden by Irene Nichols
First quilt:
Hand quilted 1st: 914 Tattered Toby by Jennifer Lewis (photograph not available)
Hand quilted 2nd: 911 I Like Purple by Pamela Wilsie
Hand quilted Honorable Mention: 913 Adirondack Bear by Margo Schwankl
Machine quilted 1st: 902 Oriental Star by Patricia Shaughnessy
Machine quilted 2nd: 909 Cat Tales by Patricia Rose
Machine quilted honorable mention: 917 The Gobbler by Nancy Ridgley
Prof quilted 1st: 903 Autumn Lone Star by D.J. Heiser
Prof quilted 2nd: 906 Stack-n-Whack by Gayle Nichols
Tied 1st: 908 Arboretum for the National Assoc. For Interpretation by Faith Duncan, tied for 1st place with 916 Double Irish Chain by Stormy Royer
Appliqué:
Hand quilted 1st: 708 Baltimore Album by Carol Ann Wadley
Hand quilted 2nd: 705 Flowers from Mom by Donna Auther
Machine quilted 1st: 700 If Moda Came to Town by Dawn Teune
Machine quilted 2nd: 704 Happy Hearts by Linda Jones
Prof quilted 1st: 701 This One's For Me by Kathy Van Horn
Judge's Choice:
Connie Wingren: 903 Autumn Lone Star by D.J. Heiser
Jim Wingren: 508 Colorwash Irish Chain by Barbara Bailey
Bonnie Fitzwater: 517 Cabin in the Woods by Mary Jo Erickson
Jeff Fitzwater: 530 Trapunto Basket's & Nine Patch Stars by Kathy Van Horn
Claire Patton: 537 The Beast by Dena Conley
People's Choice:
708 Baltimore Album by Carol Ann Wadley

Best of Show:
708 Baltimore Album by Carol Ann Wadley

President's Award:
Cathy Tillotson
E-mail your news & photos to editor@sitnews.us


Publish A Letter on SitNews Read Letters/Opinions
Submit A Letter to the Editor

Sitnews
Stories In The News
Ketchikan, Alaska