Front Page Photo
'Rain Dancer'
Photo by M.C. Kauffman
February 11, 2005
Friday

Ketchikan, Alaska - It is said that the song of the peacock is a call for rain. If this is true, then Mr. P. Kaku's recent winter dance and song has brought yet another rainy day to Ketchikan.
Mr. P. Kaku is one of six peafowl that thrive in Ketchikan given special housing and care. This bevy, which includes two adult peacocks, two adult peahens and two young peacocks are members of the Kauffman family.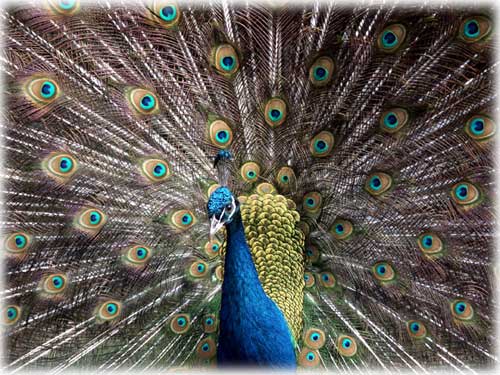 Mr.P. Kaku - A Ketchikan Peacock
Adult males have their first colorful tails at the age of three.

According Dan Hart, with the Federal Aviation Administration's Flight Service Station in Ketchikan, 2.97 inches of rain has been recorded at the Ketchikan airport from midnight Thursday through 11:05 Friday morning. More heavy rain is expected throughout the day.
And for those wondering just where the peafowl are during this rainy day, they are snuggy and dry - perched high in their heated peafowl house.
M.C. Kauffman ©2005


Publish A Letter on SitNews Read Letters/Opinions
Submit A Letter to the Editor

Sitnews
Stories In The News
Ketchikan, Alaska