Youth Develop Leadership Skills
by Joseph Branco
February 02, 2005
Wednesday

Ketchikan, Alaska - Leaders are seldom noticed until those moments of crisis that faces a school, a church, a city or a nation. Rudy Guliani was a good mayor, but on September 11th he emerged as a genuine leader. Seemingly calm and self-assured on the outside while his internal organs broiled he led the city of New York through its worst moment. Leaders in small scale and large scale possess a quality that tells everyone else that "it will be okay because together we will get through it". Leaders never stand alone; they stand as a member of the team.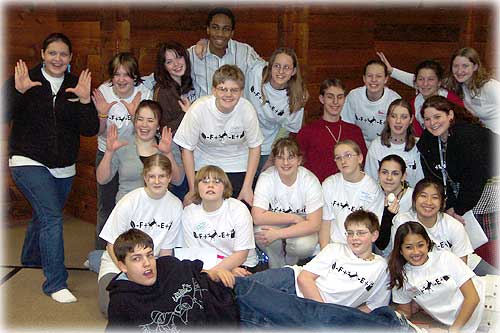 Ketchikan youth took time to pose for a group photo. This group, among Ketchikan's emerging leaders, participated in the Jr. High Leadership Conference Saturday.

Our community has amazing leaders emerging among our young citizens. Several of these Ketchikan students participated in the Jr. High Leadership Conference Saturday, January 29th. The conference presented the young people of Ketchikan with a unique opportunity to discover their leadership potential and teaches them how to turn those strengths into positive community strategy.
Young people who attend the leadership conference share the lessons learned and begin to transform great potential into great works. Ren Sheil, 13 reminds us, "You might not notice, but anyone can be a leader." Tanner Thomas, 12, says, "Leadership is one of the most fun things you can do that is legal and has a purpose." And Elliot Jacksch, 14, remarks, "In leadership, keeping an open mind is the most important part."
Grasping the attention of a large group of energetic and personable Junior High students and using that energy to introduce and improve leadership skills takes a special kind of communicator. To aid in the important event, the organizers of the conference hired inspirational speaker and seasoned leadership coach, Ty Sells, from Youth to Youth International. For years, Sells has coordinated and spoken at several conferences and events across the country, managing to work with Ketchikan youths on many occasions. Ty Sells states, "The people of Ketchikan have a lot to be proud of. The middle school students here have been excellent. We've had a full day of training, but they have stayed with us and were really insightful and also very interactive and had great input. They love this community and would love to find ways to help this community, even at a young age. The relationship with Youth to Youth and Ketchikan has been around for years and years. We love coming here and working with your kids. Let's keep up the good work!"
The Jr. High Leadership Conference was made possible through the coordination and support of PATCHWorks, Alaska Ice, and the Ketchikan Gateway Borough School District. In its third year, the conference has made a lasting impression on the young people involved and a powerfully positive impact on our community in ways not easily measured.
PATCHWorks Director Jaylynn Merril explains, "Developing leadership qualities and skills are important for all teenagers. Research suggests that students who exhibit leadership tend to have more of the developmental assets, meaning they are less likely to engage in high risk behaviors and more likely to become successful, responsible citizens. PATCHWorks, Ketchikan Gateway Borough School District, and the Alaska ICE project are proud to sponsor activities that foster and promote the development of leadership skills. Annually a high school training is offered in late fall, while the junior high training is held in late winter. We would hope that more parents and students will take advantage of these opportunities when they arise."

E-mail your news & photos to editor@sitnews.us


Publish A Letter on SitNews Read Letters/Opinions
Submit A Letter to the Editor

Sitnews
Stories In The News
Ketchikan, Alaska