Before Year Ended, Ucore Moved Closer to Construction of Strategic Metals Complex
By MARY KAUFFMAN
January 08, 2019
Tuesday AM

(SitNews) Ketchikan, Alaska - The end of 2018 has been a busy time for UCore in moving forward on their company's forthcoming rare earth and strategic metals refinery and separation plant that will be based in Ketchikan..
UCore reported in late November the initiation of the consultation process with local government officials on the planned construction of the Alaska Strategic Metals Complex to be located in Ketchikan Gateway Borough.
The commencement of consultations is yet another milestone in the overall process of designing, permitting, constructing, and operating the ultimate rare earth element (REE) separation facility. Other milestones achieved before the year's end included executing a land purchase agreement and selecting a contractor to commence with the required due diligence regarding the purchase agreement of the comprehensive land package.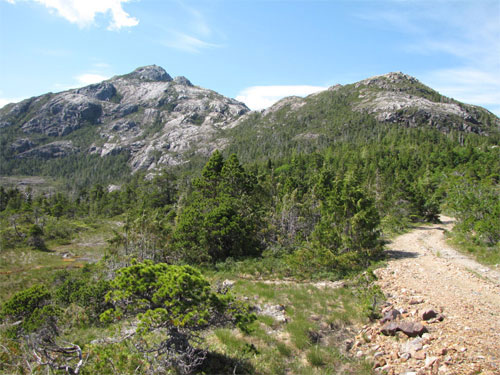 Bokan Mountain located on Prince of Wales Island in Southeast Alaska is the proposed site of a heavy rare earth element mine.
Photo Credit: Susan Karl, USGS
Late September, Ucore executed a land purchase agreement ("LPA") for a 5.8 acre parcel of land within the Ketchikan Gateway Borough located on the North Tongass Highway featuring Heavy Industrial Zoning, immediate access to trucking routes, and proximal access to the Ketchikan deep water shipping and container facilities. The 6-acre land package comprises two adjacent lots, located at 10690 N. Tongass Hwy & Blk 10600 N. Tongass Hwy.
"The selection of the Alaska SMC property is a key element of our project pathway", said Mike Schrider, Chief Operating Officer of Ucore. "The current owners of the selected site have been very gracious, accommodating all of our needs to secure a suitable site for this intricate project. The site is located north of the City of Ketchikan, within the Ketchikan Gateway Borough. It meets all of our internally developed criteria, including land mass to accommodate our anticipated footprint, as well as being one of very few consistently flat, sufficiently-sized and suitably-zoned commercial properties in the area. With highway frontage and fundamental infrastructure to support the planned accesses, services and utilities, I believe we could not have selected a more promising development location."
"The United States Government recently cleared legislation which places prohibitions on the U.S. Department of Defense from purchasing rare earth magnets from China, Russia, North Korea and Iran," commented Jim McKenzie, President and CEO of Ucore. "This has been an enormous shot in the arm for the build-out of a US-based rare earth separation center and supply line. Securing this well-appointed property, with strategic access to feedstock, utilities and personnel, is a huge first step restoring a domestic rare earth raw material supply chain for the US and its Allied partners. Many thanks to AIDEA and the City and Borough of Ketchikan for their continued avid support for this important project."
In late October, Ucore reached another milestone the contracting with R&M Engineering-Ketchikan, Inc. to commence with the required due diligence regarding the purchase agreement of a comprehensive land package for the Company's forthcoming rare earth and strategic metals refinery and separation plant in Southeast Alaska, the Alaska Strategic Metals Complex.
R&M was chosen according to a UCore news release because R&M offers a broad spectrum of services with a focus on civil and environmental engineering, land surveying, utilities design, structural engineering and architectural design. The firm specializes in contract administration and special inspections, the design of new structures, remodeled structures, and water & sewer treatment facilities compliant with Surface Water Treatment Rule regulations. R&M's experience includes commercial and industrial subdivisions, topographic surveys and the planning and design of road infrastructure, buildings and applicable utilities.
Of the most recent milestone announced in late November, Mike Schrider, COO of Ucore said, "Obtaining local government input and approvals are critical aspects of earning our social license within our chosen locational community of Ketchikan. Schrider stated, "This is a commitment that we have made in consultation with and under the guidance of the Alaska Import Development and Export Authority ("AIDEA"). As a prospective employer, contributor to the local-area tax base, and member of the Ketchikan business community, the consultation process is a fundamental best-practices undertaking, and we welcome the opportunity to commence interaction. We thank the Council and Assembly for their active interest and hospitality."
During November 2018, Ucore Vice President of Project Development, Randy MacGillivray, made presentations to the Ketchikan City Council, and the Ketchikan Gateway Borough Assembly, respectively. MacGillivray described how Ketchikan's unique location, with immediate deep-water anchorage, in combination with its situation within one of the world's most prolific shipping channels, make it an ideal access point for receiving rare earth and specialty metals concentrates from multiple global locations. He described how Ucore intends to compete head to head with the Chinese dominated REE oxide separation market. McGillivray explained, "Our approach is to process feedstock from non-Chinese sources, and initiate US domestic production of rare earth oxides."
Ketchikan City Council Members were primarily interested in the energy needs for the project while Ketchikan Borough Assembly Members were more focused on air quality and worker safety. The Strategic Metals Complex (SMC) will obtain its electrical power from the Ketchikan Public Utility ("KPU"), which is administered by the City of Ketchikan.
MacGillivray explained that the facility will not be energy intensive. This was confirmed at a subsequent meeting with KPU senior staff members and Ucore, where all parties were confident that the power needs were well within KPU's existing capacity. Air quality questions were noted and it was explained that mitigation through treatment (scrubbers) will be a focus of expert modelling and State permitting efforts for the SMC.
"Our consultation efforts have only just begun in Ketchikan", said Jim McKenzie, CEO of Ucore, "We're pleased that local government officials have agreed to actively interact with us at the outset of the planning process. Awareness and engagement of the local community are integral to developing a level of trust that will ensure our success there. We appreciate the support expressed by the Mayors, Councilors and Assembly Members and understand that while we are developing economic diversity within Southeast Alaska, we must provide that stimulus in an environmentally and safety conscious manner."
Ucore also announced in October that it had entered discussions with the Alaska Industrial Development and Export Authority (AIDEA), to facilitate financing of the SMC. The commencement of discussions has been documented by a Letter of Support (the "Letter") from AIDEA, that is available to the public. The Letter is addressed from John Springsteen, CEO and Executive Director of AIDEA, to Jim McKenzie, President and CEO of Ucore. (Download and Read the Letter of Support pdf)
Ucore's development of the Alaska SMC is the initial component of the Bokan-Dotson Ridge Rare Earth Element Project and will be able to process and refine non-Chinese rare earth ore and concentrate from around the world into all 16 commercially traded individual rare earth elements. The City and Borough of Ketchikan, with more than 13,000 residents, is the southernmost population center in the State of Alaska, offering an industrious work force and training facilities. Situated on the Alaska shipping channels, among the most prolific shipping lanes in the world, the Ketchikan-based SMC development site brings direct access to major markets in the US and the Pacific Rim by way of ocean shipping, the lowest-cost mode of bulk transport.
Project History:
The Bokan-Dotson Mountain is name for Robert "Red" Dotson of Ketchikan, Alaska. Dotson believed that riches lay beneath the surface of Alaska's majestic terrain. Following his intuition to ground, in 1955 he and his wife Irene staked mining claims at Bokan Mountain. He passed away on September 3, 2012.
In 2006, Ucore acquired and leased the Bokan property and found heavy rare earth elements (HREE) through large scale drilling. Since Ucore acquired rights to the Bokan property, it has continued its exploration program to further define and measure the resource.
In 2012, Ucore completed a preliminary mine design and entered into a strategic contract with the U.S. Defense Logistics Agency. During 2013, Ucore led a Preliminary Economic Assessment to map out a prospective path to production and updated its resource estimate.
In 2014, the Alaska State Legislature authorized Alaska Industrial Development and Export Authority (AIDEA) to issue bonds for up to $145,000,000 to finance certain infrastructure costs for the Bokan Rare Earth Elements project.
The Bokan – Dotson ridge REE project is located 38 miles southwest of Ketchikan and 86 miles northwest of Prince Rupert, British Columbia and has direct ocean access to the western seaboard and the Pacific Rim, a significant advantage in developing near term production facilities and limiting the capital costs associated with mine construction.
According to Ucore's website (www.ucore.com), the Bokan property is particularly enriched with heavy rare earth elements, including the critical elements Dysprosium, Terbium and Yttrium. Approximately 40% (by weight) of the rare earth elements contained on the Dotson Ridge property are heavy rare earths elements, as disclosed in the Company's NI43-101 compliant resource estimate, released in March of 2011.
Rare Earth Elements have become the backbone of innovation in the fields of clean energy, consumer electronics, computer applications, health care technologies and much more. Today, a great deal of what we refer to as the modern technology would be all but impossible without the Rare Earths Elements and their associated oxides and concentrates.
According to the United States Geological Survey, China has been the largest producer of rare earth elements and reportedly has the highest rare earths reserves at 44 million MT.
Related News:
Ketchikan Man Appointed to Ucore Rare Metals' Advisory Board
SitNews - February 18, 2014

Ketchikan Selected As Site for Ucore's 1st U.S. Strategic Metals Complex
SitNews - February 01, 2018

Ucore Sets 2020 Production Start Date for Ketchikan SMC
SitNews - March 05, 2018
Representations of fact and opinions in comments posted are solely those of the individual posters and do not represent the opinions of Sitnews.
Contact the Editor
SitNews ©2019
Stories In The News
Ketchikan, Alaska

Articles & photographs that appear in SitNews are considered protected by copyright and may not be reprinted without written permission from and payment of any required fees to the proper freelance writers and subscription services.

E-mail your news & photos to editor@sitnews.us

Photographers choosing to submit photographs for publication to SitNews are in doing so granting their permission for publication and for archiving. SitNews does not sell photographs. All requests for purchasing a photograph will be emailed to the photographer.