Private Sector Slowly Continues To Boost Southeast Alaska Jobs
January 08, 2013
Tuesday AM

(SitNews) Ketchikan, Alaska - The private sector produced 500 new jobs in Southeast Alaska in 2012 according to Alaska Department of Labor Economist Mali Abrahamson. A diverse set of industries contributed to the new jobs in 2012 — much more diverse than in 2011, when gains were exclusively in mining, seafood processing, health care, and professional services.
In a January 2013 Alaska Economic Trends article, Abrahamson reported that transportation, construction, leisure and hospitality also grew in 2012, which Abrahamson reports hints at continued economic improvement in 2013 as businesses prepare for higher visitor numbers. About 400 new jobs are forecasted for Southeast Alaska in 2013, or about 1.1 percent growth.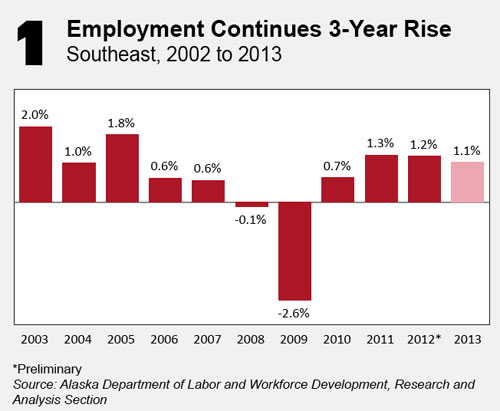 Population changes and new jobs
Abrahamson reported that population growth in Southeast lagged behind the state and the nation for most of the 2000s, but that changed near the end of the decade - the most recent estimates from 2010 and 2011 show significant increases.
More than half of the population growth in recent years was in Juneau, which also gained the most jobs. New job growth was also reported in Sitka, Skagway, Prince of Wales and Petersburg. However, employment grew in eight of 10 Southeast boroughs and census areas in 2012.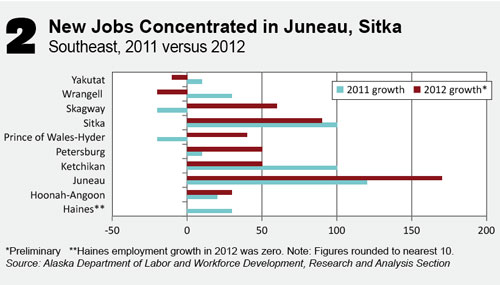 Job seekers from the Lower 48 headed north during the recession boosting the population in Southeast as well as statewide. The region's projected population growth through 2015 is less than 1 percent, though, because of its low rate of natural increase (births minus deaths).
Low natural increase and an older population are typical of Southeast, which has more residents over age 65 than any other region of Alaska and a median age of 39.4 — significantly older than the statewide median of 33.8.
Southeast's workforce is also older, with 34 percent of resident workers over age 50, in contrast to 29 percent statewide. The disparity is even larger among the industries the area relies on for year-round jobs. For example, in local and state government, over 36 percent of workers are older than 50, compared to 23 percent statewide.
According to Abrahamson, given the aging of the labor force and high expected turnover in positions filled by older, highly paid workers, the outlook in the near future and long term both strongly depend on migration and the ability to attract replacement workers.
Government to lose minor ground
Government, which represents about 37 percent of jobs in Southeast is expected to lose 50 jobs in 2013, as it did in 2012. The losses in 2012 were in local government, but in 2013 they'll likely be federal said Abrahamson. Federal employment in Southeast has declined by roughly 50 jobs each year since 2005.
Local government has had a more complicated few years, with 2011 stable in most areas except the typically volatile tribal governments, which shrank abruptly while other school districts and municipalities maintained a predictable pace.

In 2012, schools cut back while tribal government employment rebounded, for a net loss of only 50 jobs in local government. Education cutbacks were absorbed during the 2011-2012 school year, so the drag on school employment will be negligible in 2013.
The four local government-run health care firms in Southeast provide about 800 jobs each year and provide some stability as well as raising average wages. These hospitals and medical centers are expected to remain stable in 2013, barring a privatization or closure. The same is true of city governments and utilities, with employment forecasted to remain flat in 2013 in the absence of a major political or economic event.
Natural resources remain strong in Southeast
Seafood manufacturing and mining employment in Southeast Alaska reached 10-year highs in 2012. The large mining firms that were expected to reach worker capacity and level their staffing added jobs nearly every month in 2012, contributing to the 100 total jobs gained last year reported Abrahamson. That expectation holds for 2013 he said, but hedges on further mine expansion - possible new mining and logging stakes and tracts are forecasted to contribute 50 new jobs in 2013.
Seafood processing gained 150 jobs in 2011, slowed to an additional 50 in 2012, and is forecasted to remain flat in 2013. Salmon harvest expectations are mixed, seafood firms are automating, and berth capacity is limited during peak activity. Processors also face a shortage of student guest workers from abroad due to new hiring restrictions.
These two industries, both dependent on natural resources, have far different effects on the regional economy. Mining tends to provide much higher-wage, year-round jobs with workers who theoretically have more time and money to contribute to the local economy. Seafood workers are more transient, have lower wages, and are generally only part of local economies for a few months in the summer.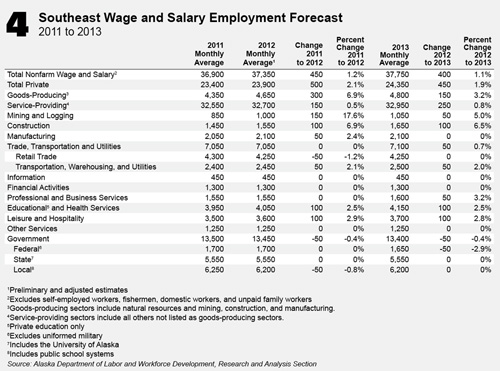 Click on the above graphic for a larger image.

Construction hits a turning point
Construction growth in Southeast exceeded expectations in 2012 at a level not seen since 2005 said Abrahamson, with a few medium and smaller public works projects, road and building construction and refurbishments, and a small increase in residential construction.
Construction added 150 jobs in 2012 and is forecasted to gain 100 more in 2013 with a similar mix of public and private activity, especially as growing communities face less available housing. Juneau, for example, has the state's second-lowest vacancy rate.
Leisure is up, retail still down
Arts and recreation, the smaller component of the leisure and hospitality sector, grew by 50 jobs in 2012. New jobs in accommodations slightly outpaced bars and restaurants for a gain of 50 as well. Growth is expected to be similar in 2013 reported Abrahamson, with a growing population and more visitors to serve.
Although no large employers closed in 2012, retail shrank by 50 in Southeast for a cumulative loss of 400 jobs since 2008, when retail employment began to decline. The reasons aren't certain said Abrahamson, but possibilities include a shift toward full-time rather than part-time employees, resulting in fewer jobs; and more consumers buying online.
According to Abrahamson, retail is forecasted to remain static in Southeast Alaska in 2013, and it's not yet clear whether this is a trend or the industry is simply lagging behind the larger economic recovery.
The transportation jobs added in Southeast Alaska in 2012 were mostly in sightseeing, with the exception of a small bump in marine cargo.
Health care demand will increase
According to Abrahamson, health care has been the only Southeast Alaska industry with consistent and above-average job growth in the past decade, growing by 1.7 percent annually since 2002. Demand for services is expected to continue to grow with an older population, and an additional 100 jobs are forecasted in Southeast Alaska for 2013.
Edited by Mary Kauffman, SitNews
Source of News:
Alaska Department of Labor and Workforce Development
Alaska Economic Trends
http://www.labor.state.ak.us/trends/
E-mail your news & photos to editor@sitnews.us


Publish A Letter in SitNews
Contact the Editor
SitNews ©2013
Stories In The News
Ketchikan, Alaska

Articles & photographs that appear in SitNews may be protected by copyright and may not be reprinted without written permission from and payment of any required fees to the proper sources.