Health care on Prince of Wales Island has grown
January 21, 2011
Friday PM

(SitNews) Klawock, Alaska - The SouthEast Alaska Regional Health Consortium (SEARHC) said it is proud of its 35-year relationship with the people of Prince of Wales Island, and SEARHC continues to build partnerships in order to provide additional quality health care services on the island.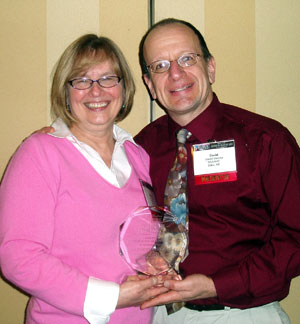 SEARHC Alicia Roberts Medical Center Clinic Administrator Donna Miller, left, and SEARHC Community Health Care Services Medical Director Dr. David Vastola show off the Outstanding Rural Health Organization Award won by the SEARHC Alicia Roberts Medical Center in Klawock at last April's Alaska Rural Health Conference. The award honors a group or organization that has improved access to health services and information for rural people through innovative, comprehensive approaches, according to the Alaska Rural Health Conference website. Factors considered include outreach, preventive health and education, quality and efficiency of care, and strong community support and involvement.
Photo courtesy SEARHC
SEARHC began providing health care services to tribal citizens on the island in 1975 when it assumed management of the region's Community Health Aide program from the Indian Health Service (IHS). At that time, SEARHC had no midlevel practitioners or family physicians on the island.
Over the years SEARHC has added many new services on POW, including opening the Alicia Roberts Medical Center (ARMC) in 1995 in partnership with Klawock Heenya Corp. SEARHC added a midlevel practitioner at ARMC (in 1995) and a family physician (in 1997). In 2000, the Craig-based family practice discontinued its after-hours emergency/urgent care services and SEARHC began caring for all POW residents.
The Alicia Roberts Medical Center now has a staff of 56 employees, including four physicians and three midlevel practitioners (physician assistants or nurse practitioners), with an annual operating budget of more than $4 million. SEARHC dramatically expanded services on Prince of Wales Island and the level of services at ARMC now exceeds those offered at any of SEARHC's other outpatient facilities and is one of the best in Alaska. In the past, island residents had to travel to other communities to receive many of the current services offered at ARMC. Whenever possible, SEARHC strives to deliver health care to its patients where they live.
Most of this expansion occurred during the past 10-11 years, with ARMC growing from a staff of 15 (one physician, two midlevel practitioners) and a budget of $740,000 in 1999. Much of this growth happened after the Alicia Roberts Medical Center earned a community health center (330 clinic) designation from the U.S. Health Resources and Services Administration (HRSA). This designation allows SEARHC to tap into resources beyond the limited funding it receives from the Indian Health Service. This enables SEARHC to offer services on POW that it could not offer if it only had IHS funds.
In 1986, SEARHC opened its first CHA/P (community health aide/practitioner) clinic in Hydaburg. On Jan. 19, 2011, SEARHC will dedicate a freshly renovated and expanded Hydaburg Health Center that has a staff of six employees, including two midlevel practitioners and two CHA/Ps, and an annual budget of $425,000. In addition, SEARHC operates the Kasaan Health Center, which has a CHA/P position and receives services from a midlevel provider twice a week. SEARHC also operates the Thorne Bay Health Center, which has a CHA/P position and receives midlevel provider services three days a week. SEARHC operates a Community Family Services program office in Craig that provides a number of behavioral health services. All of these clinics have been able to expand because they were able to access our expanded services through HRSA.
Partly due to the HRSA grant, SEARHC opened doors to other funding sources from the Centers for Disease Control and Prevention, the Denali Commission, Rasmuson Foundation and other sources. These new funding opportunities allowed SEARHC to add dental, pharmacy, physical therapy, radiology, specialty clinics, behavioral health, a moderate-complexity laboratory, a Frontier Extended Stay Clinic and a variety of wellness programs to the health offerings on POW. Optometry and exercise treadmill services will be added in the near future. These funds also provided SEARHC an opportunity to add midlevel care in Hydaburg, Kasaan and Thorne Bay. Additional funding allowed SEARHC to renovate or build new clinics in Hydaburg, Kasaan and Klawock to make these facilities state of the art.
Even with this growth, SEARHC says its mission remains the same - to provide the highest quality health services in partnership with Native people. More than ever, SEARHC has risen to meet POW's important health care needs. In order to provide these new services, the funds require SEARHC to offer the services to all residents of the island, in addition to tribal members. To better serve its patients, SEARHC currently is recruiting a patient advocate for Prince of Wales Island who will serve as a liaison for our patients. The new patient advocate will help ensure SEARHC patients on POW continue to receive the highest quality health care possible.
Source of News & Photograph:
SouthEast Alaska Regional Health Consortium (SEARHC)
www.searhc.org
E-mail your news & photos to editor@sitnews.us


Publish A Letter in SitNews Read Letters/Opinions
Contact the Editor
SitNews ©2011
Stories In The News
Ketchikan, Alaska