Great northern ice shelves a shadow of former selves
By Ned Rozell
January 17, 2007
Wednesday

One hundred years ago, when explorer Robert Peary picked his way over the northern coast of Ellesmere Island, he mapped unusual fields of ice that were both floating in the ocean, and attached to the shore. These ice shelves totaled about 3,475 square miles, which is almost enough ice to cover Rhode Island.
Today, the ice shelves in Canada's Arctic now measure about 386 square miles. That's a 90 percent ice loss since Peary's time, and scientists recently announced the 2005 separation of another large chunk, known as Ayles Ice Shelf, which is now a Manhattan-size iceberg floating in the Arctic Ocean. Winds and ocean currents might carry that iceberg near the northern coast of Alaska sometime within the next decade.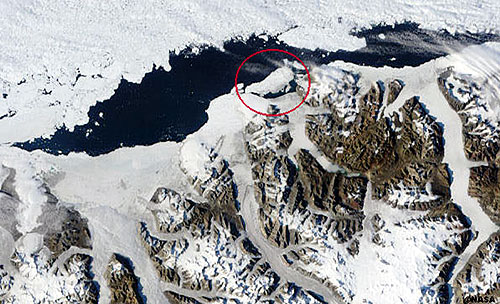 A MODIS image of the breakage of the Ayles Ice Shelf, now an iceberg
the size of Manhattan, acquired on August 13, 2005.
Image courtesy of NASA.

Some Alaska scientists have spent time on the ancient and remote fields of ice on Canada's northernmost islands. Martin Jeffries of the Geophysical Institute at the University of Alaska Fairbanks camped for weeks on Ellesmere ice shelves in the 1980s. Today, Derek Mueller, a postdoctoral researcher working with Jeffries and who spent time on the ice shelves in 2002 through 2004, is combing through satellite images to understand more about changes in the remaining ice shelves, most of which are in northern Ellesmere Island fjords and bays.
Mueller has looked at hundreds of satellite images of the ice shelves of Ellesmere Island, which have made the news twice recently. Before the Ayles Ice Shelf broke free, Mueller discovered extensive fractures in the Ward-Hunt Ice Shelf in 2002. The cracks compromised that 170-square mile mass, the largest remaining ice shelf.
"Our feeling is that the shelves are being weakened by the climate change," Mueller said. "(Warmer) ocean currents and temperatures can affect them too."
Canada's northern ice shelves are relics of a colder time. The masses of ice grew in places along the coast, and in sheltered bays and fjords, on platforms of thick sea ice. Centuries of low summer temperatures, snowfall on top and ice from beneath nourished the ice shelves until they grew up to 150 feet thick.
When warm air above, and warmish ocean currents below, eats at the ice shelves, they become thinner and weaker. Sometimes they crack into pieces. This releases giant icebergs known as ice islands into the Arctic Ocean, where they become hazards for ships and offshore oilrigs. Sometimes people have found them useful; scientists have used ice islands as floating research stations.
The 386 square miles of remaining ice shelves in northern Canada and the freshwater "epishelf" lakes that sometimes form behind them are also home to hardy species of algae and other tiny organisms that can endure both life in frigid water and the intense solar radiation of an arctic summer.
"We're losing biodiversity (with the loss of the ice shelves)," he said. "These are unique, ice-dependent ecosystems."
Mueller is now poring over images of northern Ellesmere Island in an attempt to see if there are any clues that might tip researchers off to the conversion of ice shelf, potentially thousands of years old, to ice island, destined to die as it melts in the open ocean.
"We're crossing a threshold," he said. "When an ice shelf breaks off, it's replaced very slowly, if at all. We're looking to see if we can identify where the thresholds are."

. . .
On another topic, Kay Lawson of Fairbanks wrote me to tell me she was happy that the average temperature for Fairbanks in 2006 was minus 25.8. "That should stabilize my permafrost!" Lawson wrote. My typo, my error. Fairbanks in 2006 averaged 25.8 degrees.

This column is provided as a public service by the Geophysical Institute, University of Alaska Fairbanks, in cooperation with the UAF research community.
Ned Rozell [nrozell@gi.alaska.edu] is a science writer at the institute.
E-mail your news & photos to editor@sitnews.us


Publish A Letter on SitNews Read Letters/Opinions
Contact the Editor
SitNews ©2006
Stories In The News
Ketchikan, Alaska