Latest Tongass Forest Plan Open For Public Review
SitNews
January 13, 2007
Saturday

Ketchikan, Alaska - The U.S. Forest Service released a draft version of the Tongass National Forest Management Plan this week and opened a 90-day public comment period for citizens wishing to express their opinions on forest management issues. Tongass National Forest Supervisor Forrest Cole announced Wednesday that the draft environmental impact statement (DEIS) and draft amended forest plan that respond to the Ninth Circuit Court decision of August 2005, and the 2005 mid-term review of the Tongass Forest Plan would be available for public review beginning on Friday, January 12th.
Last year, a federal court ruled that the Forest Service misled the public during the development of its logging plan and ordered a revision of that plan to correct the errors. A set of new alternatives was required by the Ninth Circuit Court's decision, and are analyzed in detail in the latest draft environmental impact statement (DEIS) just released. The DEIS is a comprehensive document which considers conservation of fish and game habitat resources, recreation and tourism activities, and industrial development (timber and minerals) within the Tongass National Forest.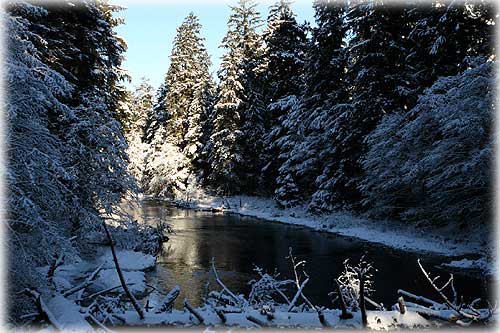 Tongass National Forest: Ward Lake area
Photograph by Carl Thompson
www.carlsphotos.com

Cole said, "These alternatives 'tell the story' of the demand scenarios, covering a wide range of possible future economic conditions. These alternatives will give all of us a chance to carefully consider what might realistically happen in the timber industry and other contributors to southeast Alaska culture. Then we can plan what role National Forest resources should play, and how to maintain all the other values of those resources that we collectively treasure." Cole noted that he has not selected a "preferred alternative" from among those analyzed. "I want to open the door for the broadest possible opportunities for collaboration," Cole noted.
According to information provided by the Forest Service, an amendment to the 2005 Planning Rule allowed the Tongass to choose between the 1982 and 2005 rules. At the request of a number of environmental organizations, the Forest Service chose to use the 1982 rule, which requires an environmental impact statement, to amend the Forest Plan.
"We can take this plan from excellent to outstanding, by building on new knowledge to add to the science we used ten years ago," he said. "With these changes, we can do an even better job of providing clean air, clean water, abundant wildlife, and economic stability for future generations," said Cole in a prepared statement.
Governor Sarah Palin reaffirmed her commitment on Friday to responsible resource development by supporting the process for a balanced Tongass National Forest Plan. The State agreed to continue its participation in the Tongass Plan amendment process as a cooperating agency.
To ensure the interests of the State are balanced and equally comprehensive, the Governor has assigned staff from multiple agencies to work together to coordinate the State of Alaska's input as the Forest Service works to finalize the Tongass Plan.
"It is important for the State to remain engaged in this process - to protect the interest of Alaskans," said Governor Palin. "I am committed to working with the Federal government to reestablish a workable Tongass Forest Plan that allows a sufficient and stable supply of timber enabling Southeast Alaska to have a sustainable, integrated timber industry."
Gregory Vickrey, Director of the Ketchikan-based Tongass Conservation Society said, "Folks in Ketchikan and throughout Southeast Alaska hope the agency will take this opportunity to move away from the current timber industry dominated point of view to a more balanced approach serving all users of the Forest."
"The Tongass is a unique place where we all choose to live and work, and this Forest means so much to our communities beyond timber," said Gregory Vickrey of the Tongass Conservation Society. "We play here. We commercial fish here. We live subsistently here. And our tourism industry thrives because of this unique Forest. The state of the Tongass directly affects all of these areas, and therefore our quality of life. A balanced new plan should enhance that."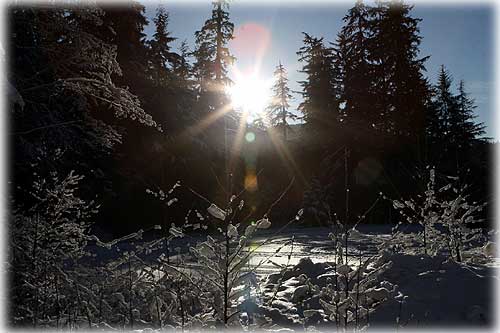 Tongass National Forest: Ward Lake area
Photograph by Carl Thompson
www.carlsphotos.com

In a statement, Governor Palin said she believes the Tongass Plan is a critical element that will provide a basis for stabilizing and reinvigorating Southeast Alaska's economy and way of life.
Gregory said, "Many envision a plan that will keep roadless watersheds vital to salmon and deer intact, will protect important subsistence and fishing grounds like Gravina Island and the Cleveland Peninsula, and will direct more effort towards restoration. A truly balanced plan could achieve this by taking into account sound science, up-to-date economic information, and input from all stakeholders including tribes, communities, and residents."
The release of the draft Tongass Plan triggers a 90-day comment period when the public has a chance to react to the proposal said Gregory. The plan offers 7 alternatives for management. "These schemes include a proposal from the Southeast Conference that recommends a timber harvest larger than the timber harvested during peak pulp mill days on the Tongass. By going out of their way to include this alternative, the Forest Service is showing that its primary focus is on serving the needs of the timber industry rather than the needs of other important businesses, industries, and communities on the Tongass," said Gregory.
Cole announced Wednesday that a 90-day formal public involvement period would begin Friday, with publication of the drafts in the Federal Register. "Public comment is one of the key strengths of our process," Cole noted. "We have had an open and transparent process from the beginning, and I believe the public dialogue we have been having will allow us to chart a future course for the Forest that will provide long-term vitality for the communities of Southeast Alaska and significant conservation of pristine landscapes."
"We believe the public comments will demonstrate to the Forest Service that it is time for a new direction on the Tongass - a direction that serves our communities and residents directly and protects all our values, not solely timber," said Vickrey. "Again, we are talking about our quality of life."
Unlike many draft environmental impact statement (DEIS) processes, this one has been open to public comment since its inception in January 2006, when a new website was opened specifically for this process. The web site provides background information, continuous updates on progress, and opportunities for the public to present their views and input to the process. The Timber Demand Analysis is also posted on that website.
Currently, only 4 percent of the Tongass Forest is available for timber harvest. The Forest Service Amendment Plan includes seven alternatives for timber harvest.
On the Web:
Tongass Forest Plan Adjustment - Forest Service Amendment Plan
http://tongass-fpadjust.net/
Source of News:
Tongass National Forest
http://www.fs.fed.us/r10/tongass

Office of Gov. Palin
http://www.gov.state.ak.us

Tongass Conservation Society
http://www.tongassconservation.org/



Distributed to subscribers for publication by
Scripps Howard News Service, http://www.shns.com

E-mail your news & photos to editor@sitnews.us


Publish A Letter on SitNews Read Letters/Opinions
Contact the Editor
SitNews ©2006
Stories In The News
Ketchikan, Alaska