2006 Year In Review
Jet Crash Top Story In 2006
By Dave Kiffer
January 02, 2007
Tuesday PM

Ketchikan, Alaska - Some newsworthy events happen every year. Elections, crime, storms, and other relatively normal events can be expected to make local headlines.
But the most newsworthy event in 2006 in Ketchikan was completely unexpected: the crash of a military jet into a trailer park near Carlanna Creek in January.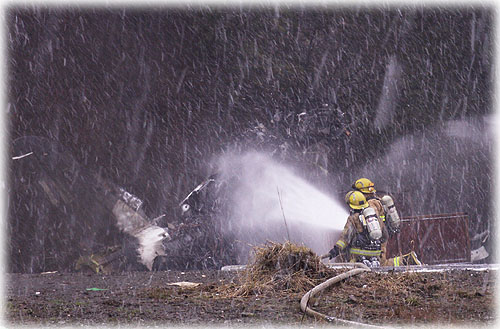 Firefighters man fire hoses next to the crashed L-39 MS Jet.
Photograph by Marie L. Monyak ©2006

Ketchikan residents faced a major emergency on Jan. 25, when a military jet crashed into a trailer park next to the A& P supermarket. Although at least three trailers were damaged or destroyed, there were only minor injuries on the ground. But pilot Steven "Butch" Freeman of Texas was killed after ejecting. Eyewitnesses said it appeared that Freeman attempted to steer the plane away from more densely populated areas before ejecting.
Eyewitness accounts and a report by the National Transportation Safety Board determined that Freeman - ferrying the Czechoslovakian made privately owned L-39 from Sitka to Bellingham - was trying to land at the Ketchikan airport in rapidly deteriorating conditions.
Visibility had dropped to only a couple hundred feet when the jet came out of the clouds over Tongass Narrows and skipped twice on the water not far from Peninsula Point. Apparently realizing he was going to crash, Freeman steered the jet toward a vacant rock pit on the north side of Carlanna Creek before ejecting. The jet hit in the rock pit and then bounced across the creek where it hit the trailers. Freeman's body was found in the woods near the creek.
By year's end, the NTSB had not issued an official cause for the crash.
Waterman mistrial
A Juneau jury declared a mistrial on Feb. 14 in the first degree murder case of Craig teenager Rachelle Waterman who is accused of arranging to have two former boyfriends murder her mother. Jurors deadlocked 10-2 for acquittal.
The case had generated national attention, and Court TV coverage, because Waterman had kept an internet blog detailing her anger at her life in "small town, nowhere Alaska." Many readers felt that she showed little remorse in her blog after the murder of her mother.
Her former boyfriends - who actually carried out the murder while Rachelle was out of town - pled guilty and were sentenced to 99 year prison terms. They testified against her at the trial. The state indicated it planned to retry Waterman, but shortly after the trial the judge threw out key evidence including Waterman's recorded confession. No decision to retry had been announced by the end of the year.
In March, in other crime headlines, a grand jury indicted Earl Pickering on first degree murder charges, stemming from the death of his estranged wife Carolyn in November 2005. Pickering was also charged with violating a restraining order. Trial was set to begin on January 9.
School(s) Open?
The replacement school for White Cliff Elementary opened on schedule in January. The $14 million facility was built on time and on budget. At year's end, a community running facility was still under construction behind the school.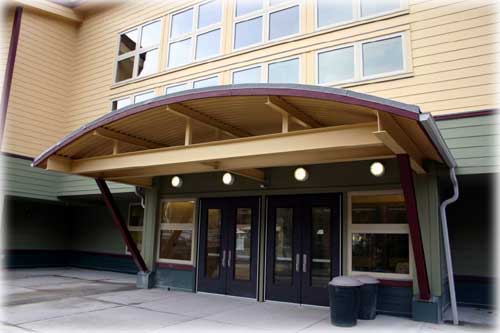 Schoenbar Middle School
Photo by Chris Wilhelm©

The never-ending Schoenbar Middle School reconstruction project bumbled on into its third year, but - with most construction completed by mid December - it was hoped that school would start as planned shortly after the first of the year. In spring of 2006, the Borough took control of the project from the original contractor and gave the remediation work to another contractor. The original $9 million cost of the project was approaching $20 million by year's end. Lawsuits involving the project were set to go to trial in January of 2008.
Democracy in Action
Area residents - at least some of the them - had five opportunities to vote in 2006.
Ketchikan Port Expansion Project
Graphic courtesy City of Ketchikan

In April, city residents approved $38.5 million in bonds for port expansion (a $70 million dollar proposal had failed in 2005). The expansion project involved a rebuild of Berth 3 to allow three 1,000 foot cruise ships to dock simultaneously Downtown. It also included a waterfront promenade that would connect Berth 3 with property leading to a proposed Berth 4 on the former Waterfront Storage property. The City government reached agreement to work with Survey Point Holdings to develop Berth 4, but at year's end that project was held up in federal permitting delays.
In August, all residents voted in the state election primaries. Incumbent District One State Representative Jim Elkins was upset in the Republican primary by local government lobbyist Kyle Johansen. Since there was no Democrat in the primary, Johansen enjoyed an unchallenged ride to the state house in the later general election. In the primary election, Ketchikan residents disagreed with nearly the entire rest of the state. Incumbent Governor Frank Murkowski - a graduate of Ketchikan High School in the 1950s - received more votes in Ketchikan that either of his challengers, but finished a distant third statewide.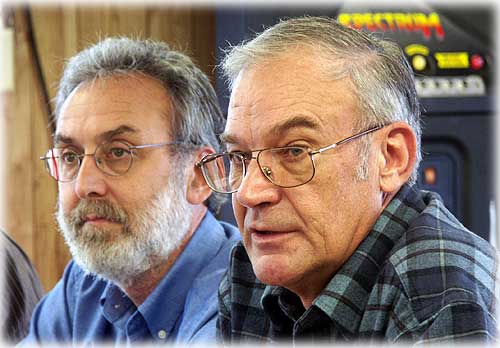 Ketchikan City Mayor Bob Weinstein and City Council Member Chuck Freeman photographed at the Greater Ketchikan Chamber of Commerce
Forum in September of 2006.
Photo by Dick Kauffman

In October, City Mayor Bob Weinstein was elected to his fourth straight term and council members Bob Norton and Chuck Freeman were re-elected. On the borough side, Dave Kiffer was re-elected to the assembly and former mayor Mike Salazar was elected as well. Voters turned down a sales tax increase and bond issue that would have allowed Senior Services, the Arts Council, First City Players and Ketchikan Theater Ballet to move into and renovate the vacant White Cliff school building. By year's end, the borough had decided to put the building on its surplus properties list.
In early November, local voters went to the polls to elect a governor (Sarah Palin outdistanced Tony Knowles both locally and statewide) and a US Representative ( Don Young).. There was no contest for the District One House Seat (see above).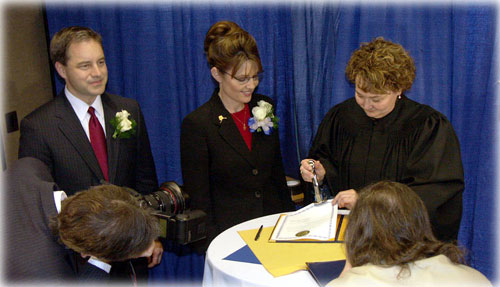 The Honorable Judge Niesje Steinkruger gave the oath of office and finalized the papers that made Governor Palin and Lt. Governor Parnell official on December 4th, 2006.
Photo courtesy Office of the Governor

Later in November, city and borough residents voted by mail on whether or not to consolidate into a single municipal government. The proposition narrowly passed inside the city but failed by a wide margin with non-city residents and failed overall.
The Roads (Barely) Traveled
Just about everyone in Ketchikan was effected by multiple state road projects in the community. State officials said that residents should be happy with all the road chaos and endless driving delays because it meant that millions of dollars were being spent to improve area roads, but locals were not pleased with the travel disruptions that began early in the Spring and lasted until the snows of November. By year's end, the resurfacing of Water Street and Tongass Avenue north of the tunnel was nearly complete but the Tongass Avenue repairs in the West End were uncompleted and the long-delayed South Tongass realignment between Shoup Street and Mountain Point had just begun.
The Business Beat Goes On
As usual there were many comings and goings in the local economy, but the closing of two long-time businesses were the most noteworthy. The Stedman Barbershop closed in December after more than 90 years at its location on Front Street. Schallerer's Photo Shop also closed in 2006. Its local history dated back to 1919.
Interest boomed in Ketchikan's long-neglected Newtown area as new cruise dock related developments spurred development. City and Borough officials formed a Newtown Redevelopment task force.
In May, the borough closed on a $9 million sale of most of the former Ketchikan Pulp Company property to Renaissance Ketchikan Group. But the agreement comes with an 18 month reversion allowing the company to back out at that time. In the meantime, the $9 million is in an interest bearing account and the borough is collecting $30,000 a month in interest. Efforts to reopen the Veneer Mill on the property had been unsuccessful by year's end, partly because driving force behind the project, Ted Falconer, died in a fall at his Gig Harbor home late in the year.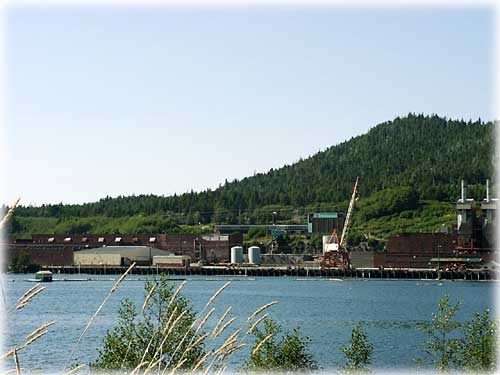 Former Ketchikan Pulp Company property. Pulping operations shut down in 1997.
File Photo by Dick Kauffman

In other timber related news, Pacific Log and Lumber announced in the Spring it was shutting down its Gravina saw mill because of federal timber sale delays, but two weeks later it reversed course when the state opened up timber sales on Gravina and elsewhere.
The local fishing industry had both ups and downs as well. The regional pink salmon fishery had the lowest returns in nearly 20 years with just over 11 million salmon, but - conversely - the prices were also some of the highest in recent memory and the overall catch value was the best since 2000. Similarly, troll fishers had a very low quota that was balanced with very high prices, with winter king salmon topping $8 a pound in November. Late in the year, there was a major announcement that the federal government would spend up to $25 million to buy back about half of the commercial seine permits in Southeast.
The tourism industry in general was in a holding pattern in 2006 as visitor numbers were expected to drop somewhat because of dock capacity issues. By year's end it was not clear whether or not numbers were below 2005's 921,000.Many businesses reported lower earnings in 2006, but that was partly due to the extremely raining summer weather that kept many visitors shipboard during their Ketchikan visits.
Nowhere Becomes Limbo
Ketchikan's infamous "Bridge to Nowhere" that garnered national attention in 2005 was still no closer to construction in 2006. The state officially put more than $100 million in federal pass through money towards the project, but there were questions at year end whether or not an amendment to a Congressional spending bill would allow the state to actually spend the money. Before leaving office, Gov. Murkowski authorized spending up to $30 million for road work on Gravina as a part of the project but it was unclear whether that action would be reversed by the incoming Palin administration.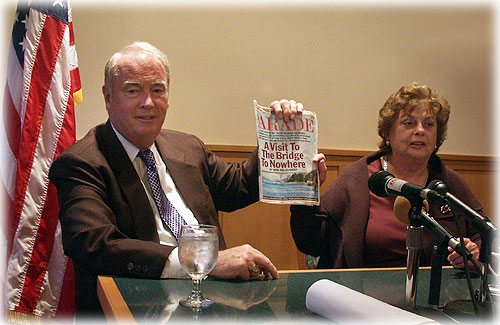 Governor Frank H. Murkowski and First Lady Nancy Murkowski hold up a Parade Magazine article distributed nationwide. Parade's front page article featuring Ketchikan's bridge was titled: "A Visit To The Bridge To Nowhere".
Photo By Dick Kauffman ©
The Weather in 2006 (National Weather Service statistics)
High temperature: 78 Degrees on June 10
Low temperature: 5 Degrees on Nov. 28
Highest Wind: 66 mph on Dec. 29
Windiest Day: 24.1 mph average on Feb. 6
Wettest Day: 3.81 inches April 7
Wettest Month: 31.55 inches in December
Driest Month: 4.28 in March
Total rainfall: 161.56
Days with Precipitation: 292
Dry days: 73
Longest Dry Streak: June 7-13, June 29-July 5 (7 days)
Longest wet streak: Jan. 1 to February 3 (34 days - actually 47 going back to Dec. 18, 2005!)
(Yes, Summer 2006 was much wetter than normal and December was the wettest on record)
E-mail your news & photos to editor@sitnews.us


Publish A Letter on SitNews Read Letters/Opinions
Contact the Editor
SitNews ©2006
Stories In The News
Ketchikan, Alaska