Syria on the brink
By KEVIN SITES
Yahoo! News
January 27, 2006
Friday AM

DAMASCUS, Syria - This is probably not what the Bush administration had in mind when it branded Syria a "rogue state:" young couples sipping cocktails in a crowded bar, watching others bump and grind on the dance floor to techno, house and funk music.
Damascus bills itself as the oldest continuously inhabited city in the world, with people living here as long ago as 5,000 B.C. And there's no doubt it's still very much alive today.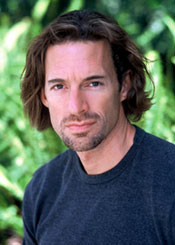 Veteran foreign correspondent
Kevin Sites.
SHNS photo courtesy
yahoo.com
In the old city section of the capital, ancient Arab walls ring a maze of twisting passageways so narrow that pedestrians sometimes have to push their backs up against the cold stone to avoid being kneecapped by cars.
And if car bumpers don't pin you, the sound systems will. A black Mazda weaves through the alley, pushing back people with its mass, the heavy bass thump of American rapper 50 Cent popping from its sound system.
In a club called Mar Mar, 22-year-old Johnny Kharouf and 21-year-old Rand Sabbagh let loose on the dance floor. They're trying to forget their university studies for a few hours. They're also, they say, trying to forget some of the problems their country is facing right now.
Syria, most agree, is in a world of trouble at the moment - both inside and out.
Politically, the government of President Bashar Assad has been shaken by allegations that Syrian officials were involved in the killing of former Lebanese Prime Minister Rafik Hariri and possibly other Lebanese politicians and journalists. There is also a serious confrontation with the United States over accusations that foreign fighters are crossing into Iraq from Syria. And on the economic front, Syria's economy has been staggered by international uncertainty and double-digit unemployment.
Kharouf and Sabbagh know Syria has a serious image problem, but for now they need to dance.
"I'm like anyone else who cares about Syria," says Sabbagh. "They don't understand us in the West. They think we're all terrorists or we all wear the hijab (modest dress)."
In another room at Mar Mar, two women, Nibas and Zeina, drink mugs of beer rimmed with salt. They say they used to go out all the time, even though they're both married with children. But tonight is their first evening out in nearly a month.
"It's because of the political situation," says Zeina. "We just don't feel very comfortable coming out. We feel a little guilty having fun when everything is so bad right now."
Syria's problems have had a psychological and an economic impact. At the Souk al-Hamediyeh bazaar in the old city, many of the shopkeepers say business has dropped off by as much as 15 percent to 20 percent.
"The Lebanese use to come here all the time," says a furniture-shop owner named Abdul. "Now they're staying away because of the Hariri incident."
Syrian boosters are doing their best to draw them back, putting up several large banners, claiming solidarity with the Lebanese people and support for the Syrian president. And as with most of their problems, they also blame the Israelis - in this case, for the murder of Hariri.
The United Nations' investigation into the assassination last year says the evidence shows a link to both Syrian and Lebanese intelligence officials. Syria denies any involvement. U.N. officials are even calling for President Assad to be interviewed.
In response to all of the political pressure, the Syrian government seems to be pursuing a dual strategy of both defiance and compliance, saying it will cooperate with the U.N. investigation but will not allow an interview with Assad.
Syrian officials also say they've beefed up their border security, putting as many as 7,000 soldiers along the border with Iraq in response to U.S. and Iraqi complaints about the flow of foreign fighters into Iraq from Syria. The government also recently released five key political prisoners in a gesture it says shows that it's moving toward democratic reform.
"It's an example of the enlightened policy of openness," says Fayez al-Sayegh, a spokesman for the Syrian Ministry of Information. "From time to time, people will be released."
Sayegh also says these former prisoners will also be able to form opposition parties, as some have vowed to do, once new guidelines are written.
But that openness has its limits. While videotaping in the Souk al-Hamediyeh, I am tailed by the Mukbarrat, the Syrian secret police. When I talk with a group of students in a local teahouse, another man, also probably working for the Mukbarrat, cranes his neck in a painfully obvious attempt to listen to every word of our hour-long conversation about all of the issues Syria is facing.
Despite the current instability and uncertainty in Syria, some Western businesses still see it as a good long-term investment.
The Four Seasons Corporation recently opened a 300-room hotel in Damascus and says it will begin an aggressive program of attracting not just business travelers, but European and American tourists as well.
And there is even American fast food. The local management of a recently opened KFC outlet in the new city area says that business is good - but company officials still want to keep a low profile. They don't advertise, and they declined to be interviewed.
Back in the old city, some young Syrians will dance and drink until daybreak, losing themselves on the dance floor or in the shadows of the passageways that have existed for thousands of years.
In a quieter place, high above the city on the road up Qasiyun Mountain, people park their cars, walk to the edge and look out over Damascus. The lights of the city, both old and new, sparkle over a huge expanse.
It is, in some ways, similar to looking at the night sky, knowing the starlight you see has traveled so far a distance that you are actually looking into the past.
For Damascus and the country as a whole, that past and present seem to exist together, lingering clearly, but still not providing any clear idea what the future holds.
Find more reporting from "Kevin Sites in the Hot Zone" at http://hotzone.yahoo.com
Distributed to subscribers by Scripps Howard News Service, http://www.shns.com



Publish A Letter on SitNews Read Letters/Opinions
Submit A Letter to the Editor
SitNews
Stories In The News
Ketchikan, Alaska