Training and Volunteers Essential In Providing Fire & Emergency Services
By Marie L. Monyak
January 23, 2006
Monday AM

Ketchikan, Alaska - After 9/11, firefighters and emergency medical service (EMS) personnel became the unsung heroes of America. Ask any firefighter or EMT and they'll say they're just doing their job, but how many jobs involve saving lives at the risk of their own?

Training is the key. In 2005, the North Tongass Volunteer Fire Department personnel invested over 5000 hours in training alone. Initially, all training was conducted out of town at a huge expense but NTVF is fortunate to have Chief Dave Hull and Lt Jerry Kiffer. Hull is a qualified instructor in EMT2, EMT3 and Paramedics, Kiffer completes the picture with his qualification as an EMT1 instructor.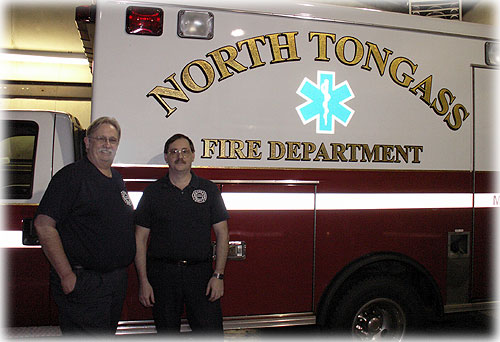 Chief Dave Hull and Lt Jerry Kiffer
Photograph by Marie L. Monyak

Born and raised in Ketchikan, Kiffer has been married for 18 years, with a son serving on the Polar Star (an icebreaker) currently heading for Antarctica. Kiffer's inspiration to serve as a firefighter and EMT came at an early age when, as a young boy scout, his troop assisted at the site of a plane crash. Making lunches and handing out sandwiches while watching the local emergency response personnel is all it took and Kiffer was hooked like a salmon to a hoochie.

Kiffer got his start with the Pond Reef Volunteer Fire Department where he worked his way up to the rank of Captain. He also spent several years as the Incident Commander of the Ketchikan Volunteer Rescue Squad. With the closure of the Pond Reef department, Kiffer brought his considerable talents to NTVF where his dedication and willingness to instruct the volunteers will serve to make the department strong and effective in their mission. If anyone asks, Hull will tell them, "I give him [Kiffer] what he needs to get the job done and then I get out of his way."

Currently Kiffer is instructing what is called a bridge class that builds on an earlier ETT (Emergency Trauma Technician) class which will result in students that can test out at the EMT (Emergency Medical Technician) level. On February 25th, Kiffer's nine students will test alongside those from the South Tongass Fire Department.

Training can be expensive but various grants ease the burden. NTVF, along with two other island departments, received a grant through Homeland Security for Firefighter 1 and Firefighter 2 training.

With the advent of Homeland Security much more is expected of first responders, particularly in the area of hazardous materials and biological weaponry, referred to as WMD - weapons of mass destruction.

Ketchikan is now considered a major target during the summer months when the cruise ships are in port. As a result there has been a significant amount of hazardous material training that culminated in an island wide exercise conducted this past August.

Training in firefighting, hazardous materials, emergency trauma and medical are just the beginning, but what type of protection would North Tongass have without its volunteers? With a great deal of pride, Hull says, "Volunteers are our backbone, they're invaluable." "In a community the size of Ketchikan, it's impossible to support a full career department the size necessary to provide the coverage needed. Even 50% of the Ketchikan Fire Department is staffed by volunteers."

According to Hull, "Most big cities have career fire departments yet the majority of departments in the U.S. are volunteer. The advantage of having a volunteer department is that it is significantly cheaper in the most part yet offers the same level of service." Hull added, "Volunteer departments are equally trained and equipped and can perform at the same level of any career department."

So what do all these volunteers and hours of training translate to, for the residents of North Tongass and those traveling the roads out North? A recent incident was brought to the attention of this writer by Assemblyman John Harrington.

In December of 2005, a pickup truck was involved in a single vehicle accident on Revilla Road. According to Kiffer, who is reluctant to call any accident "minor", "There wasn't a tremendous amount of damage, the vehicle never rolled over or left the road. NTFV responded to the scene and the EMT's followed procedure - evaluating the patient, placing a cervical collar around the neck for stabilization and finally placing the victim on a backboard for removal from the vehicle. Our cervical collar and backboard stayed with the patient throughout his transport to Ketchikan General Hospital, a medivac flight and subsequent ambulance transport to a hospital in Washington."

What the EMT's could not have known and was not discovered until examined by a doctor, the patient had a severe cervical fracture. Kiffer stated, "I am confident that had someone tried to move the patient, he would not have survived."

"On a scale of one to ten, I would have called that accident a two," Kiffer said, explaining how it was perceived. "This is a great opportunity for me to say to our EMTs, this is why we do what we do on every accident." Following procedure learned in training is critical in every single incident, no matter how minor it may appear.

"Rescue personnel are rarely the first responders," Kiffer said. "The first responder is the passer-by that stops to help. It is really important for the victim of an accident to have that first contact, someone to talk to them, tell them 911 has been called and keep them calm." Equally important, is to not move the victim unless absolutely necessary, as in the case of a vehicle on fire.

Equipment is another factor in operating a successful department. "We received two big grants that enabled us to furnish our rigs with necessary equipment," Hull said. "The State Legislature also came through with funding to buy our ambulance and equip it."

Hull added, "Just recently we received a grant through the USDA Code Blue program to purchase another ambulance to service this end [North Tongass], it was a matching grant of $35,000." This new ambulance, which is expected to arrive sometime in May, will also serve as a backup for South Tongass Fire Department should their unit breakdown.

What else does a volunteer fire department need? "People can volunteer without training or experience. They can bake cookies or make things for fundraisers, help with garage sales, maintain and clean the rigs," Hull conveyed the need for help.

"Two firefighters may carry the nozzle in to a fire but it takes 30 to 40 other people to get them there." Kiffer explained, "It's a team effort, everyone contributes in some way, everyone is just as important as the guy on the nozzle."

The North Tongass Fire and Emergency Medical Service Membership Association is the non-profit volunteer organization that assists with many of the duties that enable NTVF to succeed in their mission.

Kiffer summed it up with very few words, "Training pays off. Volunteers can save your life."

As many people may already know, the NTFV is moving to their new location on North Tongass. Hull was excited to say, "The new building will be open on February 2nd on property that we are leasing from the Borough for a nominal fee. I have to give kudos to Chuck Poole on the construction, Mr Jurczak for the heating and First City Electric, for getting our building done."

The community is invited to attend the grand opening of the new fire house on February 2nd at 5:30 PM, with refreshments served at 6PM. "We want people to be able to stop on their way home from work, come in and meet the board of directors and give us some input." Hull stated, "Our success is based on that input, we don't want to work in a vacuum, we need information from the public."

Marie L. Monyak is a freelance writer living in Ketchikan, Alaska.
Contact Marie at mlmx1@hotmail.com

Publish A Letter on SitNews
Read Letters/Opinions
Submit A Letter to the Editor
SitNews
Stories In The News
Ketchikan, Alaska