Front Page Photo
Fairweather
Photos By Lisa Thompson
Text by M.C. Kauffman
January 21, 2006
Saturday AM

Ketchikan, Alaska - Ketchikan enjoyed a Fairweather view as the NOAA Fairweather ship sailed south past Annette Island earlier this week. After 18 months of refurbishment at a cost of $18.3 million, the ship was reactivated back into the NOAA fleet in August of 2004, and is now one of the most technologically advanced survey vessels in the world.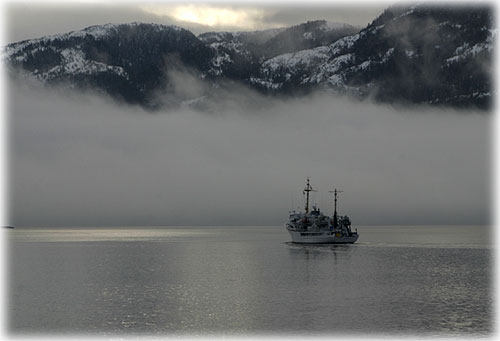 NOAA Fairweather
Photo by Lisa Thompson ©2006

Fairweather has been equipped with the latest multibeam echo sounder technology, and state-of-the-art side scan sonar. The ship is able to map 100 percent of the ocean bottom, determine bottom characteristics and identify areas of interest to navigators, biologists and geologists.
The vessel can carry four survey launches, greatly increasing its efficiency in survey area coverage. Pairing Fairweather with its sister ship, Rainier, enables NOAA to cover a far greater area quickly and efficiently, providing data for the update of nautical charts, making Alaska's waters safer for expanding commerce and navigation.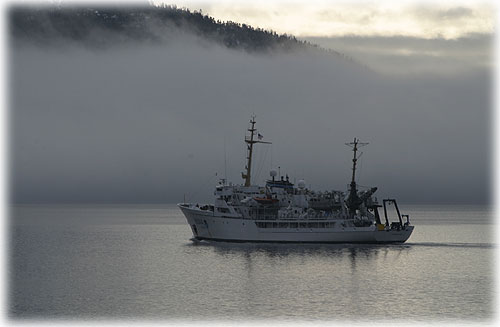 NOAA Fairweather
Photo by Lisa Thompson ©2006

Fairweather has other missions in addition to the work to reduce Alaska's 9,700 square nautical miles of critical survey area backlog. It is capable of conducting essential fish habitat surveys that are required to make science-based decisions about uses of fisheries resources
The Fairweather is home ported in Ketchikan and its crew includes Ketchikan and Alaska residents.
©2006
Photos by Lisa Thompson
http://www.carlsphotos.com

Publish A Letter on SitNews
Read Letters/Opinions
Submit A Letter to the Editor
SitNews
Stories In The News
Ketchikan, Alaska