Toys donated to local organizations
January 20, 2006
Friday AM

Ketchikan, Alaska - Now that the Christmas season is over, many may believe that the spirit of giving is over as well. This, however is not the case in Ketchikan. The Plaza Shopping Center has recently donated over $700.00 of new toys to organizations in the community and children who find themselves spending time with the folks at Women In Safe Homes (WISH), The Office Of Children Services and The Harley Riders Association will have a few more toys to play with in 2006.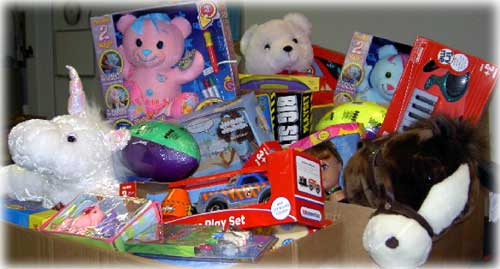 The Plaza has generously donated toys to organizations in the community since 2002 when Plaza staff realized that instead of purchasing decorations that would simply be thrown away at the end of the season, they could spend their holiday decorating budget on toys that could be donated to children in the community when the displays were torn down.
Debbie Thompson from The Office Of Children Services, voiced her appreciation by saying, "It is the first time I can remember having extra toys on hand to give to the children in our care." She further went on to say, "The Plaza and staff have always been generous and we thank [them]".
Katie Symansky Hunter said given the success of the program over the years The Plaza plans to continue giving toys so that even more children will benefit in the years ahead. Hunter is with The Plaza's Marketing & Events department.

Publish A Letter on SitNews
Read Letters/Opinions
Submit A Letter to the Editor
SitNews
Stories In The News
Ketchikan, Alaska