Chamber Presents Community Awards, Installs New Officers
Governor Murkowski Keynote Speaker
By Marie L. Monyak
January 19, 2006
Thursday AM

Ketchikan, Alaska - The Ted Ferry Civic Center was the site of the Greater Ketchikan Chamber of Commerce 39th Annual Awards Banquet and Installation of Officers and Directors this past Saturday evening.
The event began with a social hour allowing guests time for discourse and to reflect on who may be the recipients of the many awards for 2005. As the chatter subsided and everyone was seated, Boy Scout Troop #4 marched to the stage to present the Colors and led everyone in the Pledge of Allegiance, followed by Pastor Grant Smith who gave the invocation.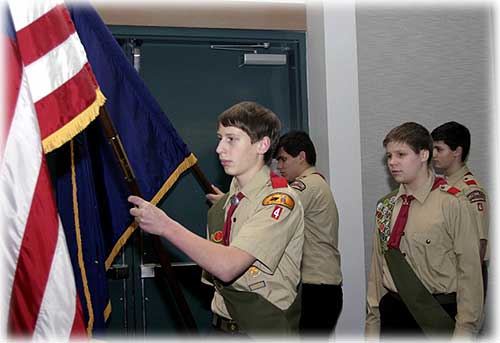 Boy Scout Troop #4 Present the Colors
Photograph by Lisa Thompson ©2006

Renee Schofield, Past President, recognized the 2005 Directors and extended her earnest thanks for their hard work throughout year. Schofield then called the new Board of Directors to the stage.
Elected to the 2006 Board are Owen Graham, Kay Andrews, Glen Thompson and Dick Coose. The Directors appointed by the 2006 President Joe Johnston were Kim Kirby, Ed Fry, Rob Nason and Jay Johnson. The Honorable Trevor Stephens installed the new Board of Directors, reminding them of their solemn obligation and responsibility to the community.
Incoming Chamber President Joe Johnston introduced the new Greater Ketchikan Chamber of Commerce Officers for 2006: Rob Skinner, 1st Vice President; Andrew Spokely, 2nd Vice President; Leigh Gerber, Secretary; and Stephen Boehlert, Treasurer.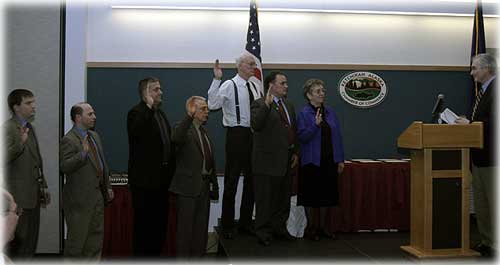 Judge Trevor Stephens (far right) administers the oath of
office to the new Board of Directors.
Photograph by Lisa Thompson ©2006

Joe Johnston was formally installed as President by the Honorable Trevor Stephens. Johnston followed with a short presentation calling 2005, the year of disasters and hoping for a much better year in 2006.
Johnston said; "We have a lot of challenges ahead of us this year, the bridge, the intertie and consolidation which I'm hoping will be on the ballot in November." Johnston promised, "The Chamber will have more visibility this year." He said, "We will be representing our businesses to local, state and federal governments - everybody!"
Johnston turned the microphone over to Renee Schofield to begin the community awards presentation for 2005. The Chamber's Community Awards were presented to a diverse group of individuals and businesses that have helped make Ketchikan what it is today.
Anyone who wonders if good deeds are ever rewarded should have been present Saturday evening. The banquet provided an opportunity to celebrate and congratulate these businesses and individuals that have made a difference in the lives of many in the community.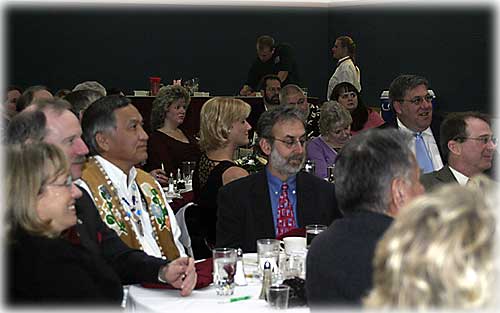 Senator Bert Stedman, Borough Mayor Joe Williams and City Mayor Bob Weinstein were among those attending the annual event.
Photo by Lisa Thompson ©2006

Twenty-one years of handing out candy to local children and organizing the annual Halloween Party at the Plaza was cause for rewarding the Outstanding Community Event Award to husband and wife team, Lisa and Arlindo Machado.
A one time event to aid in the relief of the Hurricane Katrina victims netted over $18,700 in a few short weeks. Proof positive, that with a strong leader, Ketchikan can come to the aid of others, as well as our own. That leader was Rob Holston who also received the Outstanding Community Event Award.
Youth Court, Big Brothers and Big Sisters, Ketchikan Regional Youth Facility, these are names that locals are familiar with, but who was instrumental in developing and administering these organizations and many, many more? Youth program advocate, Gretchen Klein received the Community Ambassador Award which was accepted by Rob Skinner in Klein's absence.
This year's Community Service Award was presented to the internet publication SitNews - a local business run on the internet by a retired FAA employee and a retired teacher. Another husband and wife team, Dick and Mary Kauffman have worked for seven years providing easy access to news, opinions and information on their on-line publication, SitNews.
As a Campus Director of UAS Ketchikan, she increased enrollment by 30%, initiated a vocational training program to assist locals in obtaining employment and found the funding necessary for training for shipyard positions. These programs and many more were the reasons for Karen Polley to be awarded the Trail Blazers Award.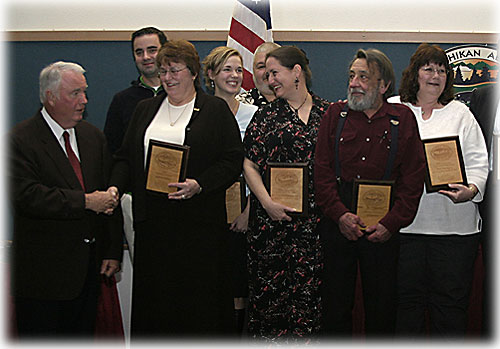 Governor Murkowski congratulates Community Award Recipients.
Pictured: Governor Frank H. Murkowski, Rocky Elerding, Dana Elerding, Karen Polley,
Arlindo Machado, Lisa Machado, Dick Kauffman for SitNews,
and Marie Monyak for Rob Holston.
Photograph by Lisa Thompson ©2006

Have you been to a concert? Have you been to a play? Maybe a fund raiser or banquet? Anywhere you hear music in Ketchikan, chances are, Sarah Corporon is volunteering her musical talents. When not playing music, she's making handcrafted items to be used as donations. For her many contributions as a community volunteer, Sarah Corporon was presented with the Outstanding Community Volunteer Award.
One woman and her students at Ketchikan Theatre Ballet have danced their way into the hearts of the people of Ketchikan. After 22 years with the company she has watched her dancers blossom from children into young adults who have brought great happiness to many audiences throughout the years. Marguerite Auger received the Outstanding Youth Leader Award.
At this point in the presentation, Eric Bjella of First Bank took over the stage for a special announcement. Bjella explained that last fall the employees of First Bank began collecting donations for a new Women's Diagnostic Imaging Center at Ketchikan General Hospital. First Bank promised to match the collected donations and that's just what they did on Saturday evening. Bjella presented members of the hospital's Board of Directors a check for $10,000. Accepting the oversized publicity check was Judge Henry Keene.
As Bjella was attempting to leave the stage and return to his seat, Chamber President Johnston insisted that Bjella remain and proceeded to call other First Bank officers to join him. At this point the cat was out of the bag, so to speak.
Assisting new businesses, offering loans for cars, boats and homes, donating to numerous charitable causes and sponsoring many organizations are a few of the things that First Bank does to help the community that they call home. It is this sense of family and community that earned First Bank the Business of the Year Award.
What can you do to make over 450 women in Ketchikan very happy? How about opening a business that will allow them to exercise, lose weight and get fit. That is exactly what another husband and wife team did when they opened a Curves franchise just over a year ago. The Entrepreneur of the Year went to Rocky and Dana Elerding.
Community Award Recipients
First Bank, Marguerite Auger, Sarah Corporon, Sherrie Slick,
Alaska Marine Highway System, and Rob Skinner for Gretchen Klein.
Photo by Lisa Thompson ©2006

Since 1997 Ketchikan has struggled to develop new industry and attract new businesses to revive the flagging economy. A surprise move from Juneau to Ketchikan by the Alaska Marine Highway System was the boost the town needed. As a result the Economic Development Award was presented to the Alaska Marine Highway System.
At the conclusion of the Community Awards presentations, Johnston introduced the keynote speaker, Alaska Governor Frank Murkowski who took the stage.
The Governor kept the mood light stating that the audience was a much warmer group than he'd been in lately, noting that he didn't see the media standing in line, except of course the local Daily News, as opposed to another daily newspaper.
After receiving the first of many rounds of laughter, the Governor expressed his gratitude for being included in the festivities. Murkowski went on to recall his early years in Ketchikan and spoke of the changing economy. "When I was in the Coast Guard, stationed here in Ketchikan, the economy base was the timber industry, the sawmill, the pulp mill and now there's the realization that Ketchikan's in the zip-line export business!" The reference was directed toward Len Laurance who was in the audience. Laurance is part owner of Alaska Canopy Adventures that operates a zip-line tour in Ketchikan and is currently expanding to Juneau.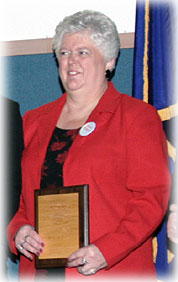 Citizen of the Year
Sherrie Slick
Photo by
Carl Thompson ©2006
The Governor spoke briefly about the media and the current misinformation campaign about Alaska. Murkowski encouragingly stated, "We have to tell our story, an accurate story." He said, "It's not going to be easy but we can't be nickel and dimed to death."
Murkowski went on to remind everyone that the evening was all about recognizing the award recipients and their service to others. He recalled President George H.W. Bush's speech about the 1000 Points of Light, referring to volunteerism. "There is no greater aspiration, than serving others," Murkowski said.
The Governor suddenly appeared to be distracted by Renee Schofield and Joe Johnston. There was whispering, confusion and shuffling around by the three on stage.
Murkowski shifted into play-acting and proceeded to feign surprise and puzzlement as he announced, "Apparently we forgot the Citizen of the Year Award." The Governor said, "To a real hero in our book, this person is always there, helping family, helping you, helping me." He said, "This person never says no when asked to volunteer, is always there with a smile, a laugh, never complaining, goes to every civic meeting and probably heads up two or three committees."
Continuing, Murkowski said; "Loves kids, loves people, loves the rain, even loves tourists." With pride in his voice, Murkowski said; "I can think of no greater honor to bestow upon this person than the recognition of Citizen of the Year -- your friend, my friend, Ketchikan's friend, one of the 1,000 points of light, and she's flippin' sweet, Sherrie Slick!"
As the 2005 Citizen of the Year Sherrie Slick stepped on stage, Governor Murkowski presented her with her award. Slick said, "I kept looking around the room trying to figure out who it was." Slick said, visibly shocked, "I'm overwhelmed!"
Johnston and Schofield closed the evening's event by offering their heartfelt thanks to the city, the businesses and special guests.

Marie L. Monyak is a freelance writer living in Ketchikan, Alaska.
Contact Marie at mlmx1@hotmail.com

Publish A Letter on SitNews
Read Letters/Opinions
Submit A Letter to the Editor
SitNews
Stories In The News
Ketchikan, Alaska