Term Math Professor Named at UAS Ketchikan
January 14, 2006
Saturday

Ketchikan, Alaska - The University of Alaska Southeast Ketchikan welcomed Tarik Lagnaoui to the faculty for the spring semester for the mathematics department. Lagnaoui will be teaching three of the four math courses offered at the Ketchikan campus this semester.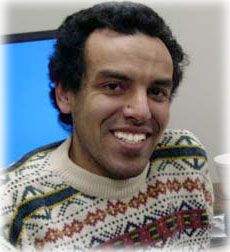 Tarik Lagnaoui
Photo courtesy UAS Ketchikan
Lagnaoui, originally from France, recently completed his Masters of Science in Mathematics at the College of Charleston in South Carolina. He completed his undergraduate degree at the University of Alaska Southeast Juneau campus after living and working in the United States for a number of years.
"In France, high school students are required to take a lot of math classes," Lagnaoui says. "These classes influenced my decision to get a degree in Math," he says. While completing his degree in Juneau, Lagnaoui was a student employee at the Learning Center and led math study sessions. He continued teaching math at the College of Charleston. "As a graduate student, you were expected to be a teacher assistant and teach one to two courses each semester while working on your masters program," Lagnaoui says.
He enjoys teaching so much he doesn't see himself doing anything else and applied for this position as soon as he found it was available. "I am looking forward to being a faculty member and relaxing now that my graduate work is complete," he says.
A faculty search is being conducted by the University of Alaska Southeast to find a permanent math professor for the Ketchikan campus. Assistant Professor of Mathematics Dr. Victor Zinger left Ketchikan in August 2005 for another position with the University of Alaska system in Dillingham.
On the Web:
University of Alaska Southeast Ketchikan
http://www.ketch.alaska.edu/
Publish A Letter on SitNews
Read Letters/Opinions
Submit A Letter to the Editor
SitNews
Stories In The News
Ketchikan, Alaska