Meyers Chuck Residents and Others Challenge
Emerald Bay Timber Sale Again
January 09, 2006
Monday PM

Meyers Chuck, AK - Residents of Meyers Chuck, users of the Cleveland Peninsula, and regional and national conservation groups filed an appeal against what they say is a money-losing timber sale that would damage stunning Emerald Bay on the western shore of the Cleveland Peninsula.
Tongass National Forest Supervisor Forrest Cole recently signed the Emerald Bay Record of Decision in November, approving the harvest of approximately 16 million board feet of timber from 600 acres on the Cleveland Peninsula. According to the Forest Service, the proposed project which is located approximately 40 air miles north of Ketchikan within the Ketchikan-Misty Fiords Ranger District would provide nearly 90 jobs in Southeast Alaska.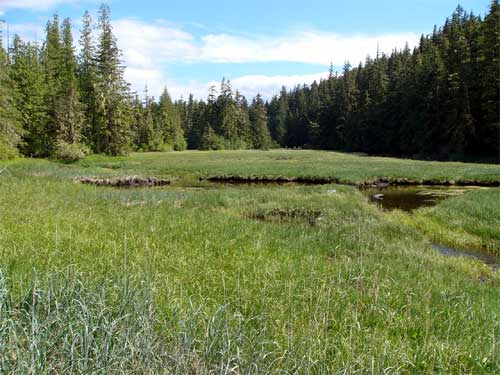 Emerald Bay area

Evening Star Grutter who grew up in Meyers Chuck said, "As an individual who was born and raised in rural Southeast Alaska, I have significant concerns about the Forest Service's plan to log Emerald Bay and any other area on Cleveland Peninsula. The Forest Service is wasting taxpayer dollars and disregarding multiple user groups by consistently satisfying only one user group the timber industry."
The Cleveland Peninsula between Ketchikan and Wrangell is known for its richness of large mammals such as moose, mountain goats, wolverine, wolves, and brown and black bears, and also supports superb wild fisheries. In annoucing the appeal, the Southeast Alaska Conservation Council said this area provides outstanding economic and local use opportunities and represents some of the best of Southeast Alaska's rich and rugged wild. The opportunities for adventure and independence are immense according to the Southeast Alaska Conservation Council which is a coalition of eighteen volunteer citizen conservation groups in fourteen communities across Southeast Alaska, from Ketchikan to Yakutat.
Mark Galla, owner of Alaska Peak & Seas, said, "As a guide, I have used the Cleveland Peninsula for almost two decades. I could do so for decades to come if the area is managed with respect. But establishing a road system in a rich watershed in order to lose millions of dollars logging old growth will eliminate the wilderness experience my customers have come to expect. My business, and others like it, will suffer as a result."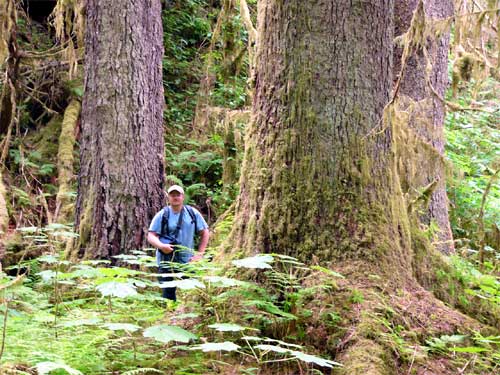 Emerald Bay area

Southeast Alaska Conservation Council said the public has fought to keep roads off of the peninsula for years, yet the Forest Service is bulldozing ahead with its plans to establish a roadhead there in order to clearcut stands of old growth. These plans could lead to widespread impacts across the entire Cleveland Peninsula. SACC noted a Forest Service memo from 2000 acknowledged that Emerald Bay began as a somewhat experimental project to get our foot in the door on the Cleveland Peninsula prior to the much bigger Port Stewart timber sale.
Beth Antonsen, a woodworker from Ketchikan, said, "A money-losing timber sale in an area that will impact sensitive wildlife species doesn't make sense. Logging plays a role in our Southeast Alaska economy, but some areas are too important for other economic and community uses to be logged."
"The Forest Service is closing popular recreation cabins due to lack of funds, yet it's pushing for a timber sale that will lose at least $1.5 million of taxpayer money. The demand for Southeast Alaska timber continues to decline because of global markets, while support for other forest uses is increasing every year," said Dave Sherman, Community Organizer with Southeast Alaska Conservation Council. "The agency's priorities don't reflect common sense or the needs of the communities it's supposed to serve."
Southeast Alaska Conservation Council said last August the 9th Circuit Court ruled that the Forest Service's Tongass Land Management Plan misrepresented economic data and unnecessarily doubled logging levels in the Tongass National Forest. Due to that substantial error, the court ordered the Forest Service to go back and fix the management plan. At the heart of the court's ruling was the Forest Service's failure to consider logging less of the remaining wild areas in the rainforest, such as Emerald Bay.
"This is the wrong timber sale, the wrong time, and the wrong place, concluded Sherman. The Forest Service needs to drop this sale and work on the court-ordered revision of the Tongass Land Management Plan. This revision gives the agency and the public a fantastic opportunity to create a plan that accounts for the growing demand for adventurous recreation and the changing market for Tongass timber, so that timber sales costing taxpayers millions and sacrificing diverse economic opportunities are a thing of the past."
Southeast Alaskan woodworker Beth Antonsen, big game guide Mark Galla, and Meyers Chuck residents and property owners Fabian and Evening Star Grutter, and Jacquelyne and Robert Hunley are appealing the Emerald Bay timber sale along with the Tongass Conservation Society, Sitka Conservation Society, Southeast Alaska Conservation Council (SEACC), Natural Resources Defense Council, The Wilderness Society, Sierra Club, and Greenpeace.
Related News:
Forest Service Issues Emerald Bay Decision - Tongass National Forest Supervisor Forrest Cole recently signed the Emerald Bay Record of Decision, approving the harvest of approximately 16 million board feet of timber from 600 acres on the Cleveland Peninsula to provide nearly 90 jobs in Southeast Alaska. The proposed project area is located approximately 40 air miles north of Ketchikan within the Ketchikan-Misty Fiords Ranger District. - Read more...
SitNews - November 08, 2005
Source of News:
SEACC
http://www.seacc.org
Source of Photographs:
Sitka Conservation Society
http://www.sitkawild.org
E-mail your news & photos to editor@sitnews.us


Publish A Letter on SitNews Read Letters/Opinions
Submit A Letter to the Editor
SitNews
Stories In The News
Ketchikan, Alaska