'Hoo, hoo, too-HOO'
Photograph by Sabra Lichty & Spotlighter Justin Ming
January 08, 2006
Sunday

Ketchikan, Alaska - This Ketchikan owl was spotted Friday evening at mile 15 North Tongass Highway by Sabra Lichty and Justin Ming. With the help of SitNews' readers, this beautiful creature was identified as a Barred Owl.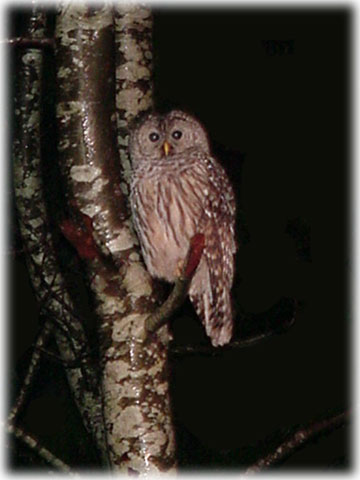 Photograph by Sabra Lichty ©2005
& Spotlighter Justin Ming ©2005
According to Owlpages.com, the Barred Owl is a medium-sized gray-brown Owl streaked with white horizontal barring on the chest and vertical barring on the belly. They are round-headed with a whitish/brown facial disk with dark brown trim. Their eyes are brown, and their beak is yellow and almost covered by feathers. They have a long tail. There is no difference in plumage between males and the larger females.
From its perch, a Barred Owl will dive upon its prey - such as shrews and deer mice. Other mammals that it also preys upon include rats, squirrels, bats, moles and mink which are common to Southeast Alaska. Occassionally the Barred Owl will prey upon other birds, including woodpeckers, grouse, jays, and pigeons. They also are reported to eat small fish.
The Barred Owl is a highly vocal Owl giving a loud and resounding "hoo, hoo, too-HOO; hoo, hoo, too-HOO, ooo", according to information provided by Owlpages.com.
A nocturnal bird, the Barred Owl hides in dense foliage during the day, usually high up. The Barred Owl may also roost on a branch close to a broad tree-trunk, or in a natural tree hole. This owl is said to be very aggressive when defending a nest.
Barred Owls have been known to live up to 23 years in captivity and 10 years in the wild. Information published by Owlpages.com states deaths are likely to be related to man (shootings, roadkills etc).
Great Horned Owls, which are also reported in Southeast Alaska, are their only natural enemy.
On the Web:
Read more about the Barred Owl
http://www.owlpages.com/owls.php?genus=Strix&species=varia

Barred Owl Typical Call
http://www.owlpages.com/sounds/Strix-varia-1.mp3

Barred Owl Scream
http://www.owlpages.com/sounds/Strix-varia-2.mp3
Source of Information:
The Owl Pages
www.owlpages.com
E-mail your news & photos to editor@sitnews.us


Publish A Letter on SitNews Read Letters/Opinions
Submit A Letter to the Editor
SitNews
Stories In The News
Ketchikan, Alaska