Sitka Youth First Responders Win Spirit of Youth Award
January 06, 2006
Friday

Sitka, Alaska - The Sitka Youth First Responders, a team of young emergency volunteers, will be honored during the annual Spirit of Youth awards banquet March 11 at the Fourth Avenue Theatre in Anchorage.
The Sitka Youth First Responders is a pilot program for students ages 14-18 who are learning about health careers by training to earn their Emergency Trauma Technician and Emergency Medical Technician certificates. The group is comprised of 13 high school students from Sitka and Mt. Edgecumbe high schools. The program is co-sponsored by the SouthEast Alaska Regional Health Consortium (SEARHC) Emergency Medical Service team and by the 4-H program run by the University of Alaska Fairbanks Cooperative Extension Service.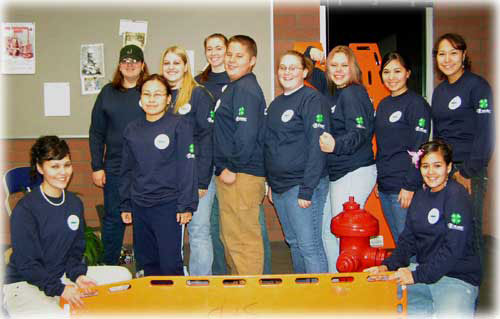 Members of the Sitka Youth First Responders youth rescue team strike a pose during a fall 2005 weekly meeting at the Sitka Fire Department in Sitka, Alaska. From left, team members are Anna Grenberg (with backboard), Sierra Vaden-Vernoy (with hat), Cheryl Waska, Michelle Foss, Rhiannon Mead, Trevor Upcraft, Maggie Davis, Susan Shorey, Tracy Sockpealuk, Ashley Stickman (with backboard) and Skeeter Atoruk.
Not pictured are Ani White and Jiin Chung.
Photo courtesy of Bill Winslow

At the banquet, the Sitka Youth First Responders will be presented with a Firefighters Local 1264 Lifesavers and Prevention Award. The Spirit of Youth campaign's teen action council selected the Sitka Youth First Responders from among 115 nominees in 11 award categories. Two finalists in each award category will be honored at the banquet.
The Spirit of Youth campaign is designed to help create and promote opportunities for youth involvement across Alaska. The campaign helps promote youth involvement in their communities by increasing their civic engagement, building leadership and providing media recognition for the positive contributions Alaska's young people are making to society.
"They earned this," said Bill Winslow, a SEARHC employee who serves as the group's coordinator. "One of the key things with the whole program is these guys run the team."
The team members elected Ashley Stickman chief, while Anna Grenberg serves as captain and Jiin Chung is the recorder. Other members of the team include Sierra Vaden-Vernoy, Skeeter Atoruk, Tracy Sockpealuk, Rhiannon Mead, Trevor Upcraft, Cheryl Waska, Susan Shorey, Ani White, Michelle Foss and Maggie Davis. Winslow is the group's main adult advisor, while Keturah Sadler, Katie Lewis, Mike Motti and Emily Reilly are other adults helping advise the team. Coral Garnick and Sarah Reynolds, who were members of the team before they graduated from high school last year, also assist with the group.
"It's an outstanding program," said Bob Gorman, an Anchorage-based resource development agent for the Cooperative Extension Service who helped SEARHC launch the team. "Hopefully we'll be expanding it in Southeast and the rest of the state. I'm going up to Bethel next month to talk to them about starting a program. In a couple of years we could see groups like this all over the state."
Gorman said the Cooperative Extension Service recently conducted a survey about how well its programs meet the needs of local people. Even though many of the people in other parts of the state, such as the Copper Valley, were not familiar with the Sitka program, Gorman said they told the service that having first responder training programs like this was a top priority for them.
The Sitka Youth First Responders program didn't hold its first meeting until March 2005, but since then the team has been very active in Sitka. Team members helped the local office of Alaska Public Health and other Sitka health and responder organizations plan and run a November flu vaccine clinic that saw 924 people receive shots in five hours. The team also helps out with sports events such as triathlons, running events, basketball games and the annual Polar Dip swim. Team members acted as patients during two mass-casualty drills with SEARHC Mt. Edgecumbe Hospital and the Sitka Fire Department, and they helped out at the Alaska State EMS Symposium. Once the team is more established, Winslow said the members will help teach first aid classes to local school children.
"They are a resource, they're not just kids. They can do this stuff pretty well," Winslow said, adding that SEARHC and 4-H plan to co-sponsor a similar group on Prince of Wales Island. "They're poised to do much more."
The Sitka team is modeled after two similar youth rescue units, the Dragon Slayers of Aniak, Alaska, and Darien EMS-Post 53 of Darien, Conn., which even runs its own ambulance service. Winslow and Gorman both said one reason the Sitka program exists is to interest young people in health careers. Recruiting health workers to rural areas is difficult and Winslow said it might make it easier to fill future positions since some the Sitka Youth First Responders who attend Mt. Edgecumbe High School are from villages in rural Alaska. Winslow said most of the team members hope to pursue health careers when they get older.
"When we reviewed these nominations, what really hit home for us about the Sitka Youth First Responders was the commitment level of these teens - to receiving training and accepting responsibilities besides doing all these positive things in the community," said Daniel Gillespie, a Spirit of Youth teen action council member who was part of the judging committee. "They put a lot of time into doing what they do, and that's why we chose this group of our peers as winners."
The Sitka team members already have received certificates, imprinted CD cases and key chains from the Spirit of Youth campaign, and the group will be presented with a plaque. One member of the team and one chaperone will be flown to Anchorage for the banquet. Winslow said he'd like to be able to send more team members to the banquet, but the team would need to raise funds for the trip. Potential donors can reach Winslow at 1-907-966-8844 during the afternoons or by e-mail at wwill@searhc.org.
Tickets for the banquet are $50 for adults and $25 for students. Banquet reservations can be made by calling the Spirit of Youth campaign at 1-907-566-7676. More information on the Spirit of Youth campaign can be found on the Web at http://www.spiritofyouth.org.

Source of News:
SouthEast Alaska Regional Health Consortium (SEARHC)
www.searhc.org
E-mail your news & photos to editor@sitnews.us


Publish A Letter on SitNews Read Letters/Opinions
Submit A Letter to the Editor
SitNews
Stories In The News
Ketchikan, Alaska