Village water supplies in a warmer world
by Ned Rozell
January 29, 2005
Saturday

A recent "water bottle airlift" from Bethel to the western Alaska village of Nunam Iqua showed how precious clean water can be in the Alaska Bush. A team of scientists is now studying how changes in climate might impact the water supplies of some Alaska villages.
Nunam Iqua is like many Alaska villages that use a variety of fresh water sources. The 35 families who live in Nunam Iqua rely on a nearby river for water that they store during the winter in a 200,000-gallon tank. When a December 2004 storm fouled the river with salt water and a tank fitting failed, draining their stored water, residents asked for help. The state Division of Homeland Security and Emergency Services began flying 500 gallons of water each day to Nunam Iqua. When the river cleared later in the month, residents were able to begin storing water again and officials called off the water airlift.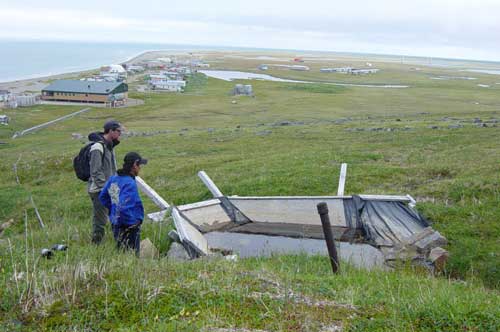 UAF's Dan White, left, and a Wales resident at Gilbert Creek Dam in Wales. Wales residents pump water from this reservoir once annually to fill the 500,000-gallon storage tank. The reservoir freezes during the winter.
Photo by Erin Strang.

Farther north, villagers on the Seward Peninsula gather their water in many ways, from pumping wells to digging depressions in the tundra and lining them with plastic to catch snowmelt runoff, according to Dan White of UAF's Water and Environmental Research Center. White is leading a four-year study on the water supplies of Seward Peninsula villages and how a changing climate might affect those water sources.
White and his colleagues, Lillian Alessa of UAA and UAF's Larry Hinzman and Peter Schweitzer, chose the Seward Peninsula for research because much of the permafrost there is close to thawing. Permafrost acts as a barrier that traps water near the surface in many areas; when it melts, the water above it may drain away. In the warmest-case scenario of Alaska's future, permafrost wetlands could turn into an arid landscape, said White, who pointed out that areas of Alaska's North Slope receive less precipitation than Tucson, Arizona.
"The whole reason water's abundant in the Arctic is permafrost," White said. "If the permafrost melts, it likely won't be a wetlands."
White, a civil engineer, has visited the Seward Peninsula communities of Nome, Elim, Golovin, Shishmaref, White Mountain, Brevig Mission and Wales. He has seen the stream where Wales residents collect their water, the well in Elim, and the "municipal water reserve" in Shishmaref, a reservoir lined with plastic to gather snowmelt. Communities that rely on surface water need to store large amounts of it during the eight or more months their usual water source is frozen.
"Any place that relies on surface water is at risk of running out of water," White said, adding that many villages drain their storage tanks before they can replenish them in summer.
"In many communities, the water tank is just too small," White said. "When water runs out sometimes in April or May, they've got to harvest their own water, and it's a tricky time for them."
Residents of some Bush villages harvest water by collecting ice or rainwater, or sometimes traveling to open streams and rivers. Gathering water often becomes impossible during breakup, when snowmachine trails get soft and ice begins to rot.
"How's climate going to affect this?" White said. "If breakup is earlier or is prolonged, harvesting water could be more of a problem."
In addition to the possible change in water sources and more difficult water-gathering that might accompany the continuation of observed warming, waterfowl, caribou, and other local food sources might be more scarce on a dryer Seward Peninsula, White said.
During the four-year study, White and his colleagues will try to find potential problems with water supplies and also solutions that might work if a warming climate threatens fresh water supplies on the Seward Peninsula.
"Our goal is to try to understand how hydrology is likely to be impacted by climate and how those changes will impact people and the culture of the region," he said. "We can expect some changes; we just want to know how to deal with the changes."
This column is provided as a public service by the Geophysical Institute, University of Alaska Fairbanks, in cooperation with the UAF research community. Ned Rozell (nrozell@gi.alaska.edu) is a science writer at the institute.
E-mail your news & photos to editor@sitnews.us


Publish A Letter on SitNews Read Letters/Opinions
Submit A Letter to the Editor

Sitnews
Stories In The News
Ketchikan, Alaska