Borough Drops White Cliff Property On City Government
by Joseph Branco
January 21, 2005
Friday

Ketchikan, Alaska - In an apparent Mission Impossible exercise, the Borough skillfully disposed of a lingering problem to the unsuspecting City government. In a letter cleverly disguised as a human resources document and laced with headaches and liabilities was the deed and keys to the White Cliff property. Much like a junior-high romance gone sour, the news and belongings were delivered via letter with no explanation and no sign of respect to the City. During the City Council meeting Thursday night, members discussed the outcome and strange circumstances resulting in the transfer of responsibility concerning the property.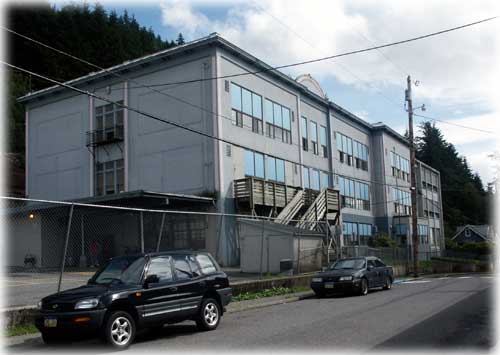 White Cliff
File Photo by Dick Kauffman

The Borough has tried previously to drop off the keys and deed to the White Cliff property to the City government to no avail. The City Manager Karl Amylon has explained that the City is unwilling to accept the property and the responsibility until the Borough has properly remedied the repair issues in the building. Amylon further voiced his frustration regarding the Borough's appalling history of damaging City interests.
Mayor Weinstein has scheduled a meeting with Borough Mayor Salazar and staff to discuss the White Cliff issue and the unfortunate circumstances surrounding the transfer of responsibility.
The City also discussed a proposed project to build a new water line to the Shoreline area through a joint effort with Maier's Enterprises, who own commercial property in the area. Maier's had agreed to pay 70% of the $1 million waterline. The City is hoped to pick up the remaining cost for the 2-mile long water pipe. The City portion is expected to fund the upgrade to a 16-inch line, allowing for further expansion to North Tongass. This proposal was remarked as a potentially good way of getting a water line to the Shoreline area. The Council has asked for an ordinance to be created on the proposal and for further evaluation on the proposal to be conducted.
The City has awarded a contract to Tamico, Inc to install a Float at Bar Harbor South. The Council, Coyne saying no, granted the $570,000 contract in a 6-1 decision.
Traffic and the Third Avenue Bypass was also a brief discussion Thursday night. The Council entertained debate over tour bus access to the area and traffic restrictions. The officials agreed to have the issue as an agenda item at the next regular meeting to accurately and fairly discuss it.
The next City Council meeting is set for February 4th.
Editor's note: The opinions expressed in the reporting in the first paragraph do not necessarily reflect the opinions of SitNews. The Borough sent in a Human Resources Department envelop a registered letter to the City of Ketchikan in which were the keys and the deed to the White Cliff property.
E-mail your news & photos to editor@sitnews.us


Publish A Letter on SitNews Read Letters/Opinions
Submit A Letter to the Editor

Sitnews
Stories In The News
Ketchikan, Alaska