Rice: U.S. withdrawal from Iraq depends on Iraqis
by James W. Brosnan
Scripps Howard News Service

January 18, 2005
Tuesday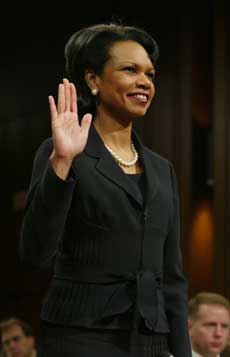 Dr. Condoleeza Rice gets sworn in before the Senate Foreign Relations Committee during her confirmation hearing to replace Colin Powell as U.S. secretary of state.
SHNS photo by Katie Falkenberg /
Scripps Howard News Service
Washington - As President Bush's new secretary of state, Condoleezza Rice is promising new efforts to "spread freedom and democracy throughout the globe," but she could not tell senators Tuesday when U.S. troops will end their current mission in Iraq.
"I can't give you a timeline, but I think we will know when the Iraqis are able to have in place institutions - no matter how fragile and how young - where they are actually beginning to solve their own problems," Rice said at her confirmation hearings before the Senate Foreign Relations Committee.
"They may need the help of multinational forces for awhile, but ultimately Iraqis have to defend and fight for their own freedom."
Rice, 50, who rose from the segregation of Birmingham, Ala., to be President Bush's national security adviser, compared the civil rights struggle to the duty to advance freedom worldwide.
She said the president's goal is to build a "community of democracies to fight the threats to our common security and alleviate the hopelessness that feeds terror." She said the challenge is not only from potential nuclear threats, like Iran and North Korea, but also from countries where elected leaders "have taken illiberal steps," like Venezuela's leftist president Hugo Chavez.
Committee Chairman Richard Lugar, R-Ind., hopes the Senate will vote to confirm Rice Thursday after the president's inauguration. The committee's ranking Democrat, Joe Biden, D-Del., said Rice would be confirmed.
Some Democrats may vote against confirmation because of Rice's statements before the war about the threat of weapons of mass destruction in Iraq.
Sen. Barbara Boxer, D-Calif., bluntly told Rice, "Your loyalty to the mission you where given to sell this war overwhelmed your respect for the truth."
Rice responded testily, "Senator, I have said that I have never, ever lost respect for the truth in the service of anything. It is not in my nature, it is not in my character."
Rice admitted there were errors in the "data points" about the extent of Saddam Hussein's chemical and nuclear weapons program, but that he was still a threat to U.S. interests and his neighbors.
"And it was high time to get rid of him, and I'm glad that we're rid of him," she said.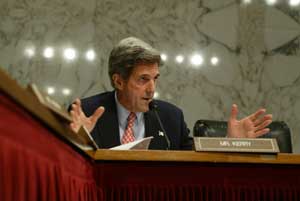 Sen. John F. Kerry (D- Mass.) questions Dr. Condoleeza Rice during the Senate Foreign Relations Committee confirmation hearing to replace Colin Powell as U.S. secretary of state.
SHNS photo by Katie Falkenberg /
Scripps Howard News Service

Rice also admitted that "unforeseen circumstances," like the rapid "meltdown" of the Iraqi army during the war, made stabilizing Iraq more difficult.

Sen. John Kerry, D-Mass., who sounded like he was still on the presidential campaign trail, said the administration made the task more difficult by encouraging the army to disband and then failing to guard weapons depots and other key installations.

"We went in to rescue Iraq from Saddam Hussein. Now I think we have to rescue our policy from ourselves," Kerry said.

Under questioning by Biden, Rice also admitted that the administration's boasts of being able to train 200,000 Iraqi police and security forces by the end of last year had not materialized. There are about 120,000 now and many are poorly led, she said. Biden said he believes the number of capable security forces is closer to 4,000.

Rice said that it's possible more nations may offer aid and training help after the Jan. 30 elections in Iraq.

Rice has often been in the public eye, but as a White House aide she has not had to testify before Congress. Her inexperience may have showed when she answered a question about U.S. relief efforts by saying, "The tsunami was a wonderful opportunity to show not just the U.S. government, but the heart of the American people, and I think it has paid great dividends for us."

Boxer scolded Rice that if she's going to be the "voice of diplomacy" she needs to be more sensitive about "one of the worst tragedies of our lifetime."

Reach James W. Brosnan at brosnanj(at)shns.com


Publish A Letter on SitNews Read Letters/Opinions
Submit A Letter to the Editor

Sitnews
Stories In The News
Ketchikan, Alaska