Photo Gallery
Training Ketchikan's Firefighters
by David Hull, Chief NTVFD
January 18, 2005
Tuesday

Ketchikan, Alaska - The firefighting class that started on October 5, 2004 was taught under strict national standards and the students will receive a State of Alaska Firefighter I certification recognized by the International Fire Service Accreditation Congress (IFSAC).
The class was an extensive, well delivered class that introduces the basics of firefighting skills and stresses the significance of safety on the emergency scene. John Goucher, with over 20 years of firefighting experience with Ketchikan Fire Department, was the lead instructor for the course. Students of the class were members of the all three island fire departments and the US Coast Guard and included both experienced and first time firefighters.
Following are photographs taken during the training period: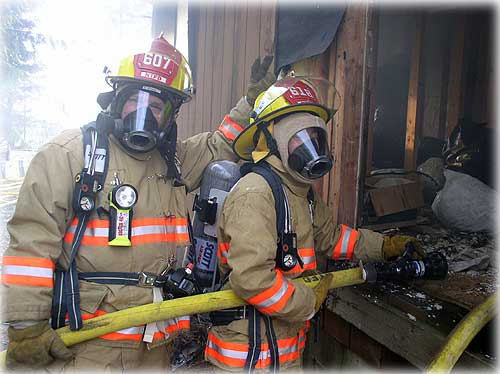 Paul Hook and Cathy Tighe have a light moment before entering a training burn exercise.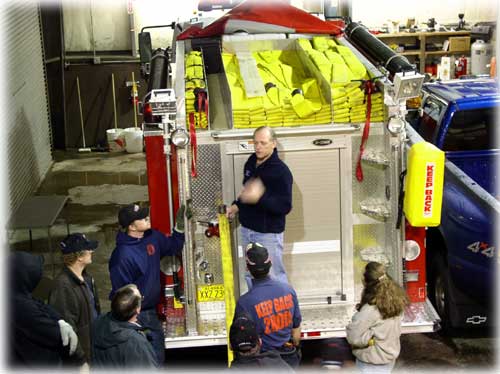 Instructor John Goucher is seen standing on the tailboard of Engine-6 instructing the students on the fine art of loading fire hose in the hose bed.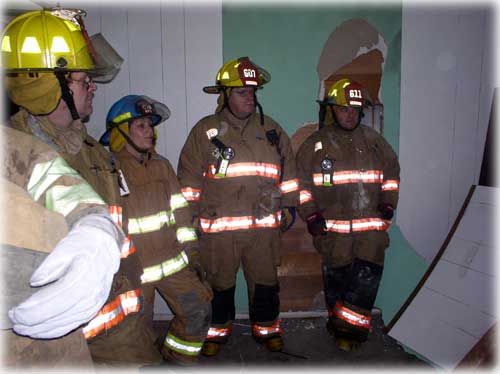 (from left) Jack Rodgers, Gretchen Skillings, Paul Hook and Nick Tocco listen intently to instructions on checking a structure for fire extension.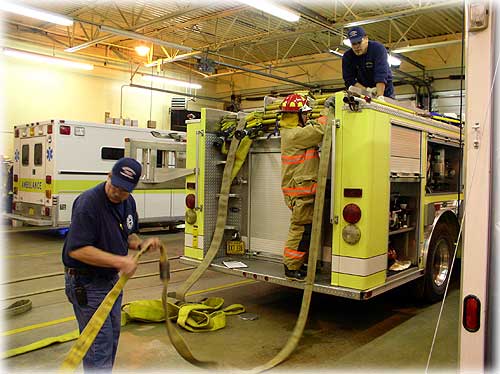 (from left) Assistant Chief Jim Hill and Ken Montero (in blue on top of engine) assist in the testing of Lt. Jerry Kiffer of North Tongass Volunteer Fire Department in loading of fire hose.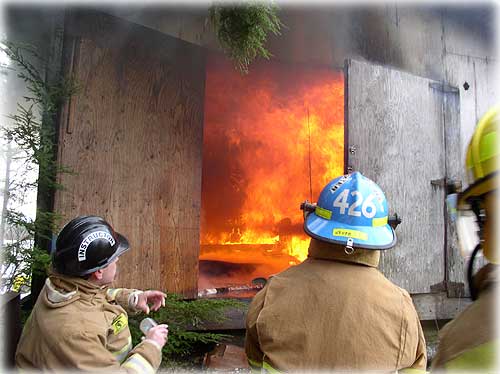 Instuctor John Goucher (black hat) is describing the burning process to Jessica Freeman (blue hat) at a live fire exercise.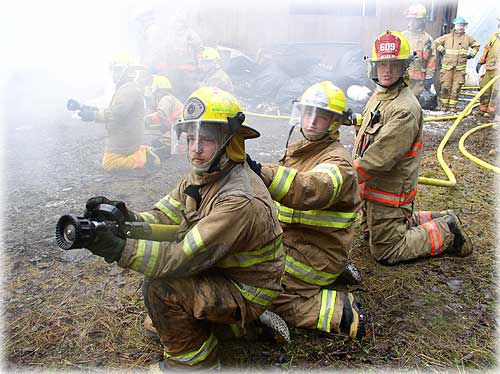 Stacy Francis (with fire nozzle), Britney Freeman and Steve Phillips wait their turn at the burning building during the live fire exercise.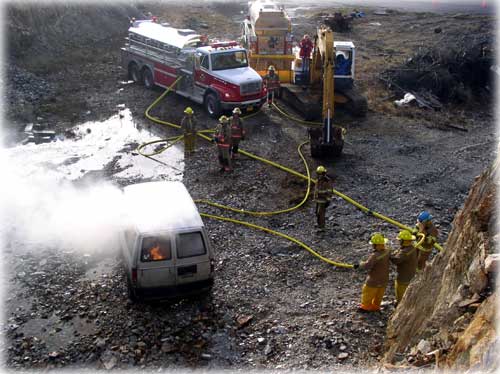 Firefighter students are learning the proper way to approach a vehicle on fire.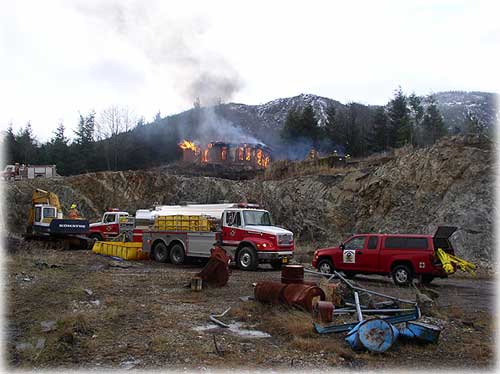 Four of North Tongass Volunteer Fire Department's units are in service during the live fire exercise on Ray Perin's property next to Lighthouse Grocery. The house is being allowed to burn freely after several teams of students "fought" fire in it.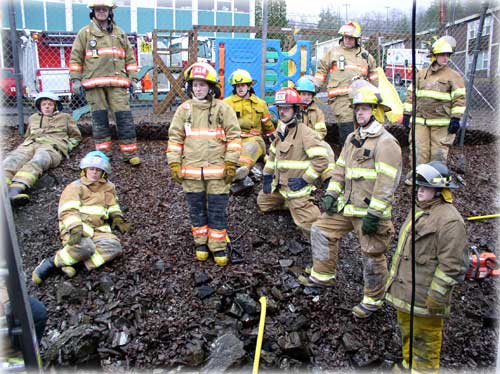 (from left) Brian Short, Gretchen Skillings, Jack Rodgers, Cathy Tighe, Scott Hildebrandt, Greg Cook, Jessica Freeman, Paul Hook (against fence), Stacy Francis, Britney Freeman and Wendy Mackie (black helmet) listen as the instructor discusses the safety issues involved in cutting holes in the roof of a burning structure.


Photos by David Hull ©2005
Related article:
Final testing day by David Hull, Chief NTVFD...
Monday - January 17, 2005

E-mail your news & photos to editor@sitnews.us


Publish A Letter on SitNews Read Letters/Opinions
Submit A Letter to the Editor

Sitnews
Stories In The News
Ketchikan, Alaska