Governor Proclaims Good reason for renewed optimism

January 13, 2005
Thursday

Alaska Governor Frank H. Murkowski delivered his third State of the State address to a joint session of the Legislature on Wednesday, saying that Alaska is strong and growing stronger.
An anticipated state budget surplus, national elections that brought brighter prospects for opening ANWR to development and significant progress by the administration toward gas pipeline agreement, there is renewed optimism across the state, Murkowski said.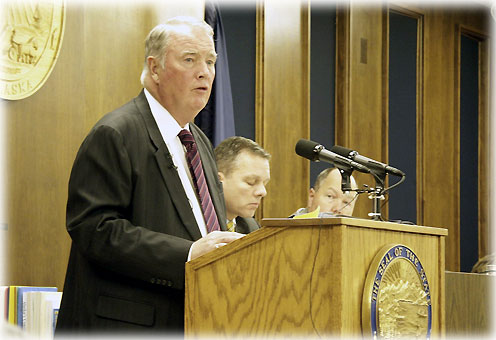 Governor Frank H. Murkowski delivers his third State of the State speech before a joint session of the Alaska State Legislature on Jan. 12, 2005, as Senate President Ben Stevens (R-Anchorage, center) and House Speaker John Harris (R-Valdez) listen.
Photo courtesy Office of the Governor

"I have never been more excited about what the future holds for Alaska or more firm in my resolve to create an atmosphere in which Alaskans can fulfill their tremendous potential and achieve their dreams," Murkowski said.
The governor's State of the State/State of the Budget address featured several initiatives that he has included in the FY06 budget submitted to the Legislature on Dec. 15.
It includes $126 million in increased K-12 funding for the next two years and a request for early funding to allow districts more budget certainty without issuing layoff notices to teachers.
The budget also includes increases for the University of Alaska, more money to local governments for PERS/TERS retirement cost increases and $20.7 million to fully-funding for the Power Cost Equalization program that subsidizes high cost energy in rural areas.
Murkowski also announced the creation of a work group to study ways to lower energy costs in Bush Alaska. "I renew the commitment I made at the Alaska Federation of Natives convention to aid rural Alaska in obtaining lower-cost energy to sustain jobs," Murkowski said.
Murkowski also called on the Legislature to renew the fight against alcohol and substance abuse. The governor is requesting putting nine additional troopers in the field and increased fines for drunk driving offenses in addition to continued efforts to enforce bootlegger laws.
The FY06 budget also protects the most vulnerable in the state with a proposal to add 30 social workers to the Office of Children's Services, an initiative to return more than 300 Alaska children from out-of-state residential psychiatric treatment centers and an expansion of the SeniorCare program that now covers about 7,000 low-income elderly residents.
The Legislature is asked to approve a plan that pays the federal insurance premium and deductible for eligible seniors whose annual income is less than $35,000. This change would cover about 40 percent of Alaska's elderly, Murkowski said.
The governor also pledged to continue to push the federal government to open access to Denali National Park, Glacier Bay, historic RS2477 trails and state land along the oil pipeline right-of-way corridor.
Murkowski said he will continue to push for a natural gas pipeline Stranded Gas Act contract to the Legislature this session that provides gas to Alaskans and gets natural gas to the Lower 48 markets by 2012. He will also continue his support for an equitable relationship with the state's oil industry.
During the speech, Governor Murkowski also called on the Legislature to hold hearings on whether the state's system of taxing oil fields, which was last amended in 1989, should be updated. Meanwhile, the state will take administrative action that will change the Economic Limit Factor on several North Slope fields effective February 1, Murkowski said.
"This administrative action does not change the ELF concept or application of ELF to remaining fields. Whether ELF should be changed remains in the hands of the Legislature following legislative hearings," Murkowski said.
Alaska has seen 8,700 jobs created since Murkowski entered office in 2002 and this administration remains committed to creating more jobs for Alaskans, the governor said.
The state's fishing industry is rebounding, prospects are good for mines that produce good-paying jobs in Southeast, Western Alaska and the Interior, and the state's timber industry has reason for optimism, Murkowski said. State involvement in encouraging a veneer mill and fish processing plant in Ketchikan will result in dozens of jobs, Murkowski said.
"Alaska can have a healthy environment and a thriving economy, and we are approving it," Murkowski said.
On the Web:
State of the State Address to the 24th Alaska State Legislature by the Honorable Frank H. Murkowski Governor of Alaska
Source of News:
Office of the Governor
Web Site

E-mail your news & photos to editor@sitnews.us


Publish A Letter on SitNews Read Letters/Opinions
Submit A Letter to the Editor

Sitnews
Stories In The News
Ketchikan, Alaska