Viewpoints
MORE TRASH and GARBAGE
by Jerry Cegelske
January 11, 2005
Tuesday

Two weeks ago I was out on North Tongass and found a large pile of trash dumped along the road (more on this later). After finding it I decided to check some of the other pull-outs on the way back. It was nice to find that many of them had very little new litter on and around them. Today I had to make another trip out North and on the way out I found new trash at the pull-out at 15.3 mile NTH.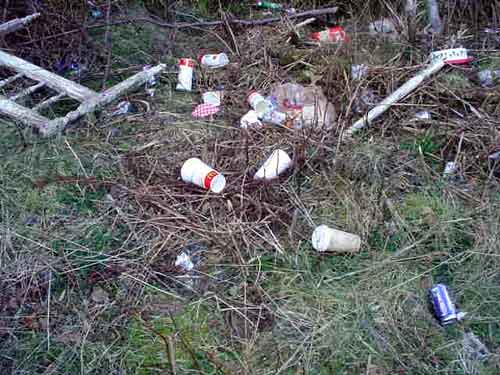 Litter on other side of guard rail at mile 15.3

Most of it is McDonald's paper cups and other items, about four pizza boxes, plastic knives, trash bags, coffee cups and a tin from some nuts. Someone had a party and dumped the evidence out for you to look at. I have no idea what the pink stuff is in the stainless steel bowl but it doesn't belong dumped at the pullout. Maybe they should go to jail just for making the stuff!

The paper cups were designed to hold water based fluids and are waxed or treated to do so. This also means that the rain will not have much affect on them and they will be around for a long time for us to look at. The nut can should last for up to 20 years, the pizza boxes will go first in six months or so. The plastic bags in a few years. It's a long time for the North end residents and tourists to look at this stuff.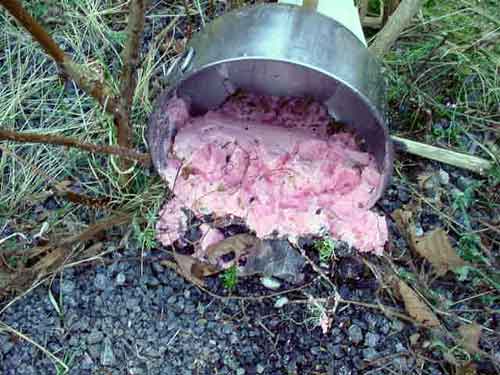 Pink Stuff!

Can anyone tell me what someone is thinking when they dump this stuff? Are they proud of themselves for being so lazy and inconsiderate? Are they thinking they really put one over on the decent citizens of the Borough? Do they think they saved money by dumping it for others to clean up (when the landfill is free)? I need some help in understanding the mentality the dumpers have and their justification. Oh, and if you have the recipe for that pink stuff - burn it!
Jerry Cegelske
Code enforcement
Ketchikan Gateway Borough
E-mail: jerry.cegelske@borough.ketchikan.ak.us
907-228-6621
Ketchikan, AK - USA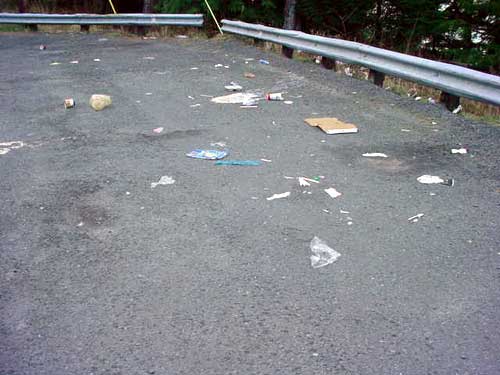 Litter on pullout at mile 15.3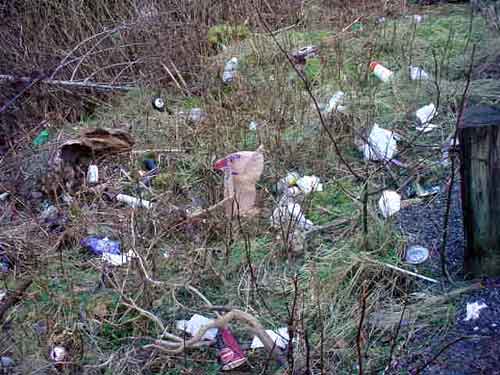 More litter...
Note: Comments published on Viewpoints are the opinions of the writer
and do not necessarily reflect the opinions of Sitnews.
Write a Letter -------Read Letters

E-mail the Editor

Sitnews
Stories In The News
Ketchikan, Alaska