From Timber to Tourism
Hoonah evolves to meet its economic needs
By PAULA DOBBYN
October 08, 2012
Monday PM

(SitNews) Hoonah, Alaska - Hoonah resident Floyd Peterson powers his 35-foot catamaran in the waters near Point Adolphus, a major feeding ground for whales in Southeast Alaska. Aboard his vessel are clients from Oklahoma City.
"We always get to see whales when we go out with Floyd," says Annette Hott. "He seems to attract them."
As if on cue, a pod of humpbacks soon surfaces near Peterson's boat, the Silver Spoon. To the delight of Peterson's passengers who have been sampling smoked salmon dip, the whales perform acrobatic stunts. They do partial breaches, roll on their sides, slap their flukes and forcefully exhale saltysmelling air through their enormous blowholes.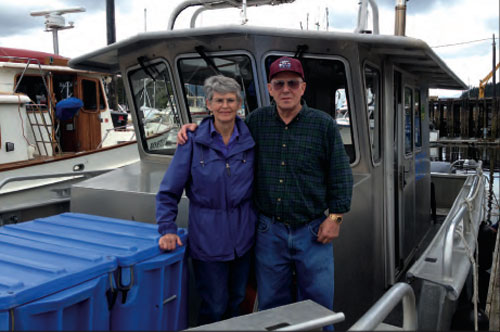 Floyd and Marjorie Peterson, owners of FISHES, a Hoonah-based tourism company that offers whale watching and wildlife tours on the north end of Chichagof Island.
Photograph by Paula Dobbyn

"This is is the highlight of the trip, no question," says Shannon Wilcox, who is touring Southeast Alaska's lush Inside Passage with her husband, Spencer, aboard the Celebrity Millennium cruise ship.
The Oklahoma visitors joined Peterson at Icy Strait Point, an Alaska Nativeowned cruise ship port developed in 2004, the first of its kind in Alaska. It's on the outskirts of Peterson's hometown of Hoonah, a predominately Tlingit community on Chichagof Island, about 40 air miles west of Juneau, Alaska's capital. The backdrop to Hoonah, in the Alaska Panhandle, is the Tongass National Forest, a 17-million-acre temperate rain forest with old growth spruce, cedar and hemlock trees and more than 17,690 miles of salmon-bearing rivers, streams and lakes, according to the US Forest Service. Because of its abundance, the Tongass is ofen called a "salmon forest."
But it's also home to thousands of migrating humpback whales, which attract tourists from all over the world every summer.
Plenty of Business
Although he's seen thousands of whales over the course of his lifetime, Peterson seems as thrilled as his passengers each time one of the behemoth animals surfaces. In contrast to his four decades as a commercial fi sherman and a sportfishing charter operator, Peterson's latest career in whale watching is a lot easier and more reliable.
"The whales have to come up to breathe but the fish don't have to bite," he says. "This has been good for me. It's a lot less work and everyone's happy."
Peterson has been offering whale watch trips for nine years. He started the company after witnessing Hoonah's economy - like that of much of Southeast Alaska—undergo a shift from natural resource extraction to visitor services. In recent decades, the town's focus was heavily centered in forest products, a sector that has suffered major declines in Southeast Alaska since the mid-1990s. As timber harvesting shrank and tourism grew, Peterson recognized an opportunity. His timing was good.
"When I started the whale watching business, I was the only one doing it. Now there are nine or 10 different operators," he says.
But Peterson doesn't mind the competition. The way he sees it, there's plenty of business to go around.
An Economic Renaissance
Peterson's company, called FISHES (Floyd's Icy Straits Highliner Enterprising Services), is among a slew of new tourism off erings in Hoonah. Whale watching is among the most popular attractions. But the range of excursions available to tourists continues to expand as the town builds its reputation as a unique wilderness destination.
There's a heart-pumping zip line, billed as the world's largest. There's kayaking and guided sport fishing for salmon, halibut, trout, steelhead and other species. Van tours comb the area's vast network of former logging roads to view bears. And with Chichagof Island hosting the world's highest concentration of bears per square mile, sightings are virtually guaranteed.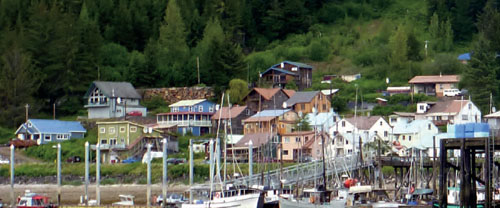 Hoonah, Alaska
Photo by Paula Dobbyn
Although Hoonah gets some independent travelers - mainly hunters and anglers - most visitors arrive aboard cruise ships. Since Hoonah's local Native corporation transformed an old cannery and surrounding land into a cruise ship venue in 2004, more than a million tourists have descended upon Hoonah, giving the town a much-needed economic boost.
"It's generated a renaissance in Hoonah," says Lawrence E. Gaffaney, president and chief executive of Huna Totem Corp., the Juneau-based village corporation for Hoonah formed under the 1971 Alaska Native Claims Settlement Act.
Purchased by Huna Totem in 1996, the cannery has become the focal point of Icy Strait Point's major themes of Tlingit culture and wild salmon.
"They've really done an excellent job of playing off their strengths," says Ron Peck, executive director of the Alaska Travel Industry Association.
Cannery to Cruise Destination
One hundred years ago this year, the Hoonah Packing Co. opened about 1.5 miles from salmon cannery downtown on the shores of Hoonah's fishing grounds. Then as now, it acts as an engine for the town's economy.
The cannery used to pack more than 2 million cans of salmon a year. It operated for four decades before closing in 1953. A century later, the refurbished cannery hosts more than 132,000 cruise passengers every summer as the hub of Icy Strait Point.
Owner Huna Totem started building Icy Strait Point in 2002 as a revenue alternative to the company's prior focus on logging. It opened in 2004 with 32 cruise ships visiting that first summer. Nearly double that number - 63 ships - stopped at Icy Strait Point last summer.
The tourism industry investment marked a dramatic change for Huna Totem and the village of Hoonah.
"The market for timber collapsed. That was the primary driver. We thought, 'What are we going to do now?'" says Johan Dybdahl, director of special projects and community relations at Icy Strait Point.
Making a Shift
Although tourism is on the rise, fishing is still important to the Alaska Panhandle community. With easy access to Icy and Chatham Straits, Hoonah's proximity to fish and its comparatively low moorage fees make it a coveted spot for commercial fishermen. Since 2000, Hoonah residents have harvested over 24 million pounds of fish and generated over $25 million in gross earnings, according to the Alaska Commercial Fishing Entry Commission. Over the last decade or so, an average of 58 Hoonah residents have commercially fished and collected more than $2.5 million in gross earnings each year. While the number of permits fished has declined from 106 in 2000 to 70 in 2011, Hoonah's harbor is still abuzz during fishing season.
"I was just over there two weeks ago and it was hopping," says Kurt Iverson, research project leader with the Alaska Commercial Fishing Limited Entry Commission, last July.
Increasingly, Southeast fishing vessels home ported elsewhere are using Hoonah as a base because of its affordable harbor rates, according to harbor master Arlen Skaflestad.
"I have a waiting list for the first time," says Skaflestad, referring to vessels wanting slips.
Compared to fishing, Hoonah's timber industry has been hit harder. Much of Hoonah's economy from the late 1970s to the mid-1990s revolved around logging. But the forest products industry has contracted for nearly two decades in Southeast Alaska, and Huna Totem, which liquidated most of its old-growth timber by the mid-1990s, knew it had no choice but to seek new growth opportunities, say Dybdahl.
With cruise ship tourism starting to explode in Southeast Alaska in the 1990s, Huna Totem decided to capitalize on growth in the visitor industry.
"It was a conscious decision to do something consistent with our mission to be a for-profi t corporation and to also benefit our shareholders," says Gaffaney.
An Economic Engine
Huna Totem has invested $31 million to date in Icy Strait Point, says Gaffaney. It's now the town's largest employer, providing 28 percent of jobs in Hoonah during peak tourism season and 31 percent of private sector payroll, according to Gaffaney.
According to Huna Totem's 2011 annual report, 135 shareholders worked at Icy Strait Point, generating $2 million in earnings and $776,230 in cash flow for the company.
In 2009, Icy Strait Point paid $327,000 in sales tax to the city, providing about 60 percent of all sales tax revenues collected.
Huna Totem is particularly proud that most of the workers at its cruise ship port are shareholders.
"More than 85 percent Native hire and 90 percent local hire has been maintained since construction of Icy Strait Point began," says Gaffaney.
Alaska's Wildest Kitchen
Outfitted with restaurants serving fresh salmon, Dungeness crab and halibut, along with locally made micro-brewed beer, the cannery features retail shops offering Alaska Native-themed products, everything from Huna Tlingit handbags to devil's club lip balm. A cultural performance hall, a museum, a culinary instruction space called Alaska's Wildest Kitchen, and other amenities are scattered nearby.
On an overcast afernoon in June, Dodie Lunda, a Hoonah resident and commercial fisherman, demonstrated to visitors at Alaska's Wildest Kitchen how to fillet salmon and halibut and turn them into burgers, spreads, casseroles and grilled entrees. Lunga grew up on a dairy farm in the Midwest before migrating to Southeast Alaska to fish some 30 years ago.
As she prepares a bowl of dip made from wild Chinook salmon, Lunga discusses the importance of salmon to the Tlingit tribe. She notes the heavy reliance on seafood - salmon, in particular - for subsistence and its cultural importance at special ceremonies.
"Whenever someone in the village passes away, we gather and have salmon salad sandwiches. I've probably made thousands and thousands of salmon salad sandwiches since I was adopted into the clan," Lunda says.
Afer sipping wine spritzers and sampling some of Lunda's creations, the group heads to an outdoor grill to practice cooking salmon and halibut over an alder wood fire.
Building toward the Future
Although visitor numbers peaked at Icy Strait Point in 2007 when nearly 162,000 passengers disembarked, the port still appears to be meeting its growth expectations. Passenger counts increased 7 percent in 2011 from the prior year. And net income from Icy Strait Point totaled $974,000, up $283,000 from 2010, according to the annual report.
Many local entrepreneurs, along with city officials and Icy Strait Point and Huna Totem executives, want more cruise passengers to visit Hoonah. The massive ships currently visit on Monday and Tuesday and every other Wednesday, anchoring off shore and bringing passengers to land by lightering vessels. The construction of a cruise ship dock would allow the town to continue to expand as a tourist destination. In 2011, the Alaska Legislature approved a $17 million grant for such a project.
"The objective is to get the dock built in 2014," Gaffaney says.
Paula Dobbyn is a freelance writer based in Anchorage.
©Paula Dobbyn 2012
A republication fee is required.
Contact her at pauladob@gmail.com
E-mail your news & photos to editor@sitnews.us


Publish A Letter in SitNews
Contact the Editor
SitNews ©2012
Stories In The News
Ketchikan, Alaska

Articles & photographs that appear in SitNews may be protected by copyright and may not be reprinted without written permission from and payment of any required fees to the proper sources.