Column
Hunting the American Dream
By JEFF LUND
December 14, 2013
Saturday PM

(SitNews) Klawock, Alaska - During a sub job in US history I was going over a short research paper assignment about the validity of the American Dream. A student asked me if I was living the American Dream.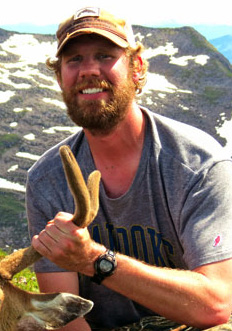 Jeff Lund
I was about to say I was living a version of the American Dream, then took a second to soak in the irony of the moment. When I was taking US history in the same classroom 17 years before the question was volleyed in my direction, I knew my American Dream would not be found in Alaska, and especially not teaching. But there I was, a teacher, a substitute teacher, in Alaska.
I said something to the effect that my version is complicated, it changes, and that they shouldn't be surprised when what they want from life is altered by context. I told them that there are an increasing number of people updating subscriptions to materialistic living or who are waiting for the easiest path to happiness and monetary riches to be delivered to their mail box. But there are still plenty of people who want to work.
I kept thinking about that question and my response long after the class ended.
When I was their age I had just finished my dream du jour of wanting to be a doctor. I was going to college to find direction. Two months from my college graduation I looked at what being a sportswriter for a daily newspaper meant. Terrible pay, long hours and starting out with the lowest beat. I'd worked my way from covering lacrosse and rugby at the University of Arizona to covering the men's basketball team the year after a National Championship game loss to Carlos Boozer's Duke team. It was the most coveted beat on campus and took me just over a year to get it. But in the real world people don't graduate from the best beat every year. In real life people work and wait, or get a reality TV show for having no discernible moral compass or caring nothing for the feelings of others. Appreciate the irony there - we're trying to curb bullying, then we go home and create a market for shows and protagonists dedicated to the relentless teasing of others. But that's for a different column.
Maybe I was impatient when it came to a career as a sports journalist or maybe I had no specific dream. I ended up teaching journalism in California, not a dream come true, but I liked it enough to do it for ten years, before moving back home and standing before students in my old classrooms as a replacement teacher. Monetarily speaking, I'm not living the dream but there hasn't been a point since I graduated high school where I felt adrift in despondency because my destination was unclear.
Maybe that's the American Dream - choices and eventual clarity. If you don't want a white picket fence, 1.5 children and a dog named Spot you can go another route. If you want be single except for your exotic mix dog which requires more grooming in a day than I do in a week (okay, bad example) and live in a studio apartment which costs you what a teacher makes, go ahead.
There can be arguments made about the demise of the American Dream, or that it was an illusion in the first place, but it certainly can't be found in Washington, D.C.. There is no bill the government can pass that will replace the need for an individual to be industrious. Plus, I don't believe a dream can be legislated because Americans aren't nationalized clones with the same idea of what the American Dream is.
As long as you're not waiting stagnantly for a way to circumnavigate all the difficulties necessary to overcome en route to achieving some semblance of a dream, you're at some point on your own American Dream continuum.
Finally, I think to a degree we have to be selfish. Not in the talking points against Wall Street, Capitalism or Republicans sort of way, but in the motivated way of the creative, inspired declaration, "I don't know about you, but I'm going to make it." Yeah, you will need other people to support you along the way, but they can't do it for you. The state of Alaska loaned me money for college. I used it to get educated and prepared for a job which would qualify me to make money to pay it back. I did. Are there are few jobs now? Yeah. Are times difficult? For most, they were never easy.
So is the American Dream a viable option today, and if it is, what does it look like?
Generally, I'd say the American Dream is alive for those willing to make something from little or nothing, and dead for those making nothing from something.
Jeff Lund ©2013
Jeff Lund is a Teacher and Freelance Writer living in Klawock, Alaska
Contact Jeff at Email – aklund21@gmail.com
E-mail your news & photos to editor@sitnews.us


Publish A Letter in SitNews
Contact the Editor
SitNews ©2013
Stories In The News
Ketchikan, Alaska

Articles & photographs that appear in SitNews may be protected by copyright and may not be reprinted without written permission from and payment of any required fees to the proper sources.