Column
From good to great
By JEFF LUND
March 03, 2014
Monday PM

(SitNews) Klawock, Alaska - Sometimes you have one of those days.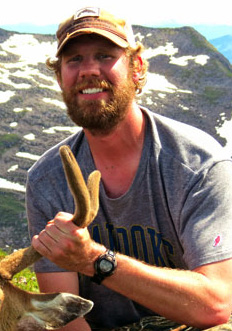 Jeff Lund
No, not one of those days you need everyone to clear a path and midnight to come with a quickness, one of those days the world lets you on the other side of the velvet rope. It's the type of day that makes up for the hours sitting in torturous general education classes freshman year, or getting back to the dock on your kicker because the main engine caught cholera and shut down six hours ago.
Days like this balance out the one you lost because you were melancholy over breaking up with the right one or after realizing you were going after the wrong one.
It's one of those days which make you a supreme optimist. Optimist Prime. It's also the type of day that makes you not care about cheesy jokes, puns, titles or allusions.
Put simply, it's a day that works out better than planned.
Mine started with the idea to snowshoe up my favorite hike, then reacquaint myself with snowboarding.
The sky was flawless, wind calm and the snow which coated everything was thick but not heavy. I strapped on my snowshoes and within fifteen minutes I was taking my first break. Sweat was already through two thin outer layers and my beanie was retired to my pocket. The trail usually takes a little over a half hour to traverse, but as I continued, that light friendly snow turned sinister. Between the steep grade and the resistance, it took me an hour to get to the last good lookout before the top. My legs were pretty thrashed so I took my fifth or sixth mini-break, had some water and drank in the view that I'd seen many times, but never like this.
While people were paying $70 for a lift ticket to go down icy slopes, I had a mountain to myself, perfection to destroy. When I got to the top and my pulse settled, I strapped on my board, pointed it down the hill and slid about 20 feet before falling over, rolling and coming to a rest facing up hill.
I've been boarding and skiing a few times, but am far from proficient and my last trip was a good half decade ago. Trips to the snow in California's Sierra Nevada were all-day affairs and between coaching basketball and wanting to fish, days on the slopes didn't often make the cut.
Since moving home in October I've been constantly enamored by the availability of everything. You run out of road before things to do, and even if the road does end, there's probably a trail.
I had a few more runs in me, but two other snowshoers showed up. One was packing a board so I figured it was a good time to leave.
"Should have been here a few hours ago, you could have helped me break that nice trail you're enjoying," I joked. I was glad no one else was there, but figured it was a perfectly acceptable greeting, even if it was a little dishonest.
We chatted for a few minutes. They were new to the island and looked like they were having the same type of day I was. Of course, I was the one who got to ruin the snow.
I made it home, bought a new pair of socks while waiting for my late lunch at a local pizza place, then grabbed my fishing stuff and headed to the river.
I could have been content with a great day hiking and snowboarding, but I didn't have to be. With only a little more effort I took a great day and made it epic by throwing pink flies at steelhead.
I figured at some point the newness of being back in Alaska would wear-off, but it hasn't yet which a great sign especially since the absurdity of summer angling is nearing.
So in the future if I suffer through a wasted day, I know it won't be Alaska's fault and if something unavoidable happens anyway, Alaska will surely help me make up for it.
Jeff Lund ©2014
Jeff Lund is a Teacher and Freelance Writer living in Klawock, Alaska
Contact Jeff at Email – aklund21@gmail.com
E-mail your news & photos to editor@sitnews.us


Publish A Letter in SitNews
Contact the Editor
SitNews ©2014
Stories In The News
Ketchikan, Alaska

Articles & photographs that appear in SitNews may be protected by copyright and may not be reprinted without written permission from and payment of any required fees to the proper sources.