Will the Tongass Timber Wars Ever Be Over?
Biden Administration Moves to Protect Roadless Areas in Tongass National Forest
Posted & Edited By MARY KAUFFMAN
July 18, 2021
Sunday PM

(SitNews) - The U.S. Department of Agriculture (USDA) announced last week (July 15, 2021)a new Southeast Alaska Sustainability Strategy to help support a diverse economy, enhance community resilience, and conserve natural resources. Through this strategy, USDA says it will consult with Tribes and Alaska Native corporations, and engage partners and communities in a collaborative process to invest approximately $25 million in financial and technical resources in sustainable opportunities for economic growth and community well-being and identify priorities for future investments.
Last week's announcement is said by the USDA to be in line with the Biden-Harris Administration's approach to climate-smart forest management and conservation nationally, recognizing the importance of advancing the pace and scale of restoration and reforestation, addressing the challenge of wildfire, and retaining climate-resilient forests that provide ecologic, social and economic benefits and support rural community well-being.
This move by the Biden administration will rollback a Trump-era rule that exempted the Tongass from the national Roadless Rule. The Biden administration made an announcement about a month ago that promised to "repeal or replace " the Trump administration rule.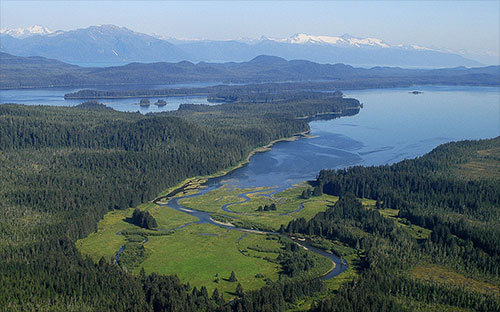 Tongass National Forest: King Salmon River delta on Northern Admiralty Island.
Photo by John Schoen
The Tongass spans nearly 16.7 million acres, covering nearly all of Southeast Alaska, and is home to 32 islanded communities. For decades, successive layers of federal law and regulation, including the 2001 Roadless Rule, have continually restricted access needed for timber, mining, tourism, recreation, and the development of renewable resources, such as hydropower and necessary transmission lines.
As a key part of Southeast Alaska Sustainability Strategy, USDA will end large-scale old growth timber sales on the Tongass National Forest and will instead focus management resources to support forest restoration, recreation and resilience, including for climate, wildlife habit and watershed improvement. Small and micro old growth sales will still be offered for community consumption and cultural uses such as totem poles, canoes and tribal artisan use. USDA will also initiate a rulemaking this summer that will propose to restore 2001 Roadless Rule protections on the Tongass National Forest, returning stability and certainty to the conservation of 9.3 million acres of the world's largest temperate old growth rainforest.
Secretary Tom Vilsack has directed leaders of multiple USDA agencies, including the Forest Service, the Natural Resources Conservation Service, and Rural Development, to consult with Tribes and work together with partners and communities in Southeast Alaska to identify priorities for investment that reflect the diverse needs and opportunities in the region, including for recreation, fisheries and the fishing industry, mariculture, renewable energy, sustainable timber management including for young growth, traditional and customary cultural uses, and carbon sequestration.
"We look forward to meaningful consultation with Tribal governments and Alaska Native corporations, and engaging with local communities, partners, and the State to prioritize management and investments in the region that reflect a holistic approach to the diverse values present in the region," said Secretary Vilsack. "This approach will help us chart the path to long-term economic opportunities that are sustainable and reflect Southeast Alaska's rich cultural heritage and magnificent natural resources."
According to Alaska Governor Michael Dunlevy (R-AK), President Joe Biden's efforts to put Alaska workers permanently into unemployment lines and wipe out small businesses continues with the United States Department of Agriculture's announcement restarting efforts to shut down Southeast Alaska with the roadless rule.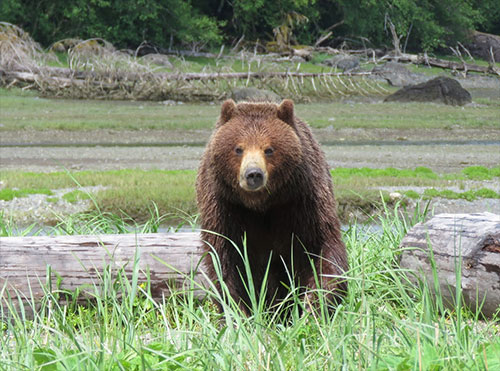 Tongass National Forest: Pack Creek brown bear
A brown bear walks toward the camera at Pack Creek on Admiralty Island in the Tongass National Forest. Admiralty Island's Tlingit name is Kootznoowoo, which translates roughly to "Fortress of the Brown Bears." It is said to have the densest concentration of brown bears in the world.
Photo by Mary Catharine Martin, SalmonState.org

Alaska Governor Dunleavy commented on what he calls "Biden's America and Alaska Last" approach. Quoting a news release from the governor's office, President Joe Biden's efforts to put Alaska workers permanently into unemployment lines and wipe out small businesses continues with the United States Department of Agriculture's announcement restarting efforts to shut down Southeast Alaska with the roadless rule.
"The Forest Service has already conducted a thorough analysis and determined that an Alaska-specific exemption from a one-size-fits-all roadless rule was fully justified," said Governor Mike Dunleavy. "Narrow election results and political donations from environmental groups do not justify this federal agency's policy flip-flop."
Governor Dunleavy continued saying, "Much like XL Pipeline workers and others, American and Alaskan families just want the chance to work and support their families. Our state's southeast communities need fundamental access, like roads, and the economic and resource development opportunities roads provide. Every Alaskan deserves the chance to work. We have the resources. We just need the opportunity."
Dunleavy said, "Let me be clear, where the State of Alaska can partner with the federal government on efforts that make the lives of Alaskans better, Washington D.C. will not find a more willing partner. But where there will be disagreement, my administration will make the feeling of this state known."
"Sustainable forest stewardship both protects the ecological values of our forests and supports local economies by providing stable, good-paying jobs," said Alaska Department of Natural Resources Commissioner Corri Feige. "The Tongass was created to serve multiple uses, including a sustainable timber industry. Arbitrary reimposition of a roadless rule will deprive Southeast Alaska communities of a diversified economy that includes working forests as well as tourism and fishing."
U.S. Senators Lisa Murkowski and Dan Sullivan, and Congressman Don Young (all R-Alaska) issued the statements after the Biden administration announced it will seek to revoke the Tongass National Forest's full exemption from the 2001 Roadless Area Conservation Rule (Roadless Rule), granted under the previous administration, and also further diminish the supply available for a viable timber industry. This announcement is part of Southeast Alaska Sustainability Strategy, which included approximately $25 million in federal investments for the region.
"The USDA holds the keys to the economic health of Southeast Alaska and is taking steps to lock it up for good. Repealing the Tongass exemption from the 2001 Roadless Rule is wrong. It will cost jobs, diminish income, keep energy prices high, and cripple the ability of the communities in the region to develop a sustainable, year-round economy," said Senator Murkowski. "Secretary Vilsack called to tell me the USDA is providing $25 million in investments to help communities in the region, but what he failed to tell me is that the USDA is abandoning the science-based transition the Secretary previously promised to ensure there would still be a small but viable timber industry in Southeast Alaska. What the USDA is doing is effectively limiting long-term economic opportunities for the region in exchange for one time money. Alaskans are not naïve."
"Like many Alaskans, this morning [July 15, 2021] I read the news that the Biden administration will be imposing sweeping, bureaucratic restrictions shutting down economic opportunities on Alaskans' lands," said Senator Sullivan. "This announcement, and the way that it was leaked to the media, is yet one more example of the disregard the Biden administration has shown for Alaskans since day one - promulgating orders from D.C. without consulting Alaska's elected officials or consideration for how these decisions will impact our hard-working families. Especially shocking is that just yesterday, I received a phone call from Secretary Vilsack about a one-time federal investment in the economies of Southeast Alaska, however, he failed to mention that this investment is simply a pay-off for killing sustained economic development opportunities in Southeast by reinstating and ratcheting up Roadless Rule restrictions and further starving our timber industry of supply. Greater restrictions on the Tongass have been opposed for decades by all of Alaska's governors and the state's federal elected officials, both Republican and Democratic. Let me be clear: $25 million doesn't even come close to covering the economic damage that this administration's policies will inflict on Southeast Alaska. Alaskans have the right to make a living, support our families, and connect our communities and have a much greater interest in seeing the Tongass healthy and sustainably managed than outside extreme environmental groups pulling the strings in the Biden administration."
"Today [July 15th], Washington DC bureaucrats who live and work 4,000 miles away have made a terrible decision for Alaska, and have shown a terrible disregard for our people," said Congressman Young. "Last month, I implored Secretary Vilsack to come to Southeast and visit our communities before making a decision on the Tongass. Clearly, he did not. Had he, he would have learned that Alaskans do not want burdensome, unnecessary regulation. Those in Southeast, including Alaska Natives, know how to balance environmental protection with development; they have been doing it for years. To lock up the Tongass, as Secretary Vilsack is pursuing, sends the message that this Administration does not trust Alaskans to take care of the very environment in which they live. Make no mistake: USDA is dead wrong to do this to Alaska. All our communities are asking for are the same things many people take for granted: transportation, economic opportunity, outdoor recreation, and the ability to stay connected with one another. Here is a fact: national monument status combined with other land use designations mean that 80% of the Tongass will always be protected. Even with that, USDA is still promulgating the fantasy that they are doing Alaska a favor with their one-size-fits-all approach, but I know Alaskans will not fall for it. The COVID-19 pandemic has already harmed our state immensely; today's decision is yet another nail in the coffin for economic opportunity in Southeast. I call on President Biden and Secretary Vilsack to reverse this decision and stop using the Tongass as a political football. The very livelihoods and safety of Alaska's families hang in the balance."
The Alaska Congressional Delegation has advocated strongly for the Roadless Rule exemption in order to restore balance in federal management on the Tongass. Without the exemption, 91 percent of the Tongass is locked up as either Wilderness, Wilderness National Monument, or Inventoried Roadless Areas.
However, not all were opposed to the USDA's recent announcement.
The National Wildlife Federation said the Biden administration's restoration of protections for the Tongass National Forest is good news for wildlife, Indigenous communities, climate mitigation, and for the economy of Southeast Alaska.
"The Tongass National Forest is the world's largest remaining temperate rainforest and the most intact forest in the U.S. The Biden Administration's decision to restore the Roadless Rule protections to the nation's largest old growth forest will protect the iconic wildlife, important fisheries, Indigenous communities, outdoor recreation, and the small businesses of Southeast Alaska that depend on a healthy, robust ecosystem," said Collin O'Mara, president and CEO of the National Wildlife Federation. "Keeping the roadless areas of the Tongass intact will also ensure that this natural treasure continues its vital role in absorbing greenhouse gas emissions to mitigate climate change."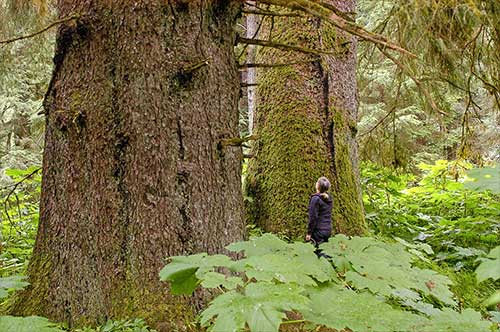 Tongass National Forest: Old growth trees
Mary Beth Schoen admires a large-tree old-growth stand in Saook Bay on northeastern Baranof Island. Some individual trees there are over six feet in diameter and many centuries old. This riparian area is adjacent to a salmon stream and is full of bear trails. Large-tree old growth stands comprise less than 3% of the Tongass.
Photo by John Schoen
"The announcement today that the U.S. Forest Service will move to repeal the Trump-era Alaska Roadless Rule and also end large-scale old-growth logging on the Tongass as part of the Southeast Alaska Sustainability Strategy brought cheers of joy and tears of relief for thousands of Southeast Alaskans who have asked for this outcome over and over again in the twenty years since the National Roadless Rule was created," said Meredith Trainor, Executive Director of the Southeast Alaska Conservation Council.
Trainor said, "This has been a long-sought outcome in a hard-fought battle: Tribal leaders, small business owners in the fishing, recreation, and tourism industries, and everyday folks from throughout Southeast Alaska repeatedly came out in droves over the years to champion the place we love and call home, and to ask for this outcome."
Patrick Lavin, Alaska policy advisor for Defenders of Wildlife, said, "Defenders applauds this welcome shift in priorities for the Forest Service on the Tongass, from destructive liquidation of irreplaceable old-growth forests to restoration and recreation investments developed with local input and participation. Protecting roadless and old-growth forests on the Tongass will conserve biodiversity and help address climate change while aligning Tongass management with the economic realities in Southeast Alaska and with overwhelming public opinion."
"The Tongass is not only one of the few truly wild places left on the planet, it is vital to our path forward as we deal with climate change," said SalmonState communications director Mary Catharine Martin. "We're thrilled that this announcement recognizes how valuable the Tongass is, both to the people that live here and to the rest of the world."
"Today's [07/15/21] announcement signals the end of the Tongass timber wars once and for all," said Martin. "This bold and forward thinking move by the Forest Service allows all of us who love this forest and call it home to focus squarely on the future and leave the past behind."
According to SalmonState, 25% of the West Coast's salmon catch comes from the Tongass National Forest. The remaining old growth habitat is essential for deer, brown bears, salmon and many other species, as well as to the Tongass' economy: 26% of jobs in the region come from tourism or commercial fisheries, which are supported by the intact forest.
Andy Moderow, Alaska Director, Alaska Wilderness League released a prepared statment saying, "Old-growth forests are critical to addressing climate change, so restoring roadless protections to the Tongass is critical. The Tongass alone stores more than 1.5 billion metric tons of CO2-eq and sequesters an additional 10 million metric tons each year. Gutting roadless protections for our nation's largest and most biologically rich national forest will not only grant American taxpayers the dubious honor of paying hundreds of millions of dollars in subsidies for logging road construction, but that money would then fund the destruction of a valuable carbon sink and the benefits it provides in the process.
Moderow said, "With Alaska experiencing climate impacts more acutely than most, we shouldn't be discussing the continued clearcutting of a natural climate solution that exists right in our own backyard. Alaskans love their old-growth forests and the timber industry in Southeast is now a relic of the past, and the Biden administration should be commended for looking forward to what kind of world we want to leave to our kids. The Tongass is an unmatched treasure and with smart action now we can properly manage it for future generations."
Dr. Dominick A. DellaSala, Chief Scientist, Wild Heritage, Project of Earth Island Institute based in Orgeon said, "We welcome the Biden administration's announcement to protect North America's rainforest lungs. The Tongass rainforest stores the equivalent of 44% of all national forests' carbon, doing its part in keeping the planet from overheating, said Dominick DellaSala, Ph. D, Chief Scientist at Wild Heritage, a project of the Earth Island Institute. "We now call on President Biden to follow this bold announcement with protecting all mature forests and large trees on public lands in a strategic carbon reserve to compliment US contributions to emissions reduction."
DellaSala said the Tongass rainforest has been compared to Amazonia in terms of its carbon absorption properties and its role in helping to stabilize regional and global climate impacts. Unfortunately, the Amazon has now shifted into a net source of carbon pollution due to rampant logging and slash and burn agriculture that will further destabilize the regional and global climate.
"We simply cannot afford to lose old forests such as the Amazon or the Tongass because of their irreplaceable role as climate control centers," sai . DellaSala.
Dr. Dominick DellaSala has worked on quantifying Tongass biodiversity and climate benefits for over three decades. His award winning book – Temperate and Boreal Rainforests of the World: Ecology and Conservation , placed the Tongass on a global map of conservation importance.--
Over the next 30 days, the USDA will stand up a locally-based team to consult with Tribal governments and Alaska Native corporations, and to meet with stakeholders, communities, and partners to identify practical opportunities in the near term to deploy up to $25 million in additional funding and technical assistance for projects and workforce development in the region. The team will also recommend opportunities for longer-term investments that are responsive to Tribal and local priorities for sustainable economic development in Southeast Alaska, and supportive of ongoing partnerships. For example, the team will seek ways to complement the work of the Indigenous Guardians Network, the Sustainable Southeast Partnership, the Hoonah Native Forest Partnership, the Keex' Kwaan Community Forest Partnership, Tribal Conservation Districts, the Southeast Conference, and the Forest Service and NRCS's Joint Chiefs' Restoration Initiative project. The team will also build on collaborative work between the State and the Forest Service, Rural Development's work with municipalities, tribal governments, Alaska Native corporations and other partners on community and economic development, and other partnerships that reflect principles of collaboration and respect for Indigenous knowledge that are building trust and opportunity in Southeast Alaska.
The USDA says their actions are intended to support local economies and preserve Alaska's expansive old growth temperate rainforest, a resource that is increasingly rare globally. The Southeast Alaska Sustainability Strategy will help advance economic, ecologic, and cultural sustainability in Southeast Alaska in a manner that is directed by local voices and which builds on the region's private-sector economic drivers of tourism, fishing, and recreation. These actions directly support the Biden-Harris Administration's efforts to address climate change at scale and provide both local and global benefits. In implementing this strategy, USDA says it will prioritize respecting Tribal sovereignty and self-governance, renewing our commitment to Federal Trust responsibilities, and engaging in regular, meaningful, and robust consultation.
Source of News:
USDA
www.usda.gov

Office of Alaska Governor Michael Dunleavy
www.gov.alaska.gov

Office of U.S. Senator Lisa Murkowski
www.murkowski.senate.og

Office of U.S. Senator Dan Sullivan
www.sullivan.senate.gov

Office of Congressman Don Young
www.donyoung.house.gov

National Wildlife Federation
www.nwf.org

Southeast Alaska Conservation Council
www.seacc.org

Wild Heritage, Project of Earth Island Institute
www.wild-heritage.org

SalmonState
www.salmonstate.org

Alaska Wilderness League
www.alaskawild.org
Representations of fact and opinions in comments posted are solely those of the individual posters and do not represent the opinions of Sitnews.


Send a letter to the editor@sitnews.us
Contact the Editor
SitNews ©2021
Stories In The News
Ketchikan, Alaska

Articles & photographs that appear in SitNews are considered protected by copyright and may not be reprinted without written permission from and payment of any required fees to the proper freelance writers and subscription services.

E-mail your news & photos to editor@sitnews.us

Photographers choosing to submit photographs for publication to SitNews are in doing so granting their permission for publication and for archiving. SitNews does not sell photographs. All requests for purchasing a photograph will be emailed to the photographer.