Firewood Prices:
Hemlock and Spruce is $250.00/cord, $125.00 1/2 cord
Yellow Cedar is $300.00/cord
Mixed load is $275.00 (1/3 yellow cedar)
Price includes split and delivered.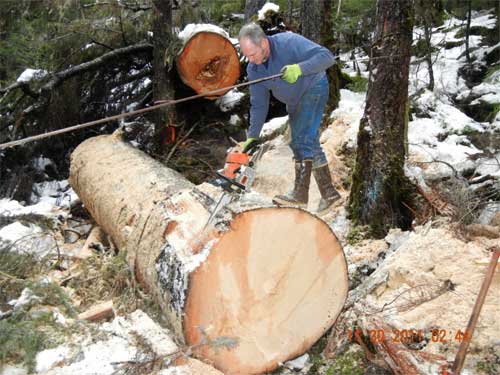 Bucking rounds
Discounts available to Senior Citizens and Active Service Members. KIC elders may qualify for energy assistance from KIC.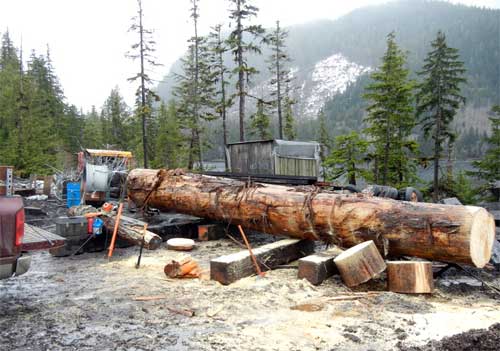 Yellow Cedar
A cord is 128 cubic feet.
Hemlock and Spruce available, Yellow Cedar very limited.
I purchase my wood from the U.S.F.S. and Evergreen Timber.
Hemlock provides the best BTU's for the money, SE Alaska wood.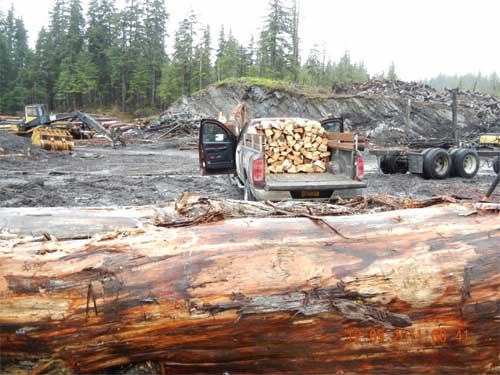 Loading truck in sort yard
I've sold wood commercially from 1992-1997. Hand splitting and delivering approximately 1,000 cords in five years.
Firewood at today's energy prices is a bargain! (seasoned firewood can cost LESS THAN HALF of #2 Heating Oil heating a home annually!)
If you have a wood shed it should be full, with your future energy source seasoning for later this winter or next year's winter use.
I deliver to Alaska Marine Line ports (customer pays shipping).
Juneau residents, you can fit 12 CORDS into a 24' container. Team up with your neighbors and save money!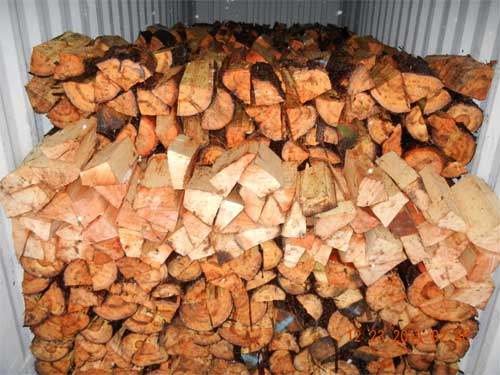 Eight cords.
E-mail: Ray Kolean
rkolean@kpunet.net