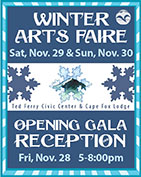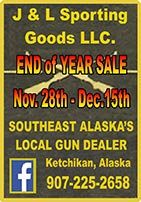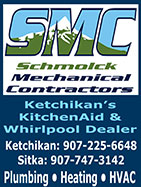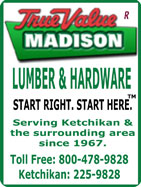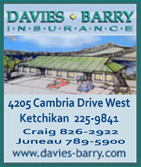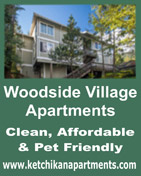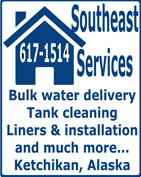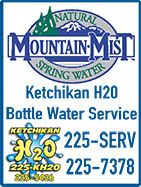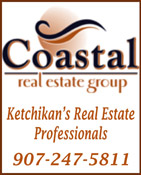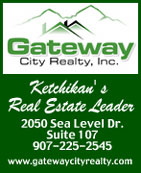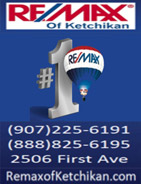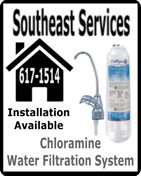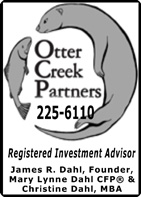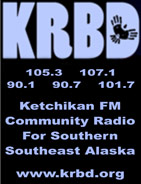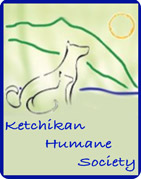 Contact


Call 617-9696


Webmail Letters


News Tips


Copyright Info


Archives
Quick News Search


Alaska


Ketchikan


SE Alaska


Alaska News Links
Columns - Articles


Dave Kiffer


Fish Factor


Money Matters
Historical Ketchikan


June Allen


Dave Kiffer


Louise B. Harrington
Ketchikan Arts & Events


Ketchikan Arts


Ketchikan Museums


KTN Public Library
Sports


Ketchikan Links
Public Records


FAA Accident Reports


NTSB Accident Reports


Court Calendar


Court Records Search


Wanted: Absconders


Sex Offender Reg.


Public Notices
Weather, Webcams


Today's Forecast


KTN Weather Data


AK Weather Map


AK Weathercams


AK Earthquakes

TV Guide


Ketchikan
Ketchikan Phone Book


Yellow Pages


White Pages
Government Links


Local Government


State & National

Silhouette


The silhouette is of Mary Kurth while diving Sunday in the Tongass Narrows.
Front Page Photograph By MICHAEL KURTH ©2014
(Please respect the rights of photographers, never republish or copy
without permission and/or payment of required fees.)


Fish Factor: Outlook good for Alaska fisheries in 2015 By LAINE WELCH - Alaska is poised for some big fish stories next year based on predictions trickling in from state and federal managers.

For the state's (and nation's) largest fishery - Alaska pollock - the Eastern Bering Sea stock has more than doubled its ten year average to top nine million tons, or 20 billion pounds. And the stock is healthy and growing, according to annual surveys.

"It is one of the most stunning fisheries management successes on the planet," exclaimed global market expert John Sackton when the pollock numbers were released by the (Seattle-based) Alaska Fisheries Science Center. Alaska pollock represents 40% of global whitefish production, he added.

Out of the nine million ton pollock biomass, a catch of 1.3 million tons is being recommended for next year, or about three billion pounds. Federal managers will set all groundfish harvests in early December.

From pollock to pinks – the state is projecting an ""excellent" catch of 58 million pink salmon next year in Southeast Alaska. That would be well above the 10-year average of 41 million, and would ranks among the top 10 harvests since 1960.

From pink to red - The world's premier sockeye salmon fishery at Bristol Bay can expect the largest red run in two decades in 2015. Fish and Game predicts a run of 54 million reds and a harvest of 38 million fish, 10 million more than this year.

The 2014 run was 53 percent higher than expected and fish forecasts always are variable and tough to peg, said Tim Sands, area manager at Dillingham. But, he added that all the data points to another big run.

"Everybody seems pretty optimistic about the return next year," he told KDLG. "Everybody's looking at all the data in different ways, and they're all coming up with numbers around 50 million, total run. I think that shows that the run is healthy and sustainable."

Also at Bristol Bay, the state's largest herring fishery at Togiak is expecting a huge haul again next spring of 29,012 tons in the sac roe fishery, 4,000 tons more than this year. - More...
Monday PM - November 24, 2014

Alaska: AMHS Delays Unaccompanied Minor Policy - The Alaska Department of Transportation and Public Facilities announced that the Alaska Marine Highway System will delay the implementation of the recently released new unaccompanied minor policy. The new policy was to go into effect Nov. 20, 2014.

In reaction to the policy announcement on November 6th, numerous Alaskans contacted the Alaska Department of Transportation expressing their concerns of the difficulties that the policy would create for families that have already scheduled travel, particularly for the Thanksgiving and winter break school holidays.

The current policy will remain in effect and stipulates that in order to travel aboard Alaska Marine Highway vessels, children under the age of 12 must be accompanied by a person 19 years of age or older. Children ages 12-15 must be either accompanied by an adult or present written permission for passage signed by their parent or guardian. Children ages 16-17 may travel without restriction. - More...
Monday PM - November 24, 2014


Ketchikan: Chambers: New Senior Curator of Ketchikan Museum Collections - The Ketchikan Museum Department announced this month that Hayley Chambers is the new Senior Curator of Collections. Hayley comes from the Sitka National Historic Park where she catalogued and rehoused a collection of Alaska Native ceremonial regalia. Previously, Hayley worked as Curator of Collections and Exhibits for the Sitka Historical Museum and as Curator for Deadwood History Inc. and the Historic Adams House in Deadwood, South Dakota.

Hayley Chambers, Senior Curator of Collections
Photograph courtesy Ketchikan Museums


Hayley received her Bachelor of Arts in Classical Studies and English from Hollins University in Roanoke, Virginia and her Master of Arts in Public History and Museum Studies from the University of North Carolina Greensboro.

Hayley's diverse experience also includes collections work at the Kentucky Historical Society, Museum of Danish America, and the Valdez Museum and Historical Archive. Hayley is also on the Board of Directors for Museums Alaska, the statewide museum association.

The Museum Department operates two museums: the Tongass Historical Museum and the Totem Heritage Center. Together, the museums offer a wide array of permanent and temporary exhibitions, public presentations, educational programs, classes, and workshops. - More...
Monday PM - November 24, 2014




Alaska: Geologists shed light on formation of Alaska Range; 'Dramatic topography' is 25 million years in making - Geologists have recently figured out what has caused the Alaska Range to form the way it has and why the range boasts such an enigmatic topographic signature. The narrow mountain range is home to some of the world's most dramatic topography, including 20,320-foot Mount McKinley, North America's highest mountain.

Mt. Mckinley
Photo Credit: Syracuse University, Arts and Sciences

Syracuse University Professor Paul Fitzgerald and a team of students and fellow scientists have been studying the Alaska Range along the Denali fault. They think they know why the fault is located where it is and what accounts for the alternating asymmetrical, mountain-scale topography along the fault.

Their findings were the subject of a recent paper in the journal Tectonics (American Geophysical Union, 2014).

In 2002, the Denali fault, which cuts across south-central Alaska, was the site of a magnitude-7.9 earthquake and was felt as far away as Texas and Louisiana. It was the largest earthquake of its kind in more than 150 years.

"Following the earthquake, researchers flocked to the area to examine the effects," says Fitzgerald, who serves as professor of Earth Sciences and an associate dean for the College. "They were fascinated by how the frozen ground behaved; the many landslides [the earthquake] caused; how bridges responded; and how the Trans-Alaska oil pipeline survived, as it was engineered to do so."

Geologists were also surprised by how the earthquake began on a previously unknown thrust-fault; then propagated eastward, along the Denali fault, and finally jumped onto another fault, hundreds of kilometers away. - More...
Monday PM - November 24, 2014


Columns - Commentary

DAVE KIFFER: If the phone don't ring, it's me not calling - Things seem kinda lonely around the old Salmon City homestead these days.

It's just been so danged quiet since the election on November 4th that I can hardly stand it.

That loudly ringing silence we hear? That's the rest of the world telling us Alaskans that we just don't matter anymore. And it hurts just as bad as a 10th grade break up!

Prior to the election, I felt really, really special. You remember how it was. The phone was ringing off the hook. Mail was overflowing the mailbox. Nice people were coming to the door every day to make sure I was going to vote.

I really, really, really felt like I was important, that I was somebody. That my vote mattered!

In fact, all 770,909 residents of Alaska felt like we "was really, really, really special."

Usually, we are treated as an afterthought by the political powers that be. You remember, they used to even announce the winners of the Presidential races before we had even had a chance to finish voting in our neck of the woods.

Speaking of which, what the heck does our "neck of the woods" even mean, Al Roker? - More...
Monday PM - November 24, 2014

TOM PURCELL: Merci America! - Bonjour, America!

Have you heard the good news? Under President Obama, the U.S. ranking for personal freedom has slipped below that of France! According to The Washington Examiner, the Legatum Institute just released its sixth edition of its Prosperity Index. It measures entrepreneurship, opportunity, education and social capital — aspects of prosperity that typical gross domestic product measurements do not cover.

Among the 25 freest countries in the world, America now ranks 21st — down from the ninth spot for calendar year 2009, Obama's first year as president.

How Obama is guiding America's change! Tres bien, merci!

It is true that America was founded on a very simple idea: liberty! The liberal thinkers of that time distrusted government and saw its expansion as an encroachment on freedom.

When America's Founders declared their independence from Great Britain, these were their radical thoughts:

"We hold these Truths to be self-evident, that all Men are created equal, that they are endowed by their Creator with certain unalienable Rights, that among these are Life, Liberty, and the Pursuit of Happiness."

Our Founders believed government should defend the basic rights of the individual, so that individuals could pursue their passions freely, but should otherwise not intrude. - More...
Monday PM - November 24, 2014




POLITICAL CARTOON: SIX YEAR SIESTA
By Bill Day ©2014, Cagle Cartoons
Distributed to subscribers for publication by Cagle Cartoons, Inc.




Real Time U.S. Debt Clock
http://www.usdebtclock.org/

U.S. Inflation Calculator
Easily calculate the buying power of the US dollar & inflation rate from 1913-2014

U.S. Energy Info. Admin.
Heating Oil & Propane Update

Public Service Announcements
Public Meetings & Info

KGB Animal Protection

Ketchikan Borough Assembly

Live video stream of current meeting
Archived videos
Agenda and Information Packets
Assembly Meeting Minutes
Borough Records
Calendar

Ketchikan Planning Commission

Live video stream of current meeting
Agenda, Information Packets & Minutes

Ketchikan City Council

View a Video of Meeting
Agenda & Information Packets

Ketchikan School Board

Live video stream of current meeting
Agenda & Information Packets


Gravina Access Project SEIS Alternatives Development

Gravina Access Website

Police Blotters

AK Troopers Daily Dispatch
Ketchikan Police Reports
Juneau Police Reports

Ketchikan

Jobs
Today's Forecast
Satellite
Today's Weather Images
Marine Forecasts
AK Weathercams
Ketchikan Weather Data
Current AK Weather Map




CLASSIFIEDS' CATEGORIES

Announcements
Help Wanted
Job Wanted
For Sale / Free Stuff
Garage Sales
Homes / Apts/ Property
Pets
Wanted
Lost & Found
Publish Your Ad

Front Page Archives
Letter Archives
October - November 2014

| | | | | | | |
| --- | --- | --- | --- | --- | --- | --- |
| S | M | T | W | T | F | S |
| | | 30 | 01 | 02 | 03 | 04 |
| 05 | 06 | 07 | 08 | 09 | 10 | 11 |
| 12 | 13 | 14 | 15 | 16 | 17 | 18 |
| 19 | 20 | 21 | 22 | 23 | 24 | 25 |
| 26 | 27 | 28 | 29 | 30 | 31 | 01 |
| 02 | 03 | 04 | 05 | 06 | 07 | 08 |
| 09 | 10 | 11 | 12 | 13 | 14 | 15 |
| 16 | 17 | 18 | 19 | 20 | 21 | 22 |

More Front Page Archives & Letters


Viewpoints
Commentary
Opinions/Letters
Basic Rules &
Freedom of Speech

Questions, please contact the editor at editor@sitnews.us or call 617-9696
Sitnews reserves the right to edit.

Time for Alaska to Rise as One By Bill Walker and Byron Mallott - Across Alaska, front yards, car bumpers and jacket lapels are shedding campaign signs, stickers and pins. Air waves, newspapers and social media are focusing again on other aspects of our diverse but connected lives. The heated partisan rhetoric and rancorous debate that dominated these long months should now truly end. The theme, "Rise As One," of the Alaska Federation of Natives annual convention held this year in Anchorage is a fitting aspiration for all Alaskans. It is time for Alaskans to rise as one. - More...
Monday PM - November 24, 2014

Fukushima Radioactivity Detected Off Pacific Coast; Judged Harmless By A.M. Johnson - Regarding the headline on radioactivity resulting from the Fukushima tidal situation of some months past. It is very encouraging to read that the levels of radioactivity are as low in the report. Much as Global Warming, the hype given to the potential excited beyond the end result. On another aspect of this tidal wave was the spectacular reports of the drift debris fields that were in some reports, the size of Texas. These masses of debris were to descend on our beaches in such quantity that a near National disaster was in the preparation stages. - More...

AMHS Not Efficiently Managed By Mary Lynne Dahl - My husband and I have a cabin in Smithers, BC. Like many Ketchikaners, we ski at the family ski hill in Smithers every winter and spring. We get there via the AMHS ferry to Prince Rupert, and then drive east for about 4 hours to reach Smithers. This year, as usual, we booked passage on the ferry Taku to Prince Rupert leaving Ketchikan November 24 and returning 2 weeks later on the next ferry to Ketchikan. Round trip with a car and cabin for 4 was $412. Our plans were for our family in Washington to drive up and meet us at our cabin and share Thanksgiving at the cabin, as we always do. Just 2 days ago, only 4 days before we were scheduled to depart, we got a phone call from AMHS informing us that our ferry trip was being cancelled. - More...
Monday PM - November 24, 2014

Thoughts of Ketchikan By Norma (Meanne) Malek - I just want to comment on the Malaspina and on one wonderful Ketchikan pioneer woman that I love dearly and will always call mom. She was mom to everyone and worked on the Malaspina till the mid 2000s and her family racketed the town with parties along with all of my hometown family. Alvina Elizabeth Shayen, the mother I remember at six or seven, as I was the seventh child of my family born on the earthquake day, a few years later. - More...
Monday PM - November 24, 2014

Time to Continue Moving Alaska Forward After Election By U.S. Senator Mark Begich - The election is over and the dust has settled. I congratulate Dan Sullivan. He and I disagreed on many issues, but now he is senator and it is time to move forward to address Alaska's needs. - More...
Wednesday PM - November 19, 2014

Embrace Challenges, Rewards of Being an Arctic Nation By U.S. Senator Lisa Murkowski - As Alaskans and the rest of America emerge from their election bunkers and turn on their televisions again, we are faced with another pressing issue of lasting importance: making the Arctic a national and international priority in a manner that benefits those who live in the far north. Five months from now, in April 2015, the United States will assume the chair of the Arctic Council, the intergovernmental forum among the eight nations with territory inside the Arctic Circle and that includes active participation of the Arctic indigenous groups, with 'observer nations' that range from Italy to South Korea. Having the Chair through 2017 means that the United States will have the opportunity to focus the world's attention on our priorities for the Arctic. - More...
Wednesday PM - November 19, 2014

Is Ketchikan a haven for Filipinos focused on getting the most? By Joey Garcia - Is it worth for Ketchikan authorities to take a cue for an investigation on a "quid pro quo" stance of the INS in allowing marriage as the bridge of qualifying for a green card, thus US citizenship, if the price is right. The USINS should start investigation if the age difference in marriage is a bridge in acquiring green cards and US citizenship under the "quid pro quo" silent gimmick of fish processors, or businessman, or actors in their face off campaign to marry a woman twice or thrice their age with a concept of an offer no man can resist the offer of the a la Marilyn Monroe body and looks which has been noted going on for several years in the offering. - More...
Wednesday PM - November 19, 2014

Gas Prices By Walt Hoefer - When did the gas price in Ketchikan ever fall below $4.00? We get up there every year. It's ALWAYS the highest price anywhere, even Fairbanks. I was in Phoenix last week: $2.61/ gal. Here in Deming, NM it's $2.71. - More...
Wednesday PM - November 19, 2014

Webmail your letter or
Email Your Letter To: editor@sitnews.us

---

Articles & photographs that appear in SitNews may be protected by copyright and may not be reprinted or redistributed without written permission from and payment of required fees to the proper sources.

E-mail your news & photos to editor@sitnews.us

Photographers choosing to submit photographs for publication to SitNews are in doing so, granting their permission for publication and for archiving. SitNews does not sell photographs. All requests for purchasing a photograph will be emailed to the photographer.

The Local Paper is now available online.
Click here for this week's printed edition.