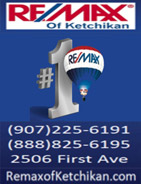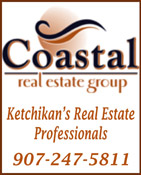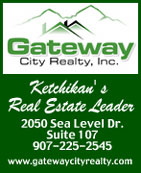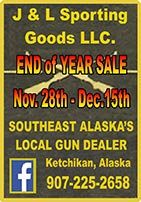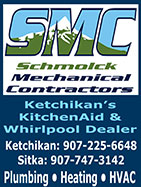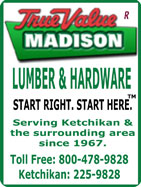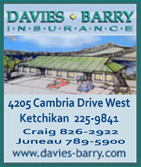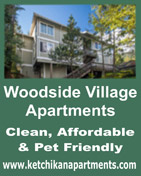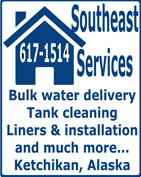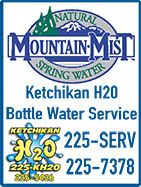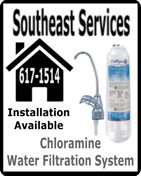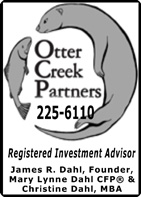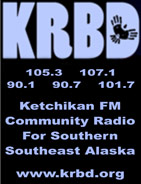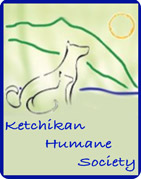 Contact


Call 617-9696


Webmail Letters


News Tips


Copyright Info


Archives
Quick News Search


Alaska


Ketchikan


SE Alaska


Alaska News Links
Columns - Articles


Dave Kiffer


Fish Factor


Money Matters
Historical Ketchikan


June Allen


Dave Kiffer


Louise B. Harrington
Ketchikan Arts & Events


Ketchikan Arts


Ketchikan Museums


KTN Public Library
Sports


Ketchikan Links
Public Records


FAA Accident Reports


NTSB Accident Reports


Court Calendar


Court Records Search


Wanted: Absconders


Sex Offender Reg.


Public Notices
Weather, Webcams


Today's Forecast


KTN Weather Data


AK Weather Map


AK Weathercams


AK Earthquakes

TV Guide


Ketchikan
Ketchikan Phone Book


Yellow Pages


White Pages
Government Links


Local Government


State & National

A December Sunrise
Front Page Photograph By STEVEN SPEIGHTS ©2014
(Please respect the rights of photographers, never republish or copy
without permission and/or payment of required fees.)



Ketchikan: New airline brings echoes of former Ketchikan carriers By DAVE KIFFER - The recent news that Delta Airlines is planning seasonal service to Ketchikan in the summer of 2015, means that the airline DNA of three former Ketchikan air carriers is returning to the First City.

Sign at Annette Island Airport, 1962. A Pan American World Airways' plane is pictured on the left. Bob and Marie Logan slides, circa 1945-1962.
Photo courtesy Archives and Special Collections, Consortium Library, University of Alaska Anchorage.

Once upon a time, Pacific Northern Airways, Pan American World Airways and Western Airlines also served Ketchikan. All of those airlines were eventually absorbed by Delta Airlines.

Of course, Ketchikan's longtime server, Alaska Airlines, also has local "genes" as it absorbed Alaska Coastal-Ellis in the late 1960s. Ellis was Ketchikan's primary local airline for decades and merged with Alaska Coastal out of Juneau in the early 1960s.

Pan American was the first to begin service to Ketchikan. (See "Pan Am: Once Ketchikan's Link to the Outside World," SITNEWS, Dec. 29. 2006)

In 1934, Pan Am purchased Alaska Southern Airways, which had been operating sporadically in Southeast Alaska. The idea was to pioneer a Seattle to Juneau route, eventually using the larger, longer range planes that were being developed by aircraft manufacturers like Boeing, Lockheed and Douglas.

In the meantime, Pan Am wanted to start a preliminary service and in 1938, the first Sikorsky Flying Boat arrived in Ketchikan. The Flying Boats operated off and on between Seattle and Southeast Alaska until 1940, when they ended flights because Pan Am was able to use long range McDonnell-Douglas D-3s to go directly from Seattle to Juneau. At the time, Ketchikan had no landing facilities for large land based planes.

During World War II, an airport was built on Annette Island near Metlakatla as a part of the war effort making it possible to get from Seattle to Ketchikan by plane, with last leg on an amphibian plane that landed in the narrows in front of Ketchikan. Amphibs like the Grumman Goose and the Consolidated PBY would continue to fly between Annette and Ketchikan up until the Gravina Island airport opened in 1973.

Because of the new Annette field, Pan Am returned to Ketchikan with DC-3 flights In July of 1945, a month before the war came to a close.

Within a decade Pan Am had upgraded to larger DC-4s and DC-6s and in 1961, jet travel came to the area with Boeing 707s. What had once been a four plus hour flight from Seattle to Ketchikan was now around 90 minutes.

Then in 1965, the rug got pulled out from under Pam Am, as far as service to Alaska was concerned. - More...
Saturday PM - December 20, 2014



FISH FACTOR: Gold in fish parts' gurry By LAINE WELCH - Alaska seafood innovators are getting serious about 'head to tail/inside and out' usages of fish parts, and they see gold in all that gurry that ends up on cutting line floors.

Fish oils, pet treats, animal feeds, gelatins, fish scales that put the shimmer in nail polish – "almost anything that can be made out of seafood byproducts has increased in value tremendously in the last few years," said Peter Bechtel, a US Dept. of Agriculture researcher formerly at the University of Alaska.

In today's climate of planet consciousness "co-products" is the place to be, Bechtel added.

To that end, Alaska's most celebrated seafood bash – the Symphony of Seafood – has added a new category to its annual new products competition called Beyond the Plate.

"There are companies and individuals around the state that are making all kinds of things from fish parts. It really opens the door to more innovators," said Julie Decker, executive director of the Alaska Fisheries Development Foundation, which has hosted the Symphony for 22 years as a way to showcase new Alaska seafood products. The event always attracts a wide array of entries from major companies to small 'mom and pops.'

Whereas the retail, food service, and smoked contest entries always feature tasty new fish and shellfish dishes, the new category literally goes beyond the plate.
"It can be anything from fish oil capsules to salmon leather wallets," Decker said, adding that AFDF hopes to attract people who might not be aware of the Symphony, or who haven't participated before.

"I personally believe that creativity is a key to solving some of our challenges in a positive way, and that's shat we focus on with the Symphony of Seafood," Decker said.

Deadline to enter the 2015 competition is Dec. 31. All entries will be judged at a Seattle soiree on Feb. 5. Winners will be announced at a yet to be dated Symphony in Anchorage, followed by another gala in Juneau. Top winners in the four categories get a free trip and booth space at the International Boston Seafood Show in March. - More...
Saturday PM - December 20, 2014




Southeast Alaska: Alaska fish adjust to climate change by following the food - Not all species may suffer from climate change. A new analysis shows that Dolly Varden, a species of char common in Southeast Alaska, adjust their migrations so they can keep feasting on a key food source - salmon eggs - even as shifts in climate altered the timing of salmon spawning.

Dolly Varden are a species of char common in Southeast Alaska. The fish shown is in spawning coloration.
Photo by Jonny Armstrong

The resiliency of species to climate change may depend on how well they adapt to climate-driven changes in their food and habitat, such as altered growth of plants they feed on. A mismatch in timing between predators and the availability of prey could cause some species to lose access to food. But others such as Dolly Varden that successfully adjust to shifts in climate and prey offer a climate change story with a happy ending, according to the study published in Freshwater Biology. - More...
Saturday PM - December 20, 2014

Southeast Alaska: Canadian Feds give Seabridge Gold's KSM the environmental nod - The Canadian federal government approved the environmental assessment application on Friday for the massive KSM gold and copper mine in northwestern British Columbia near the Alaska border saying it is not likely to cause significant adverse environmental effects.

Leona Aglukkaq, Minister of the Environment, Minister of the Canadian Northern Economic Development Agency and Minister for the Arctic Council, announced Friday that the proposed KSM (Kerr-Sulphurets-Mitchell) Project, located in British Columbia, is not likely to cause significant adverse environmental effects when the mitigation measures described in the Comprehensive Study Report are taken into account.

The mine, which is owned by Seabridge Gold Inc., is considered the largest undeveloped gold reserve in the world and also has copper, silver and molybdenum deposits. Proven and probable reserves total 38.2 million ounces of gold and 9.9 billion pounds of coppe according to Seabridge Gold.

The project would be approximately 22 miles from the Alaska border, and in August the state took the rare step of asking the Canadian government for involvement in the approval process over concerns for its rivers and fish. - More...
Saturday PM - December 20, 2014




Alaska:

AMHS Fares to Increase - The Alaska Department of Transportation and Public Facilities (ADOT&PF) announced this week that fares on the Alaska Marine Highway System (AMHS) will increase 4.5 percent for travel beginning May 1, 2015.

The new fare structure will go into effect January 1, 2015. The rate increase will not affect reservations made prior to the effective date.

Some fares will not be affected by the new tariff structure. Fares that are disproportionately higher than the majority of AMHS fares will remain unchanged.

"In 2005 AMHS revenues accounted for nearly half of the system's operating budget. Today revenues cover less than one third of the operating budget," said ADOT&PF Deputy Commissioner Reuben Yost. - More...
Saturday PM - December 20, 2014

Columns - Commentary

DAVE KIFFER: The Signs They Are A Changing - I always enjoy my visits to Zitka by the Zea.

It is likely the most beautificous community in Alaska, bounded by the ocean, Porky Bikar's Mt. Fuji and more ornate Russian nesting dolls than you can shake a schtick at.

But even more than that, I have always been attracted to Sitka simply because, like many Alaskans, I am attracted to danger. Sitka is clearly more "dangerous" than more pedestrian places like Ketchikan.

Why do I love danger? I don't know, there's just something really "Alaskan" about facing "danger," about staring down wild "dangerous" beasties, about throwing yourself pell mell into "dangerous" situations.

Dang, I have to pause here for a second.

Did I just use pell mell correctly? I have this sudden fear that I should have said Pall Mall.

No, wait, that was a cigarette, I think. Or maybe some sort of lawn game. Or a street in London.

And wasn't it Richard III who used the phrase "pell-mell" to describe rapid advancement of troops or some such thing. Of course, Richard III's too rapid advancement led him to spending a few centuries buried under a parking lot. Or so say people who have nothing better to do than run around DNA testing bones they find under parking lots. So it goes. - More...
Saturday PM - December 20, 2014





POLITICAL CARTOON: HOLLYWOOD ENDING
By Eric Allie, Caglecartoons.com
Distributed to subscribers for publication by Cagle Cartoons, Inc.




Real Time U.S. Debt Clock
http://www.usdebtclock.org/

U.S. Inflation Calculator
Easily calculate the buying power of the US dollar & inflation rate from 1913-2014

U.S. Energy Info. Admin.
Heating Oil & Propane Update

Public Service Announcements
Public Meetings & Info

KGB Animal Protection

Ketchikan Borough Assembly

Live video stream of current meeting
Archived videos
Agenda and Information Packets
Assembly Meeting Minutes
Borough Records
Calendar

Ketchikan Planning Commission

Live video stream of current meeting
Agenda, Information Packets & Minutes

Ketchikan City Council

View a Video of Meeting
Agenda & Information Packets

Ketchikan School Board

Live video stream of current meeting
Agenda & Information Packets


Gravina Access Project SEIS Alternatives Development

Gravina Access Website

Police Blotters

AK Troopers Daily Dispatch
Ketchikan Police Reports
Juneau Police Reports

Ketchikan

Jobs
Today's Forecast
Satellite
Today's Weather Images
Marine Forecasts
AK Weathercams
Ketchikan Weather Data
Current AK Weather Map




CLASSIFIEDS' CATEGORIES

Announcements
Help Wanted
Job Wanted
For Sale / Free Stuff
Garage Sales
Homes / Apts/ Property
Pets
Wanted
Lost & Found
Publish Your Ad

Front Page Archives
Letter Archives
October - Dec. 2014

| | | | | | | |
| --- | --- | --- | --- | --- | --- | --- |
| S | M | T | W | T | F | S |
| | | 30 | 01 | 02 | 03 | 04 |
| 05 | 06 | 07 | 08 | 09 | 10 | 11 |
| 12 | 13 | 14 | 15 | 16 | 17 | 18 |
| 19 | 20 | 21 | 22 | 23 | 24 | 25 |
| 26 | 27 | 28 | 29 | 30 | 31 | 01 |
| 02 | 03 | 04 | 05 | 06 | 07 | 08 |
| 09 | 10 | 11 | 12 | 13 | 14 | 15 |
| 16 | 17 | 18 | 19 | 20 | 21 | 22 |
| 23 | 24 | 25 | 26 | 27 | 28 | 29 |
| 30 | 01 | 02 | 03 | 04 | 05 | 06 |
| 07 | 08 | 09 | 10 | 11 | 12 | 13 |
| 14 | 15 | 16 | 17 | 18 | 19 | 20 |

More Front Page Archives & Letters


Viewpoints
Commentary
Opinions/Letters
Basic Rules &
Freedom of Speech

Questions, please contact the editor at editor@sitnews.us or call 617-9696
Sitnews reserves the right to edit.

RE: Eighty-sixed By Matthew Felling - Greetings, Alaskans – I'd like to set the record straight on a recent letter published in SitNews on behalf of Senator Lisa Murkowski's office. - More...
Tuesday PM - December 16, 2014

Parking - One More Thing By Chris Elliott - I ran into a young man at the grocery store parking lot the other day (not literally) after I had squiggeled around getting into a parking spot. He mentioned the web page. He was most upset because the postings were anonymous. If someone was anonymously posting nude pictures of his wife, I could see his point. He might want to have a talk with the person. But posting pictures of bad parking is a horse of a different color. In the common law, "res ipsa loquitur" (the thing itself speaks). - More...
Tuesday PM - December 16, 2014

Clear-cutting of the Tongass By Dominic Salvato - Why does the Sealaska Corporation mislead the public by inferring its shareholders are solely Alaska's native people? There are hundreds, if not thousands of Sealaska shareholders without one drop of native blood in their bodies. It's not wrong, it's a simple fact. - More...
Monday PM - December 15, 2014

Eighty-sixed By A. M. Johnson - I find that your fine online news outlet must be employed to transmit a message to our Alaska Congressional Senator, Senator Murkowski. As the subject line reflects, her office, if not herself, has terminated my access to her office via email. The following is my response and that termination notice. - More...
Monday PM - December 15, 2014

Share the road By Michael McColley- I've driven on every street in town. I have lived here all my life and traffic gets congested all the time. For those that pull half way out in traffic, try using the center lane. Don't challenge other cars to brake. Let people out. No one is going to lose sleep, we only have so much road. No one needs to have road rage. No one is going to get there any faster by driving fast or by being a discourteous driver. - More...
Monday PM - December 15, 2014

Hollowing Our Military By Donald A. Moskowitz - I have previously written about the disastrous impact of "sequestration" on our armed forces. Douglas Wissing delves into this topic in his article "RIF Tide" in the December 2014 issue of The American Legion Magazine, which I partially paraphrase in the next paragraph. - More...
Monday PM - December 15, 2014

States Are Waking Up -- They Can Stop Our Federal Government Overreach By Arthur Bedford - Executive amnesty for millions of illegal aliens, 3500 new business crushing regulations, the feds attempting to regulate our local police departments—all within the last two weeks! State governments are waking up to the fact that they have the power to stop this federal overreach, regain state sovereignty, and bring power back to the people through use of a tool our Constitutional Framers gave them for just this situation, an Article V Convention of States (COS). Recently, Conservative talk radio host Mark Levin, a vocal supporter of a Convention of states, addressed the annual conference of the American Legislative Exchange Council (ALEC), an association of state lawmakers. He demanded that the hundreds of lawmakers in attendance "take your power back." - More...
Monday PM - December 15, 2014

Timber Economics By Owen Graham - Let's talk about real timber economics. For years we have been listening to various environmental groups and others talk about Tongass timber sale subsidies. The reality is there are none; no matter how many times the falsehood is repeated. If the federal government provides billions in wind production tax credits; that's a subsidy. When corn farmers and ethanol producers receive billions in tax credits and have their products supported with an ethanol gas mandate; that's also a subsidy. However, if a local lumber yard or an appliance store spends more money selling lumber or appliances than it receives, that does not mean their customers are subsidized; it just means that the lumber yard or appliance store will soon go broke. Likewise, the timber industry is not subsidized when it purchases timber from the Forest Service. The industry is not responsible for, nor can it control how much a federal agency spends. - More...
Monday PM - December 08, 2014

The Missing Christmas Deer By Ted Cabot - Let me start by saying I am writing this letter for my wife. Every year she waits patiently for the Holidays, especially Christmas, her absolute favorite. In our house, she without question is in charge of decorating the outside of our home, she does the inside as well, but her real joy is doing the outside. We live on lower Fairy Chasm Rd. so I'm sure there are many of you who know which house it is. She enjoys many, many compliments from the good people of Ketchikan every year, so you can see what motivates her to decorate the way she does. And yes, the house looks great every Christmas. She does try to do different things each year. And always does a great job. - More...
Monday PM - December 08, 2014

Nut Cracker Performance By A. M. Johnson - The performance of the Nut-Cracker this year is one for the record books. The performance of the children and young adults in learning the parts, learning their marks, and presentation in tune with the music score was absolutely outstanding. There was not a glitch, nor a miss in the timing, The set design was superb reflecting long backstage hours in preparation. To see the continued depth of adult thespians in accompanying roles in this production reflects the continued outstanding level of talent viewed in First City Player productions. - More...
Monday PM - December 08, 2014

Joy to the World By Judith Green - This past week end the Ketchikan Community Chorus, under the direction of Stephen Kinney, shared their music and talents with "The Songs of the People-around the world" as the title "Joy to the World" would suggest: Israeli, Serbian, American, French, Ukraine, Africa. - More...
Monday PM - December 08, 2014

Parking Failures By Chris Elliott - Donita O'Dell's letter prompts this response. Lighten up! If someone is having a heart attack & you park outside the lines at PeaceHealth, I don't think your photo's going to show up. If you park your little tiny Prius in the cart return lane, you deserve a little attention. If you're a jerk and you park like a jerk then you're going to respond to this "shaming" like a jerk. If you're a normal person who, for one reason or another, misparked your car, you're going to take it like a normal person and chuckle at being "outed." - More...
Monday PM - December 08, 2014

Webmail your letter or
Email Your Letter To: editor@sitnews.us

---

Articles & photographs that appear in SitNews may be protected by copyright and may not be reprinted or redistributed without written permission from and payment of required fees to the proper sources.

E-mail your news & photos to editor@sitnews.us

Photographers choosing to submit photographs for publication to SitNews are in doing so, granting their permission for publication and for archiving. SitNews does not sell photographs. All requests for purchasing a photograph will be emailed to the photographer.

The Local Paper is now available online.
Click here for this week's printed edition.