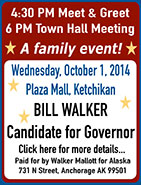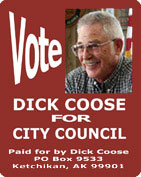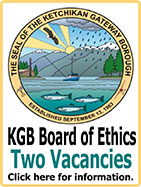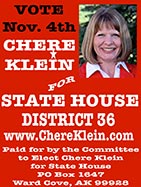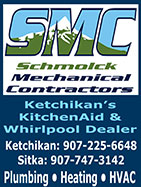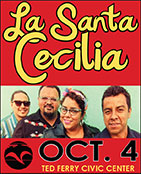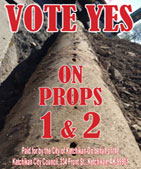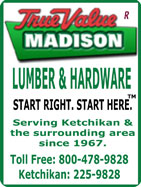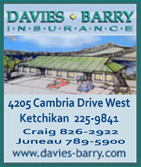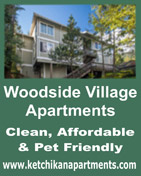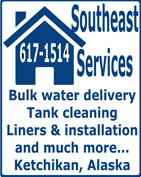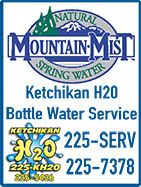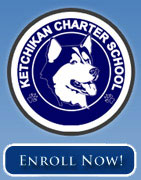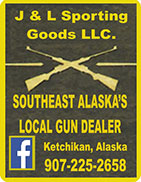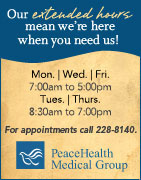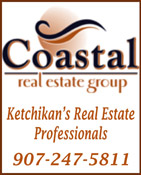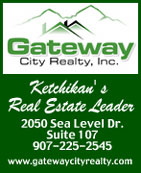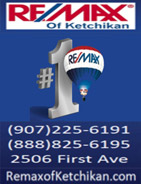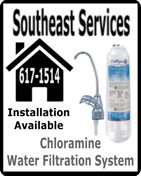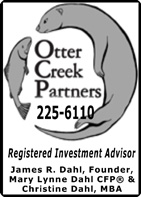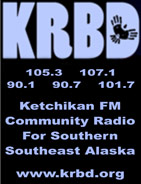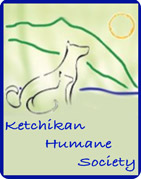 Contact


Call 617-9696


Webmail Letters


News Tips


Copyright Info


Archives
Quick News Search


Alaska


Ketchikan


SE Alaska


Alaska News Links
Columns - Articles


Dave Kiffer


Fish Factor


Money Matters
Historical Ketchikan


June Allen


Dave Kiffer


Louise B. Harrington
Ketchikan Arts & Events


Ketchikan Arts


Ketchikan Museums


KTN Public Library
Sports


Ketchikan Links
Public Records


FAA Accident Reports


NTSB Accident Reports


Court Calendar


Court Records Search


Wanted: Absconders


Sex Offender Reg.


Public Notices
Weather, Webcams


Today's Forecast


KTN Weather Data


AK Weather Map


AK Weathercams


AK Earthquakes

TV Guide


Ketchikan
Ketchikan Phone Book


Yellow Pages


White Pages
Government Links


Local Government


State & National

White River: Beaver
Not surprisingly with the recent "Atmospheric Wall of Water" that hit the area, the White River level was really high, but this beaver didn't let the heavy rains interfer with its sleeping. The snooze took place on a log just above the river where the beaver was able to feed when it woke up. The photographer watched it feed for a while and then the critter went back to sleep. The White River Road is now open. The State of Alaska bought the White River Road from Cape Fox and S&S Construction was hired to resurface the road as a part of the Shelter Cove project. When finished, Shelter Cove project would extend the Ketchikan road system from the end of Revilla Road near Harriet Hunt Lake to Shelter Cove on Carroll Inlet at a projected cost of around $19 million. Currently, all property alongside the White River Road is still private and belongs to Cape Fox. No Fishing, hunting or trapping is allowed.
Front Page Photograph By JIM LEWIS ©2014
(Please respect the rights of photographers, never republish or copy
without permission and/or payment of required fees.)


Alaska: Judge Dismisses Pebble Mine Company's Lawsuit Against EPA By MARY KAUFFMAN - An Alaska District Count judge dismissed a case Friday brought by the Pebble Limited Partnership and State of Alaska against the Environmental Protection Agency for exercising its responsibilities under the Clean Water Act for a public review of a plan to protect some of the world's greatest salmon runs, in Alaska's Bristol Bay.

The Court granted the motion to dismiss the case challenging the U.S. Environmental Protection Agency's statutory authority to pre-emptively impose development restrictions on the Pebble Project prior to the submission of a proposed development plan. This ruling did not judge the merits of the statutory authority case, it only deferred that hearing and judgment until after a final determination has been made by the EPA.

Pebble Limited Partnership proposes to build a gold and copper mine that would create a pit nearly as deep as the Grand Canyon, the biggest mine of its type in the world, in the headwaters of the world's greatest salmon fishery.

The EPA proposed restrictions on the development of the site that were undergoing public review. Pebble Limited Partnership and the State of Alaska sued the agency, attempting to halt the process midcourse, before a final decision could be made. On September 26th, Judge H. Russel Holland ruled that the EPA's public review must be allowed to proceed.

"The ruling today [Friday] relates to timing of our challenge of this pre-emptive authority and in no way decides the underlying issues," said Pebble Partnership CEO Tom Collier. "We remain very confident in the merits of this case. Should EPA finalize its proposed veto restrictions regarding Pebble, we will pursue our claim that EPA lacks statutory authority to do so at that time."

Northern Dynasty's CEO Ron Thiessen stated, "Today's [Friday's] ruling has nothing to do with the merits or legality of our position in this case, and is merely a decision on timing. The court is, in essence, saying until the EPA makes a final decision you haven't been affected. As Tom Collier CEO of Pebble Partnership points out, this decision has simply deferred the case until or if the EPA makes a negative decision on Pebble Project prior to our filing a permit under the Clean Water Act."

Northern Dynasty is a mineral exploration and development company based in Vancouver, Canada. Northern Dynasty's principal asset is the Pebble Project in southwest Alaska.

Earthjustice, representing the conservation organization Earthworks, filed an amicus curiae brief in support of the EPA.

"The court ruled for the public today [Friday], protecting the right of the people to participate in the process to determine how best to be stewards of the land and water," said Earthjustice attorney Tom Waldo. "This is a victory for those who care deeply about the fate of Bristol Bay and its incomparable salmon runs."

"We're pleased to see the court give EPA the green light to complete this vital process to protect the world's greatest wild salmon fishery," said Bonnie Gestring of Earthworks. "The science and public are solidly behind it." - More...
Tuesday AM - September 30, 2014


Alaska: Big Increase in Bering Sea Pollock Survey Abundance Estimates Reported - Preliminary fish survey results released last week by NOAA Fisheries scientists indicate a nearly 60-percent increase in walleye pollock survey biomass in the Bering Sea. The announcement, made at the North Pacific Fishery Management Council Groundfish Plan Team meeting in Seattle, is good news for the country's largest fishery by volume.

Juvenile pollock
Photo Courtesy NOAA Fisheries

However, fishery managers note that the boost in biomass does not necessarily mean a significant increase in total allowable catch for 2015 because of the two million metric ton cap on all species of groundfish harvested annually in the Bering Sea. That cap usually results in a maximum total allowable catch of about 1.3 million metric tons for pollock.

Scientists from NOAA's Alaska Fisheries Science Center in Seattle conducted two surveys this summer to gather data needed for sustainable management of Alaska's federally-managed fisheries—a bottom-trawl survey and an acoustic-trawl survey.

The bottom-trawl survey index for pollock was the second highest biomass since this standard survey began in 1982 and is 55-percent higher than the average. This survey appears to indicate more than one strong year-class. The 2008 cohort, as seen last year with near record age 5 abundance estimates, was a major component along with the 2006 and 2010 year classes. - More...
Tuesday AM - September 30, 2014

Alaska: Alaska Air Guardsmen rescue man from downed aircraft near Ft. Yukon By Sgt. Balinda O'Neal - Airmen with the Alaska Air National Guard's 210th, 211th and 212th Rescue Squadrons rescued a 60-year old man Sunday after his Piper J-3 crashed, 40 miles east of Ft. Yukon Thursday.

According to the Alaska Rescue Coordination Center, the pilot had not filed a flight plan, nor did they receive any signals from emergency location transmitters in the area. A good Samaritan spotted his aircraft and reported the coordinates to the Fairbanks Flight Service.

The Alaska RCC was notified at approximately 1 p.m. after the Alaska State Troopers reported they were unable to respond due to another search and rescue mission. - More...
Tuesday AM - September 30, 2014



Southeast Alaska: Alaska Native Voices wins AIANTA's Best Cultural Heritage Experience award - Alaska Native Voices, a cultural guide program in Glacier Bay National Park and Preserve providing historical and contemporary views of Huna Tlingit culture with travelers to the park for 15 years, received the Best Cultural Heritage Experience award at the 16th annual American Indian Tourism Conference earlier this month.

Glacier Bay
Photograph courtesy Alaska Native Voices

The conference is hosted annually by the American Indian Alaska Native Tourism Association (AIANTA), a national non-profit association of tribes, tribal businesses and entrepreneurs who promote leadership in education, training and technical assistance for Indian Country tourism. The conference brings together organizations to share knowledge, experience and best practices from tourism programs around the nation.

"This kind of recognition completely reinforces the work we do each summer to deepen the visitor's human connection to Glacier Bay, the ancestral home of the Huna Tlingit," Alaska Native Voices Director Mark McKernan said.

The Alaska Native Voices' team of Cultural Heritage Guides shares a meaningful understanding of the Huna Tlingit culture with travelers through lectures, song, storytelling and displays of traditional art and craftsmanship. Guides provide personal narratives, perspectives, observations and stories that allow visitors to gain a greater sense of place while traveling through the immense landscape of Glacier Bay National Park and Preserve.

In 2014, the Cultural Heritage Guides shared the living history of Glacier Bay's indigenous people aboard 189 Holland America Line, Alaskan Dream Cruises, Lindblad Expeditions and American Cruise Lines ships in Glacier Bay National Park and Preserve. Guides also host a series of Tlingit cultural presentations at Glacier Bay Lodge, located inside the national park, in partnership with the lodge and the National Park Service. - More...
Tuesday AM - September 30, 2014

Alaska: Joint Resources Committee Receives Testimony from LNG Project Manager, DNR Commissioner & Public - Members of the Joint Senate Resources Committee met Monday in Anchorage to hear from leaders of the Alaska LNG (Liquefied Natural Gas) Project. The AKLNG project has the potential to create between 9,000 and 15,000 jobs during the design and construction phases plus approximately 1,000 jobs for continued operations. In addition to generating billions of dollars in revenue for Alaska, the gasline will provide access to natural gas for Alaskans.

"We are engaged in data collection to make informed choices on a large diameter gas line. These are NOT 'studies' as some folks call them," said Senate Resources Chair Cathy Giessel (R-Anchorage Hillside/Turnagain/N. Kenai). "We are collecting facts on environmental, archeological, hydrology, and important design features. No one builds a house without plans and cost estimates. Alaska must be clear about the design and costs of a $45-65 billion project before we make a final commitment to build."

According to AKLNG Project Manager Steve Butt, more than 300,000 hours of work and $100 million of regulatory and field work have gone into the project so far. The project represents the largest single investment in Alaska history, as well as the largest stand-alone project in US history. - More...
Tuesday AM - September 30, 2014

Columns - Commentary

JEFF LUND: Life with no brakes - I thought time went quickly when I lived in California, but I had no idea.

The routine of California for ten months, Alaska for two made years fun and swift.

In the three weeks since I had moved to Ketchikan from Prince of Wales, it was clear plenty had changed. As I flew over for a weekend fishing trip after school one Friday, I saw how the lush green alpine had turned brown and the limited amounts of snow were almost completely gone. Thankfully, rain had kept the rivers up and the silvers were stacked pretty thick. Saturday morning I had my limit fast, before mom had finished cooking blueberry pancakes.

My buddy Howie showed up just as I finished my six and got six of his own in maybe an hour.

Howie and I did a little silver salmon summer send-off last year too. The difference was it was in July just before I retreated to warmer parts of the world. But thanks to the rapid events of the past year, I'm still here. Sept. 30 marks the 1-year anniversary of leaving California.

Ferris Bueller told me life would move pretty fast, but I didn't put much weight to his philosophizing because I was a naive kid riding my Huffy to the river to catch silvers while flooding my American-made XtraTuf boots.

Now I'm eating chorizo and eggs Tweeting about the weather while hoping life doesn't continue at the pace of this past year otherwise I'll wake up tomorrow and be 40.

Seriously, the alpine hunting season is already over. Didn't I just write about being excited for it? - More...
Tuesday AM - September 30, 2014

Political Cartoon: Obama Transforms Into Bush
By Daryl Cagle ©2014, CagleCartoons.com
Distributed to subscribers for publication by Cagle Cartoons, Inc.





Real Time U.S. Debt Clock
http://www.usdebtclock.org/

U.S. Inflation Calculator
Easily calculate the buying power of the US dollar & inflation rate from 1913-2014

U.S. Energy Info. Admin.
Heating Oil & Propane Update

Public Service Announcements
Public Meetings & Info

KGB Animal Protection

Ketchikan Borough Assembly

Live video stream of current meeting
Archived videos
Agenda and Information Packets
Assembly Meeting Minutes
Borough Records
Calendar

Ketchikan Planning Commission

Live video stream of current meeting
Agenda, Information Packets & Minutes

Ketchikan City Council

View a Video of Meeting
Agenda & Information Packets

Ketchikan School Board

Live video stream of current meeting
Agenda & Information Packets


Gravina Access Project SEIS Alternatives Development

Gravina Access Website

Police Blotters

AK Troopers Daily Dispatch
Ketchikan Police Reports
Juneau Police Reports

Ketchikan

Jobs
Today's Forecast
Satellite
Today's Weather Images
Marine Forecasts
AK Weathercams
Ketchikan Weather Data
Current AK Weather Map




CLASSIFIEDS' CATEGORIES

Announcements
Help Wanted
For Sale / Free Stuff
Garage Sales
Homes / Apts/ Property
Pets
Wanted
Lost & Found
Happy Birthday, etc.
Publish Your Ad

Front Page Archives
Letter Archives
July - Sept. 2014

| | | | | | | |
| --- | --- | --- | --- | --- | --- | --- |
| S | M | T | W | T | F | S |
| | | 01 | 02 | 03 | 04 | 05 |
| 06 | 07 | 08 | 09 | 10 | 11 | 12 |
| 13 | 14 | 15 | 16 | 17 | 18 | 19 |
| 20 | 21 | 22 | 23 | 24 | 25 | 26 |
| 27 | 28 | 29 | 30 | 31 | 01 | 02 |
| 03 | 04 | 05 | 06 | 07 | 08 | 09 |
| 10 | 11 | 12 | 13 | 14 | 15 | 16 |
| 17 | 18 | 19 | 20 | 21 | 22 | 23 |
| 24 | 25 | 26 | 27 | 28 | 29 | 30 |
| 31 | 01 | 02 | 03 | 04 | 05 | 06 |
| 07 | 08 | 09 | 10 | 11 | 12 | 13 |
| 14 | 15 | 16 | 17 | 18 | 19 | 20 |
| 21 | 22 | 23 | 24 | 25 | 26 | 27 |

More Front Page Archives & Letters


Viewpoints
Commentary
Opinions/Letters
Basic Rules &
Freedom of Speech

Questions, please contact the editor at editor@sitnews.us or call 617-9696
Sitnews reserves the right to edit.

President Obama's Plan to Arm Unknown Syrian Rebels is Flawed By U.S. Senator Mark Begich
- When it comes to President Obama's flawed plan to arm unknown Syrian rebels, the significant risks outweigh the potential rewards. It is not a coherent or successful strategy to keep our country safe, which is why I voted against the proposal. - More...
Saturday PM - September 27, 2014

Reforming the National Guard to Prevent Sexual Assault By Bill Walker - The Office of Complex Investigations (OCI) report summary confirms what whistleblowers and victims had been reporting to Governor Sean Parnell for years: The National Guard chain of command allowed sexual assaults to occur with impunity while commanders retaliated against victims and whistleblowers. The chain of command even violated the confidentiality of victims. - More...
Saturday PM - September 27, 2014

2014 VOTE FOR THE BEST FOR ALASKA By Margot Miller - Every election we say "This is the most important election in many years." It is no different this year - but perhaps it really IS THE MOST IMPORTANT ELECTION in many years. - More...
Saturday PM - September 27, 2014

Alaska first! It's time. By Anne Lucas - The Bill Walker and Byron Mallott Unity Campaign needs people who are willing to work together and close the gaps between party lines - people who want to put Alaska first. - More...
Saturday PM - September 27, 2014

Ketchikan City Council Candidates By Douglas J. Thompson - I think the current candidates for City Council are running at a crucial time. Under Ketchikan City Manager Amylon's command the city is heading for bankruptcy. A bankruptcy generated by wasting taxes and incompetent city management. - More...
Saturday PM - September 27, 2014

Join the Singing Christmas Tree By Rob Holston - Here is your invitation to sing with us this year in the Clover Pass Community Church "Singing Christmas Tree" for men and women. - More...
Saturday PM - September 27, 2014

No to Sullivan By Jason Butler - Did you know that the Alaska Permanent Fund could be jeopardized because of Dan Sullivan's bad settlement of the Mercer case involving the teacher's retirement trust fund? - More...
Saturday PM - September 27, 2014

AACOP urges voters to "Vote NO on ballot measure 2 By Kalie Klaysmat -A USA Today/ Suffolk University survey released Friday (9/19/2014) reports only 46% of Colorado's likely voters now support the constitutional amendment that legalized and commercialized recreational marijuana in that state. More than 50% oppose the amendment entirely. That is a considerable point drop from the 55% of voters who supported the measure on Election Day in 2013. Further, only 42% of those questioned approved of the way the state of Colorado is managing recreational marijuana. - More...
Saturday PM - September 27, 2014

Yes to Ballot Measure 2 By John Suter - I am voting yes for Maui Wowee. Scientist have shown that continued marijuana use lowers a person's IQ eight points. I am tired of always being the dumbest person in the room. So I am voting yes on Ballot Measure 2. - More...
Saturday PM - September 27, 2014

MOSLEM TERRORIST CLEANING CREW RIDICULOUSLY RACIST RAGHEAD JIVE By David G Hanger - I generally am inclined to just let Al Johnson self-immolate because he does such a marvelously effective job of it, but this latest diatribe is so blatantly racist and otherwise objectionable that it requires a response of some sort. Trying to create fear in the minds of others over something as trite as a cleaning crews' religious or cultural preferences is as racist as you can get. It is also disgustingly anti-American. - More...
Saturday PM - September 27, 2014

Article V By Brian Valliant - James Madison once said, "Between the different constitutional governments, the one operating in all the states, the others operating separately in each, with aggregate powers of government divided between them, it could not escape attention, that controversies would arise concerning the boundaries of jurisdiction. A political system that does not provide for a peaceable and authoritative termination of these controversies, would not be more than the shadow of a government. The goal of a sustainable government is substituting uncertainty, confusion and violence, for law and order". - More...
Saturday PM - September 27, 2014

A Constitutional Tool whose time has come By Paul Hodson - Have you ever tackled a maintenance job around your house, only to go to your toolbox and find that the tool you need is not there? So, you end up using a wrench to try and drive a nail into a stud? - More...
Saturday PM - September 27, 2014

Fair Tax Act By Roy T Newsom - The Fair Tax Act, HR25/S122 has been held up by the US House Ways and Means Committee since 1997. This is a travesty considering the 17.5 trillion dollar debt this country has that is growing. When enacted, this plan is projected to bring about a 10.6%+ growth the first year. Instead of moving away from the US, companies will have an even playing field here. Imagine the impact of the $2,855,059,420,000.00 that the IRS collected in taxes during 2013 being left in the hands of businesses and taxpayers to be put into the economy. That would be a stimulus that works. - More...
Saturday PM - September 27, 2014

Doubters - Tuck This Away By Teresa Alvelo - There's a movement progressing across the country that some are doubting can bear any meaningful fruit. For those doubters, I'd like to request that you tuck the knowledge of the movement away in a corner of your memory for future consideration. - More...
Saturday PM - September 27, 2014

Webmail your letter or
Email Your Letter To: editor@sitnews.us

---

Articles & photographs that appear in SitNews may be protected by copyright and may not be reprinted or redistributed without written permission from and payment of required fees to the proper sources.

E-mail your news & photos to editor@sitnews.us

Photographers choosing to submit photographs for publication to SitNews are in doing so, granting their permission for publication and for archiving. SitNews does not sell photographs. All requests for purchasing a photograph will be emailed to the photographer.

Ketchikan
Regular Election
October 07, 2014

---

Candidates 2014

---

Borough Mayor
2 Year Term
1 Seat Open

---

Borough Assembly
3 Year Term
3 Seats Open

---

School Board
3 Year Term
2 Seats Open

---

City Council
3 Year Term
3 Seats Open

---

---

The Local Paper is now available online.
Click here for this week's printed edition.