Federal Court Decision Locks Up Alaska Offshore Resources
BY MARY KAUFFMAN
April 07, 2019
Sunday PM

(SitNews) Anchorage, Alaska - A recent ruling by the U.S. District Court for the District of Alaska reinstates President Obama's withdrawal of the vast majority of the Beaufort Sea and all of the Chukchi Sea from oil and gas development is being met with opposition by officials and praise by conservationists.
The ruling issued by US District Judge Sharon L. Gleason, determined Trump exceeded his constitutional authority and violated federal law. Gleason's rulling immediately restores permanent protections from drilling to those areas and prevents the Trump administration from holding the offshore lease sales it proposed to schedule there starting this year. The court declared that ocean areas permanently withdrawn from Outer Continental Shelf oil and gas leasing in 2015 and 2016 - a total of approximately 125 million acres - are fully protected from offshore leasing "unless and until" Congress revokes that protection.
Just weeks before leaving office, President Barack Obama unilaterally withdrew 125 million acres of the Beaufort and Chukchi seas from offshore oil and gas leasing. This occurred despite repeated warnings and objections from the Alaska Congressional Delegation and very strong support for such development among Alaskans. A year later, President Donald Trump revoked that order, so lease sales could be held.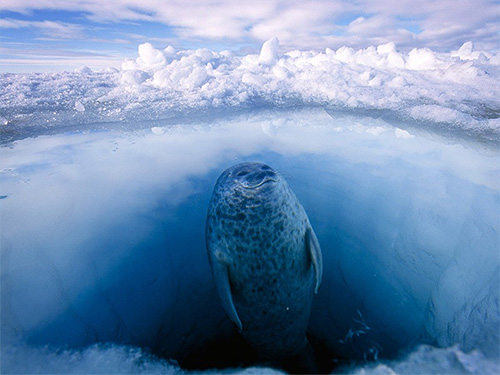 A ringed seal is on the lookout for polar bears as it surfaces in the Arctic Ocean.
PAUL NICKLEN / NATIONAL GEOGRAPHIC CREATIVE COMMONS

Section 12 (a) of the OCSLA states that: "The President of the United States may, from time to time, withdraw from any disposition any of the unleased lands of the Outer Continental Shelf." However, there is no provision in the OCSLA that mentions revoking an earlier withdrawal. The District Court believed the language to be clear on its face, but since there may be some ambiguity in the law because of the use of the phrase, "from time to time," the District Court reviewed other laws, rulings made by the Attorney General over the years, and the Act's legislative history, and concluded that the President was without authority to revoke these earlier Presidential actions., which perforce, "will remain in full force and effect unless and until revoked by Congress."

According to the Department of the Interior, the Beaufort and Chukchi seas hold an estimated 23.6 billion barrels of oil and 104.4 trillion cubic feet of natural gas. A 2011 analysis found that development of those resources would create an annual average of 55,000 jobs over a 50-year period and generate a total of $193 billion for local, state, and federal treasuries. Responsible development in the Arctic could also help states such as California reduce their foreign imports, which have grown significantly as Alaska production has declined.

U.S. Senator Lisa Murkowski (R-AK) commented on the ruling saying, "I strongly disagree with this ruling, which asserts that past presidents can bind their successors and only Congress can overturn those decisions," Murkowski said. "That is not the correct interpretation of the Outer Continental Shelf Lands Act and could have catastrophic impacts for offshore development, which creates jobs, generates revenues, and strengthens our national security. I expect this decision to be appealed and ultimately overturned - if not by the Ninth Circuit, then by the Supreme Court." Murkowski is chairman of the Senate Committee on Energy and Natural Resources.

Alaska Governor Micahel Dunleay was also disappointed by the ruling and its implications for the state and national economy. Governor Dunleavy said, "Alaska's potential offshore oil and gas deposits, if given the opportunity to be safely and responsibly developed, can create jobs, revenue and economic opportunity for decades. One president should not have the power to lock up Alaska's resources in perpetuity. America needs Alaska's natural resources."

Shortly before leaving office in 2016, President Barack Obama issued an overreaching executive order preventing lease sales for 125 million acres in the Arctic Ocean around Alaska.

"We expect this decision could be appealed all the way to the Supreme Court and my office will participate in any way possible to see this decision overturned," said Attorney General Kevin Clarkson.

Alaska's Outer Continental Shelf (OCS) could hold as much as 27 billion barrels of oil and 132 tcf of natural gas, making it one of the world's most significant untapped regions for oil and gas development.

The judge's ruling states only the United States Congress has the power to overturn the Obama executive order.

"As Governor, I am committed to working with our congressional delegation to overturn Obama's executive order and bring a new era of prosperity to Alaska and the country," said Governor Dunleavy.

National Ocean Industries Association (NOIA) President Randall Luthi issued a prepared statement regarding the court ruling March 29th on the Arctic OCS. NOIA is the only national trade association representing all segments of the offshore industry with an interest in the exploration and production of both traditional and renewable energy resources on the nation's outer continental shelf.

Luthi wrote, "Friday's court decision, while troubling, is not the death knell to potential exploration and development of offshore energy resources off the coast of Alaska. The Administration has the option of continuing to evaluate areas outside the Obama withdrawal, and could continue its evaluation of the withdrawn areas with the caveat that such areas could or could not be open depending on further judicial review."

"NOIA encourages the Administration to appeal the decision of the Obama appointed judge to the Ninth Circuit and be prepared to appeal to the Supreme Court should that be necessary. The District Court's narrow interpretation is one view of the language contained in the Outer Continental Shelf Lands Act, (OCSLA) and does not fully incorporate OCSLA's five year planning process that allows changes based upon new resource information or energy needs of the United States. A court with more experience and knowledge of the full breadth of the Executive Branch may very well come to a different conclusion." wrote Luthi in his prepared statement.

In April 2017, President Trump issued an executive order undoing Obama's permanent protection of those ocean territories of almost 120 million acres in the Arctic Ocean - about 98 percent of the U.S. territory of the Arctic Ocean

Attorneys from Earthjustice and Natural Resources Defense Council challenged that action, bringing a case on behalf of conservation and Alaska Native groups. Yesterday's ruling prevents future lease sales in these areas and protects them from drilling rigs in the future.

Earthjustice President Abigail Dillen released a prepared statment saying, "This ruling tosses out President Trump's unlawful order, reinstates protections for the Arctic Ocean and key areas in the Atlantic and reaffirms that President Trump is not above the law. The decision will force the Trump administration and acting Secretary of Interior David Bernhardt to reconsider their irresponsible national offshore leasing program that would turn our oceans into gas stations. It will also support the fight to oppose this administration's ongoing attempts to roll back national monuments."

Niel Lawrence, senior attorney and director of the Alaska Project at the Natural Resources Defense Council said, "For an administration rushing to expose nearly all our coasts to the dangers of oil and gas leasing, this court decision is a bright red stop sign."

"Trump exceeded his constitutional powers in trying to undo the ban on leasing in these areas, and the court recognized it. This decision makes it clear that the law does not grant the President the authority to reverse these kinds of permanent protections for our natural resources and wildlife," said Lawrence

. Adam Kolton, Executive Director, Alaska Wilderness League, issued a prepared statement saying, "In less than 24 hours, a federal court has put a halt to Trump's assault on wild Alaska. Yesterday's court decisions are victories for land and sea alike, and a reminder that the Trump administration is not above the law. The Izembek sweetheart deal was never in the public interest, and the American people have overwhelmingly spoken out in favor of protecting our oceans and coastlines and the communities and wildlife that depend on them. They were the driving force behind Arctic and Atlantic protections being put in place, and today they should be celebrating these wins."

Kolton wote, "The reining in of Trump's Alaska assault is great news for the state and great news for the planet. The wilderness values of the Izembek Wildlife Refuge are irreplaceable and circumventing a public process to build a road right through its heart would damage important habitat for migratory birds, brown bears and salmon, as well as other wildlife. It would have been a bad deal for taxpayers and a bad deal for the environment, especially when there are other, safer options available. And Trump's 2017 executive order sought to open more than 120 million acres of ocean to the oil and gas industry, including 98 percent of federal Arctic Ocean waters where offshore drilling would threaten irreplaceable wildlife, sensitive marine ecosystems, coastal villages and our global climate. We applaud yesterday's decisions that will instead keep these lands and waters protected for future generations."

In this case, Earthjustice and Natural Resources Defense Council represented the plaintiffs: the Alaska Wilderness League, Center for Biological Diversity, Defenders of Wildlife, Greenpeace USA, League of Conservation Voters, Natural Resources Defense Council, Northern Alaska Environmental Center, Resisting Environmental Destruction on Indigenous Lands (REDOIL), Sierra Club, and The Wilderness Society.

In a second ruling on the same day, the U.S. District Court of Alaska, in the Friends of Alaska National Wildlife Refuges case, the District Court held that a proposed land exchange to facilitate the construction of a road between the small and remote Alaska communities of King Cove and Cold Bay must be vacated because the land exchange agreement violates the Administrative Procedure Act (APA). According to the court, the Secretary of the Interior's 2018 agreement with the King Cove Corporation to build this road subject to a number of conditions involving lands controlled by King Cove within the boundaries of the Izembek National Wildlife Refuge failed to adequately explain why this action amounted to a change in government policy, which the APA requires be reasonably explained. (SEE Federal Court's Ruling on Crucial King Cove Land Exchange Disappointing - March 29, 2019 -SitNews)

On the Web:
DOWNLOAD: March 29, 2019 Ruling by the U.S. District Court for the District of Alaska PDF
Source of News:
Office of U.S. Senator Lisa Murkowski
www.murkowski.senate.gov

Office of Alaska Governor Michael Dunleavy
www.gov.alaska.gov

National Ocean Industries Association
www.nola.org

Natural Resources Defense Council
www.nrdc.org

Alaska Wilderness League
www.alaskawild.org

Earthjustice
www.earthjustice.org
Source of Photo:
NATIONAL GEOGRAPHIC CREATIVE COMMONS
wiki.creativecommons.org/wiki/Main_Page

Representations of fact and opinions in comments posted are solely those of the individual posters and do not represent the opinions of Sitnews.
Contact the Editor
SitNews ©2019
Stories In The News
Ketchikan, Alaska

Articles & photographs that appear in SitNews are considered protected by copyright and may not be reprinted without written permission from and payment of any required fees to the proper freelance writers and subscription services.

E-mail your news & photos to editor@sitnews.us

Photographers choosing to submit photographs for publication to SitNews are in doing so granting their permission for publication and for archiving. SitNews does not sell photographs. All requests for purchasing a photograph will be emailed to the photographer.